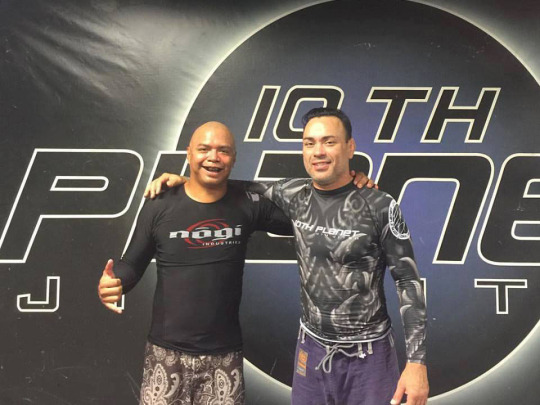 Two of the most renowned martial arts academies in the world have joined forces to launch the largest No-Gi Brazilian Jiu-Jitsu (BJJ) program ever seen in Asia. Evolve MMA has partnered with 10th Planet Jiu Jitsu in a deal which will see 10th Planet black belt Rick Marshall teaching full-time in Singapore.
The 10th Planet Jiu Jitsu system was developed by BJJ legend Eddie Bravo and focuses on training without the traditional BJJ Gi. It is taught at over 50 locations across the world and has earned a reputation as one of the most effective forms of grappling for competitive MMA.
Marshall, who received his black belt directly from Eddie Bravo, will be moving to Singapore in October to head the Evolve MMA No-Gi Brazilian Jiu-Jitsu program as a full-time instructor. He is one of 10th Planet's most senior practitioners and respected figures.
Evolve MMA is already home to multiple BJJ black belts and world champions, as well as world champions from wrestling, boxing, Muay Thai, and MMA. Marshall will be working with the likes of Ben Askren, Shinya Aoki, Rafael Dos Anjos, Angela Lee, and Roger Gracie, as well as teaching students at Evolve MMA's facilities in Orchard Road, Far East Square, and POMO Mall.
With the addition of Rick Marshall, Evolve MMA becomes the only martial arts academy in the world with BJJ black belts from the prestigious Renzo Gracie, Checkmat, and 10th Planet Jiu Jitsu systems.
Chatri Sityodtong, Founder and Chairman of Evolve MMA, is excited to be partnering with one of the most renowned BJJ academies in the world.
"Eddie Bravo has created one of the world's most effective No-Gi Brazilian Jiu-Jitsu systems," said Sityodtong. "It is an honor for Evolve Mixed Martial Arts to partner with 10th Planet Jiu Jitsu to give our students yet another avenue for learning and growth."
Bravo himself will be heading to Singapore at some stage, and the 10th Planet Jiu Jitsu founder issued the following endorsement of Marshall:
"We are excited to launch 10th Planet Jiu Jitsu in Singapore. As one of my black belts, Rick is more than qualified to launch our program at Evolve Mixed Martial Arts. I will be coming to Singapore soon to celebrate this unique partnership."