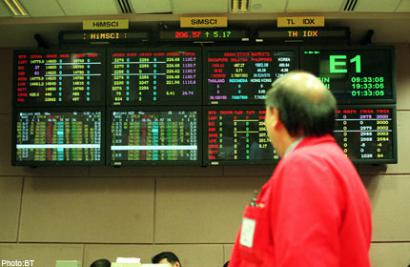 Taking an exam has always been the time-tested means to assess whether a person is equipped with the necessary knowledge to perform a certain set of skills or not.
But since time immemorial, it has been the bane of children, who generally dislike it for the stress it causes them.
Now, some of their parents and even grandparents may be feeling the stress too if they are working as remisiers or insurance agents.
To raise the industry's competency standards, the Monetary Authority of Singapore (MAS) introduced exams last year that professional share dealers and financial advisers have to pass by June 30 to continue being allowed to sell complex financial products.
Remisiers who do not pass the Capital Markets and Financial Advisory Services Examination 6A exam by the deadline will be barred from dealing with structured products such as covered warrants and exchange-traded funds (ETFs).
Their counterparts in the financial advisory and insurance business who fail the Module 9A exam will be allowed to sell only plain-vanilla and term-insurance products or endowment plans.
So far, no data is available on the pass rate of the Module 6A exam taken by the 4,000 dealers and remisiers serving investors in the stock market.
But a survey by the MAS showed that for the Module 9A exam, more than two-thirds of the 17,540 representatives from 24 financial institutions have passed it.
A closer look, however, shows that while about 95 per cent of the financial advisers employed by the banks have passed the test, only 66 per cent of those working for insurers and 60 per cent in financial advisory firms have cleared it.
It led to a warning from the Association of Financial Advisers (Singapore) about the possible loss of good financial advisers after June 30.
It said a proportion of the 40 per cent who failed to make the grade could leave the financial advisory profession. "This would deprive consumers of good, experienced but less well-educated financial advisers," it added.
Granted, getting brokers and insurance agents to go back to the books to pass exams would vouch for their knowledge of complex investment products in the wake of financial disasters such as the Lehman minibond debacle of four years ago. But it has led to a flurry of letters to The Straits Times questioning the merit of such initiatives.
One reader, Mr Khoo Teng Lau, likened the situation to locking the stable door after the horse has bolted. "Dealers and remisiers are not allowed to dispense investment advice; they play only execution roles, so why subject them to the new module?" he asked.
Then there is the perennial question of whether a more knowledgeable financial adviser will be more professional in dispensing advice. After all, the commission income is his biggest motivation to clinch the business.
There is also concern that the over-emphasis on exams may deter salespeople from introducing new financial products to their clients which may be good for them.
Take the extended settlement contracts introduced by the Singapore Exchange some years ago.
Before its introduction, the SGX made all dealers and remisiers take an exam to make sure they were familiar with it. Yet, extended settlement contracts have flopped in a big way. Few dealers bother about them.
Even products popular in other markets, such as ETFs, which diversify risks by buying into baskets of stocks at a low cost, are hardly making a dent here.
Turnover in ETFs for the first four months of this year plunged 30.2 per cent to $1.2 billion even though the global stock market rally had channelled billions into such products on Wall Street and other major markets. But much of the money here was channelled into "punting" risky loss-making penny stocks as share prices soared.
Against this backdrop, the bigger question to ask is whether there are alternatives to exams in assessing a financial adviser's know-how of a new product if he has been working in the industry for many years.
Major educational institutions such as Harvard University have replaced many of their exams with take-home essays and group projects as part of their effort to find better ways to get their students to learn.
Surely, there are similar steps we can introduce for our share dealers and financial advisers to ensure they are in step with the times.
engyeow@sph.com.sg

Get a copy of The Straits Times or go to straitstimes.com for more stories.