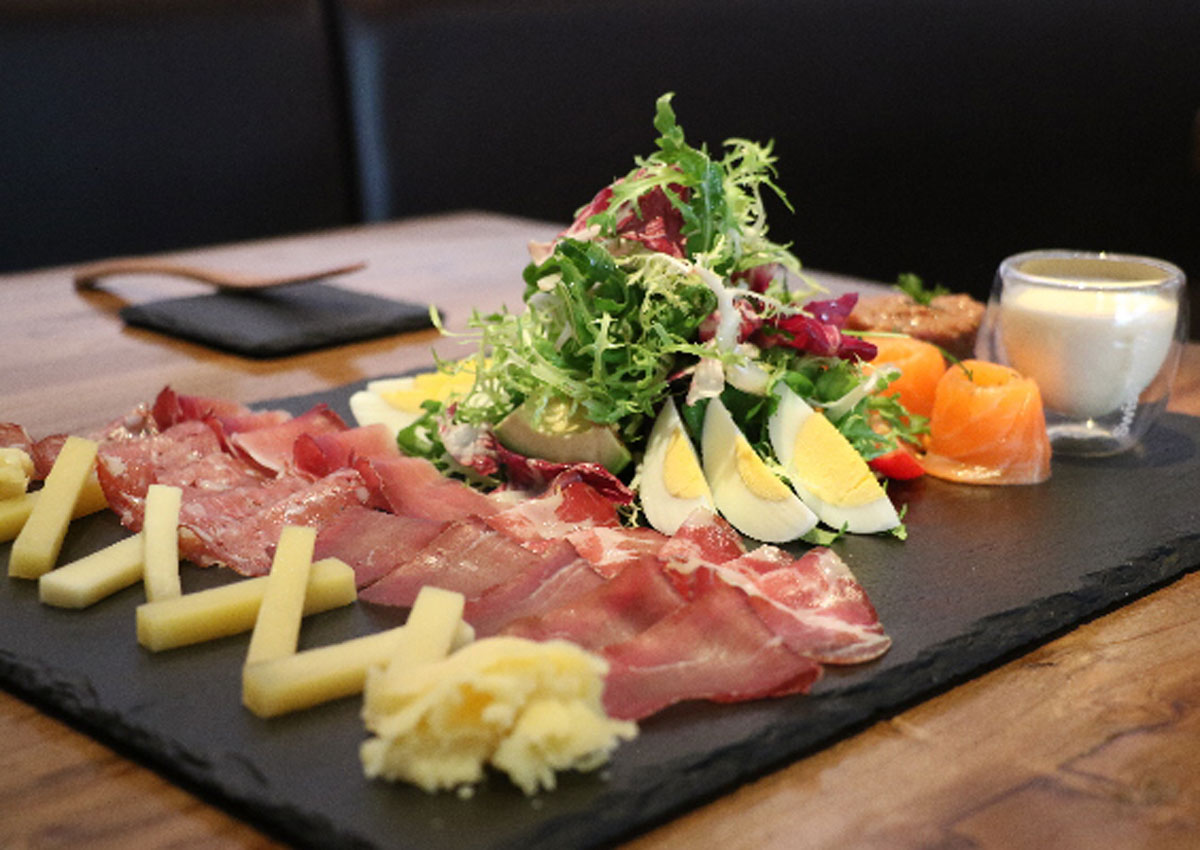 In the cultural melting pot of Beijing, Swiss-born restaurateur Peter Troesch is eager to deliver something he's found lacking in the Chinese capital: an authentic taste of Switzerland.
Troesch, owner and manager of the recently opened Swiss Taste restaurant, came to Beijing 10 years ago and immediately felt the absence of his homeland in the food scene. After having spent most of his career in the hospitality business in various countries, he eventually decided to start his own brand here.
"It's a sponge. It's not full yet," says Troesch of Beijing's potential.
"It can still soak up more concepts and more things."
Located in the busy Central Park area, Swiss Taste is a combination restaurant, cocktail bar and deli, the last a recent addition since the business launched in April.
Inside, black-and-white chairs accent wooden tables, and images of Swiss wintertime sports hang on the walls. Fine-dining is not the game, Troesch says: Salt and pepper shakers shaped like cows give the tables a playful look. In true European style, cosy outdoor seating is available as well.
The extensive menu features the signature classics of Swiss cuisine, including a variety of dishes adopted by Switzerland from its neighbouring countries - Germany, France and Italy - but all with a "Swiss taste".
Shelves full of Swiss products cover the front wall next to a large, white deli counter, showcasing more Swiss products for sale and pastries, made in-house or exclusively provided by local Italian restaurant Opera Bombana. At night, the area turns into a bar, a suitable spot for enjoying a glass of Swiss wine or a mini authentic cheese fondue - a bubbling blend of Gruyere and white wine, served with pieces of soft bread to dip.
Troesch leaves the kitchen under the watchful eyes of a skillful duo: Swiss food and beverage manager Ewan Christopher Wyss and Chinese executive chef Kevin Cai. The restaurant hosts events and offers menus for business lunches and weekend brunches in addition to the standard menu.
"We really want to make people discover Switzerland," Troesch says. Supporting that goal: a plentiful selection of fine Swiss wines and spirits, and the use of imported Swiss products including milk, cheese and chocolate.
Within a few minutes of sitting down, my table is already full of starters: gazpacho (cold tomato soup from Spain), a sampler platter of meats and cheeses, and buttery Swiss bread made fresh each morning. Poured in front of us as it is served, the refreshing and cool gazpacho, with its spiced-up medley of pureed fresh tomato, cucumber, onion and bell pepper, is ideal for the hot summer day.
The sampler platter features a basic green salad, a zesty hunk of Australian beef tartare (with a kick of Tabasco and mustard), salty strips of marinated Norwegian salmon, such air-dried Swiss meats as rohschinken (ham) and bundnerfleisch (beef), and a select amount of Swiss cheeses such as the semi-hard Tete de Moine.
The cheese selection in Beijing is very limited, he says, because fresh-milk cheeses are currently unavailable to be imported. But he hopes that this will change soon so that he can provide a more diverse representation of the cheeses in Switzerland.
Next to follow is the flammkuchen, or Swiss pizza. Originating from a region in France, this thin-crust pizza has an unusual twist - sour cream instead of cheese. The savory treat "gets its own life in Switzerland", with toppings ranging from "traditional" (bacon and onion) to "red" (bacon, onion, Swiss air-dried meat and arugula). I opt for the former - simple yet satisfying. The sour cream makes for a very delicate topping amid the bacon and onion, while the thin crust has a perfect crunch to it.
The flavors are not overbearing - Troesch is a firm believer in letting the fresh, quality food speak for itself: "For us, it's not about playing around much. It's going back to basics."
For entrees, we choose the veal sausage served with crispy rosti, the Swiss version of a potato pancake, and ratatouille, a colorful array of cooked vegetables. Troesch says the question of who invented sausage is open to argument, but "the Swiss invented the veal sausage for sure". The thick sausage is softer than expected, but the onion sauce makes it very flavourful.
Among other options for main courses: Zurich pork ragout, tender pork tenderloins in a light, creamy mushroom sauce.
For dessert we opt for glasses of thick hot chocolate, its rich density visible in the way it slowly pours, made with bittersweet Swiss chocolate. The small serving is filling with every sip - and all the while delicious.
Just a few months after the successful opening, Troesch is already looking to add a delivery service for the popular flammkuchen and cooking classes for those interested in a behind-the-scenes look at Swiss cuisine. Stay tuned.