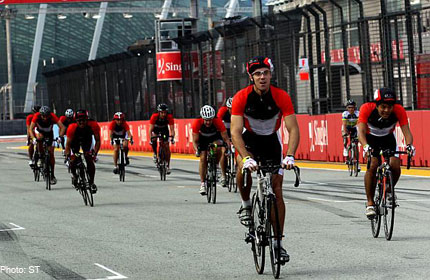 He is the "Ironman", ready to go up against the three-time Tour de France Green Jersey winner.
But when Chua Song Cher takes to the road with Robbie McEwen on Friday, it will be with one goal in mind.
"I want to encourage others in my age group to take up sports," the 62-year-old school operations manager with Jurong Junior College said. "I want them to realise that if I can do it, so can they."
It was this aim to inspire which earned him the chance to go on a 50km ride with Australian rider McEwen, as well as a pair of Stamford Grandstand tickets to this weekend's Formula One SingTel Singapore Grand Prix.
Chua was one of 106 readers who entered UBS' Cycle the Circuit contest, which was run in conjunction with race organiser Singapore GP. They have partnered The Straits Times as part of its ST Appreciates Readers (Star) programme to reach out to the community.
And while his ambition may be lofty, the winner of the "Ultimate UBS cycling & F1 experience" can certainly walk the talk.
After all, the avid sportsman cycles 100km every Sunday and just last month, competed in the full MetaMan Iron Distance Triathlon.
The race, held in Bintan, comprised a 3.8km swim, 180km bicycle ride and 42.2km run.
Another triathlete, Eugene Quan, will join Chua to "Cycle the Circuit" with McEwen.
One of nine other readers selected for the Sunday event, the 40-year-old took part in the sprint race of the MetaSprint Triathlon earlier this year. He is also preparing himself for the Oct 5 Ride for Rainbows, a 165km bike ride to support Club Rainbow, which helps children with chronic and life-threatening illnesses.
"I signed up for it because it is a good cause," said Quan, the director of an engineering firm.
"I cycle around 60-80km a week but this chance to ride with Robbie McEwen will give me a reason to train even harder.
"Plus, I'm an F1 fan, so the opportunity to ride on the circuit will be something quite special."
fabiusc@sph.com.sg
Get a copy of The Straits Times or go to straitstimes.com for more stories.