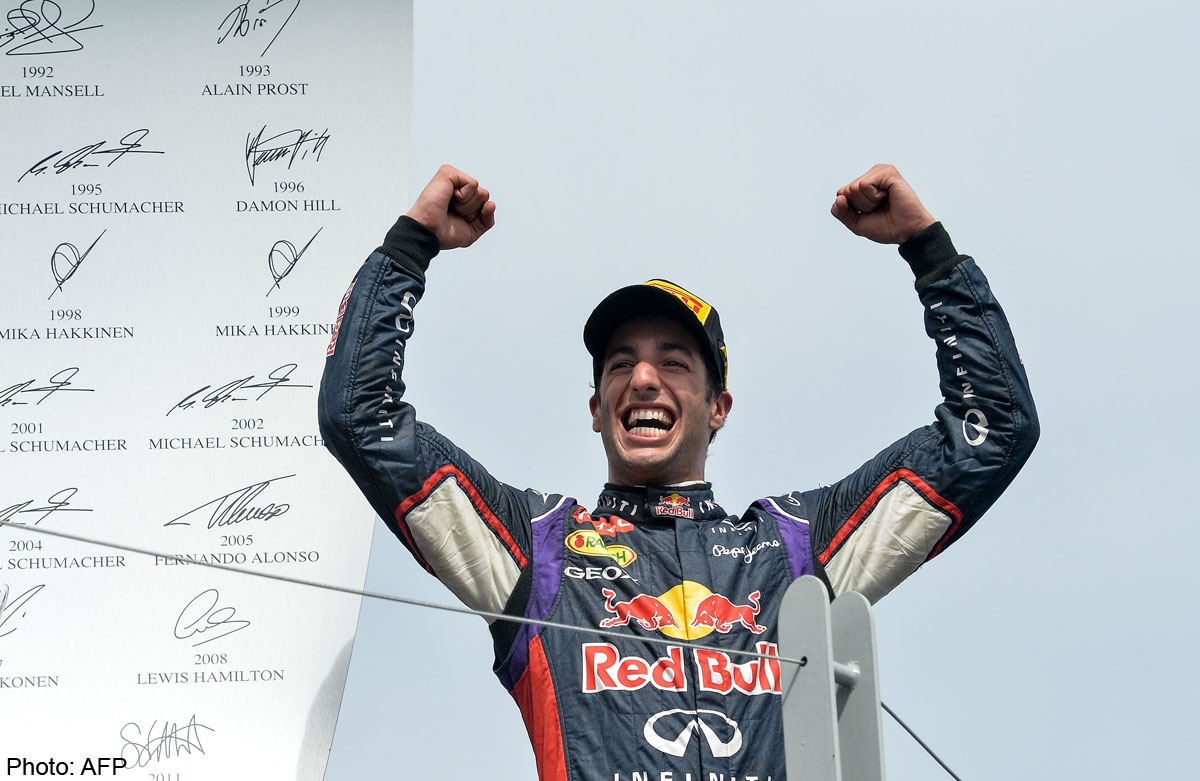 SYDNEY - Australia's Daniel Ricciardo Monday tweeted the broadest smile in Formula One after claiming his maiden F1 weekend victory for Red Bull in the Canadian Grand Prix.
"I officially can't smile any bigger than that, so you've seen it all now," tweeted a beaming Ricciardo on social media after his breakthrough victory in Montreal on Sunday.
The 24-year-old Australian took full advantage of power and electrical problems that hit both championship leader Nico Rosberg and his Mercedes team-mate Lewis Hamilton in the closing stages to claim a stirring triumph.
Ricciardo is the fourth driver from Australia to record a Formula One victory, earning his place alongside greats Jack Brabham, Alan Jones and his predecessor at Red Bull, Mark Webber.
It was Ricciardo's third consecutive podium finish after coming third in Spain and Monaco, and it puts him in third position in the drivers' championship behind the Mercedes pair of Rosberg and Hamilton.
Ricciardo was close to a victory in his first race with Red Bull in Melbourne at the Australian Grand Prix in March, but after finishing second, he was disqualified for a technical infringement.
Webber labelled the win the "first of many" on Twitter, while Australia's last Canadian grand prix winner Jones - now a Formula One commentator on Australian television - said: "I don't care if it's six o'clock in the morning, I'm going to have a beer!"
Ricciardo's infectious smile spread all the way back home to Perth in Western Australia where his dad, Joe, watched the race and celebrated the victory with family and friends.
"We've had two or three glasses of champagne already," Ricciardo senior told radio.
"A first win is always a little bit special after a long journey.
"He was amazing. We're very proud of him.
"I'm lost for words ... Wish we could have been there to hug you."