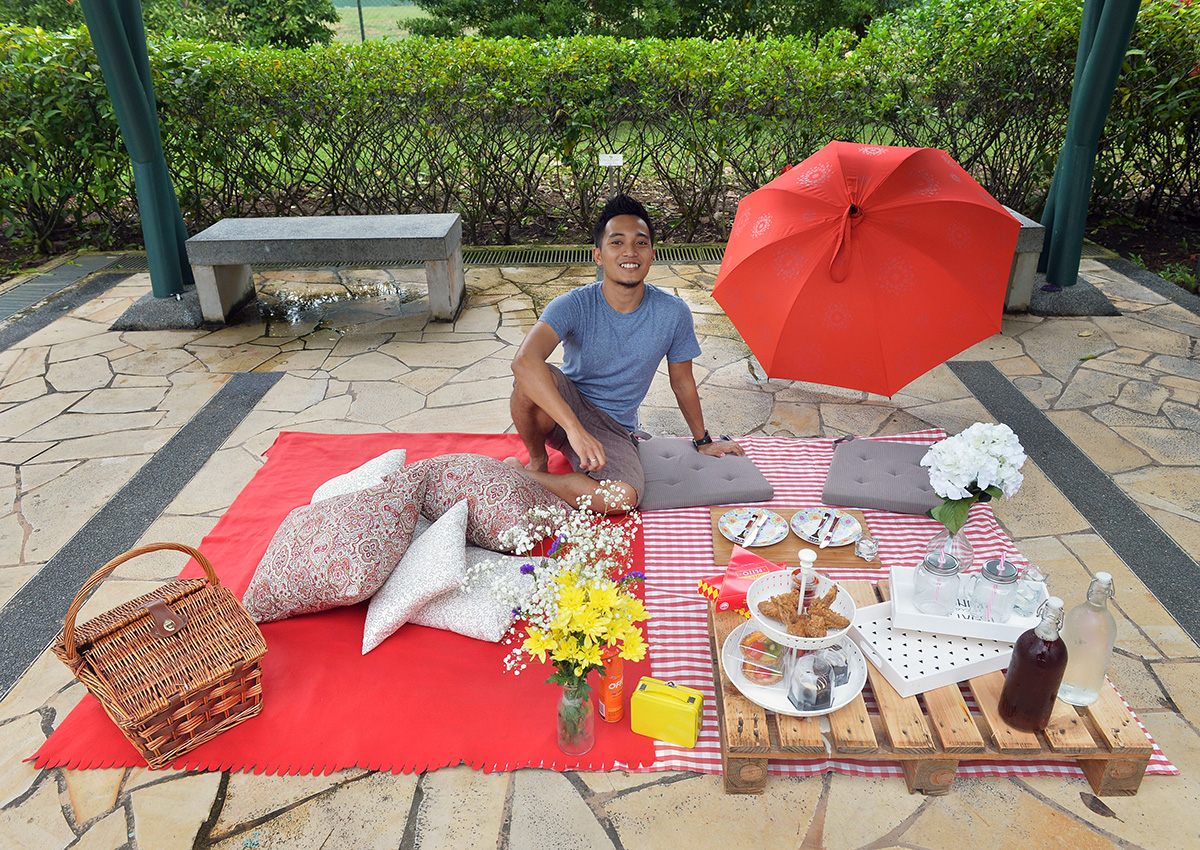 Whether it is at a park or the beach, a picnic can be a leisurely way to spend a weekend afternoon. Think eating food packed in a pretty basket while relaxing on a mat with friends and family, enjoying the outdoor scenery.
While many people organise their own picnics, others want the enjoyment without the fuss of packing and are willing to pay for it.
That is why at least four small companies here specialise in providing packed picnic baskets that you can pick up and go.
Prices can start from $60 for a basket for two, such as Beyond Plate's picnic baskets, which contain food made by the owners, such as chicken salad, roast lamb and lemon chia seed cake. The sets include a mat, cutlery and mosquito repellent.
Another company, the one-year-old Heaven's Bloom & Baskets, provides a basket of food including baguettes, black pepper or honey-grilled chicken, two types of cheese and a bottle of Moscato wine. The set also comes with ceramic plates and champagne glasses. A set for two costs $238, including delivery, and you can keep the picnic basket, which has a chilled compartment.
Some companies, such as the one-year-old Picneeds, go a step further by providing different themes for the picnic. They also do the setting up and cleaning up.
Picneeds, which sources halal-certified food ready-made from supermarkets, stalls and restaurants, has five themes for customers to choose from.
Bohobo is bohemian-inspired and includes hippie mandala-print throws and lace table mats. Checkered Mate offers a classic take on picnics, with iconic red-and-white checked mats.
Picneeds' prices start at $150 for two. The company delivers the picnic basket to the customers' location, lays everything out on the mat for them and returns to clean up when they are done.
Picneeds owner Khairul Amri Mohd Sidik, 29, says his company handles the logistics "so that people can focus on the social aspect of the picnic".
Generally, picnic companies get eight to 20 customers a month, usually people in their 20s and 30s. They are a mix of couples celebrating special occasions as well as gatherings of friends and families.
Ms Bianty Prizsa Andiningrum, 21, of Beyond Plate says sales of its packed picnic baskets surge during Valentine's Day and the Christmas period.
She set up the business last year with her partner, Mr Thamilaarasan Veeramani, 19, and they intended to sell the picnic baskets only on special occasions such as Valentine's and Mother's days.
However, the enthusiastic response they received led them to offer packed picnic baskets as an ongoing business.
Led by their passion for baking and cooking, their business has since expanded to cater to bigger events such as weddings and birthdays. Ms Andiningrum remembers working on a picnic-themed proposal last year that involved preparing eight picnic baskets to feed 30 people at Marina Barrage.
"We worked non-stop for two days straight, preparing everything we needed," she says. "Those picnic baskets were definitely among the most exciting ones we have done."
There is also an aspirational element to throwing and attending a decked-out picnic.
Photos of picturesque picnics, with perfectly frosted cupcakes and lemonade served in glass jars abound on image-sharing websites such as Pinterest and online community Tumblr.
Ms Jasmine Low, 24, from picnic-planning company Beauteaq, which offers packed picnic baskets and flower bouquets, says: "Picnics represent a kind of lifestyle. We see photos of picnics online, as well as those done overseas and we want to experience them here as well."
But because picnics are fundamentally outdoor activities, the weather has an impact on people who make a business out of them.
For example, the haze during August to November last year hit Picneeds hard and business was slow for about four months.
Rain or shine, picnics are here to stay-not only as private social gatherings, but also as large-scale public events.
In the next three months, there are no fewer than four picnic-themed events planned.
Families can check out U Picnic on March 12, an annual event organised by NTUC U Family, a unit of NTUC that promotes work-life harmony and family bonding. Described as Singapore's biggest family picnic, the event hosted 7,000 people in 2014 and is expecting 8,000 this year. It was not held last year because of the haze.
This year's edition, themed Space Odyssey, includes activities such as rocketing into the air with bungee trampolines. Tickets are priced at $50 for a family of five and do not include food.
Hate the heat and bugs that come with most picnics? There is a hip alternative called The Picnic, which is held indoors at a secret location that will be revealed to ticket-holders 24 hours before the event.
The organiser Andsoforth, which has organised five other site-specific-themed events since 2014, will be preparing the venue to mimic the feeling of being surrounded by nature, with a lush grass lawn, fluffy "clouds", a projection-mapped moon and the smell of the great outdoors.
The ticket price of $68 includes a picnic basket of food. Tickets for tomorrow and Sunday are sold out. There are limited slots left for the eventon the next two weekends.
One of the attendees of The Picnic is Ms Sharon Nadine Wee, 24, who works in the food and beverage industry.
She likes the concept of an indoor picnic and will be attending The Picnic on Valentine's Day with her partner.
She says: "What could be better than a picnic that is freshly prepared for you, plus a 100 per cent guarantee that it won't rain or be too hot?"
nabilahs@sph.com.sg
Picnic planners
1. BEAUTEAQ
What: Set up by two students, this company offers packed picnic baskets as well as flower bouquets. You can choose between sweet or savoury food, or a mixture of both.
How much: Picnic baskets cost between $80 and $120. Picnic set-ups start from $100.
Info: www.facebook.com/beauteaq
2. BEYOND PLATE
What: This company, which organises a weekly weekend brunch and waffle pop-up in Cheong Chin Nam Road, offers packed picnic baskets for a fuss-free meal.
How much: Picnic baskets, with food, cutlery and mat included, start at $60, excluding delivery.
Info: www.facebook.com/beyondplatesg
3. PICNEEDS
What: This company offers a packed picnic basket with halal food items and five themes to pick from, such as the chic A Class Act and the bohemian-inspired Bohobo. It can also arrange a picnic based on your personalised theme.
How much: For two persons, a basic picnic set-up costs $150; customised themed set-ups cost $220. These include set-up and clean-up costs. A packed basket with no set-up costs $70.
Info: www.facebook.com/picneeds
4. HEAVEN'S BLOOM & BASKETS
What: This company offers packed picnic baskets with 11 food and drink items, including cooked chicken, tuna with zesty vinaigrette, cheese and Moscato, as well as ceramic plates, a mat and cutlery.
How much: Field Of Poppies (for one or two persons) costs $238. Golden Magnolia (for three to four persons) costs $268. Prices include delivery costs and you can keep the baskets, which come with an insulated cooler compartment.
Info: www.heavensbloom.com
5. HOCUS POCUS EVENTS
What: This party and event planning company can help you style a picnic-themed shoot for weddings and other events.
How much: Picnic-shoot styling starts from $300, which includes props such as a mat, throws, pillows, a tent, crockery, cake and cupcake stands and bunting. Price does not include food and drinks.
Info: www.facebook.com/HocusPocusPartiesSg
Plan a picnic
Inspired to do a picnic-themed party or a photo shoot? Here are some tips from Ms Liyana Meer, 30, from party-planning company Hocus Pocus Events, on how to organise your own picnic party.
CHOOSE A LOCATION
Singapore has many nice parks where you can hold a picnic, but do consider the ambience, crowd and on-site amenities. For example, find out if the location is pet-friendly if you are taking your dog along.
For special occasions such as birthday parties, do recce the site beforehand.
For photo shoots, try to choose a spot that is not too crowded.
SET A TIME
The time of your picnic affects where you go and what to pack. For example, a morning picnic is great for avoiding the harsh afternoon sun and enjoying breakfast food, while night-time picnics are perfect for breaking out the fairy lights.
Check the weather forecast before leaving home. That said, even if it rains, you can usually move your picnic indoors or to a sheltered gazebo.
For photo shoots, early morning, late evening and the "golden hour" before the sun sets are ideal.
SET THE THEME AND PICK YOUR PROPS
Research online to find a theme you want. For example, a rustic country picnic would have food such as cheese and baguette, and props such as burlap sack placemats and wooden crates. And an Alice In Wonderland tea party might involve cups of tea, fresh cream cakes and props such as poker cards and a pocket watch a la the White Rabbit.
Props can be borrowed or rented, or you might just find it lying around the house.
"If you're channelling a vintage theme, go for classic props such as a gramophone, or you could rent a cool old-school bicycle and pick out a retro-printed tablecloth as a mat," says Ms Liyana.
PROTECT YOURSELF
Pack insect repellent and pile on sunscreen to avoid nasty bites and getting sunburnt.
OR LEAVE IT TO THE EXPERTS
Planning a picnic can involve a lot of hard work. If time is a factor, leave it to the experts
Upcoming public picnics
THE PICNIC
What: This picnic, organised by pop-up event company Andsoforth, is held indoors, in a set-up complete with "clouds" and a lush green lawn.
The menu for the packed picnic basket varies according to the chosen time slot -get a lunch basket if you pick the 11am to 2pm slot, a high tea basket between 3 and 6pm and an extra boozy basket between 7 and 10pm.
Where: A secret location which will be made known to ticket-holders 24 hours before the event.
When: Slots for tomorrow and Sunday are fully taken up. Limited time slots available on Feb 20, 21, 27 and 28.
Admission: $68 a person, free for children aged four and below
Info: www.andsoforth.com.sg
U PICNIC - SPACE ODYSSEY
What: This mass family picnic organised by NTUC U Family carries a space theme this year. Activities include "moonwalking" with rebound shoes and jumping on bungee trampolines.
Where: Grand Lawn 1, Bishan-Ang Mo Kio Park River Plains
When: March 12, 5 to 9pm
Admission: $50 for family of five, $20 for NTUC members
Info: www.ufamily.org.sg/upicnic
GARDEN BEATS - THE ELECTRONIC PICNIC FESTIVAL
What: This electronic music festival organised by event company Sunshine Nation features headliners such as German DJ Alle Farben and French house duo Faul & Wad. Besides music, there will also be art installations, outdoor games and food and beverage vendors such as Lime House.
Where: Fort Gate, Fort Canning Park
When: March 19, 1 to 10.30pm
Admission: $65 (early-bird sales till Feb 22), $85 (regular), $105 (at the door) and $75 (Picnic Special for a group of five or more) Info: gardenbeats.com
SHAKESPEARE IN THE PARK
What: Take your picnic baskets to Fort Canning Park for Singapore Repertory Theatre's Romeo & Juliet. The play stars Thomas Pang and Cheryl Tan as the star-crossed lovers.
Where: Fort Canning Park
When: April 27 to May 22, 7.30pm
Admission: Advance tickets from $40 to $78, event-day tickets from $50 to $88, pavilion package tickets (includes priority queue, a seat, two glasses of wine or soft drinks, canapes and souvenir programme) from $85 to $108
Info: www.srt.com.sg
This article was first published on February 12, 2016. Get a copy of The Straits Times or go to straitstimes.com for more stories.