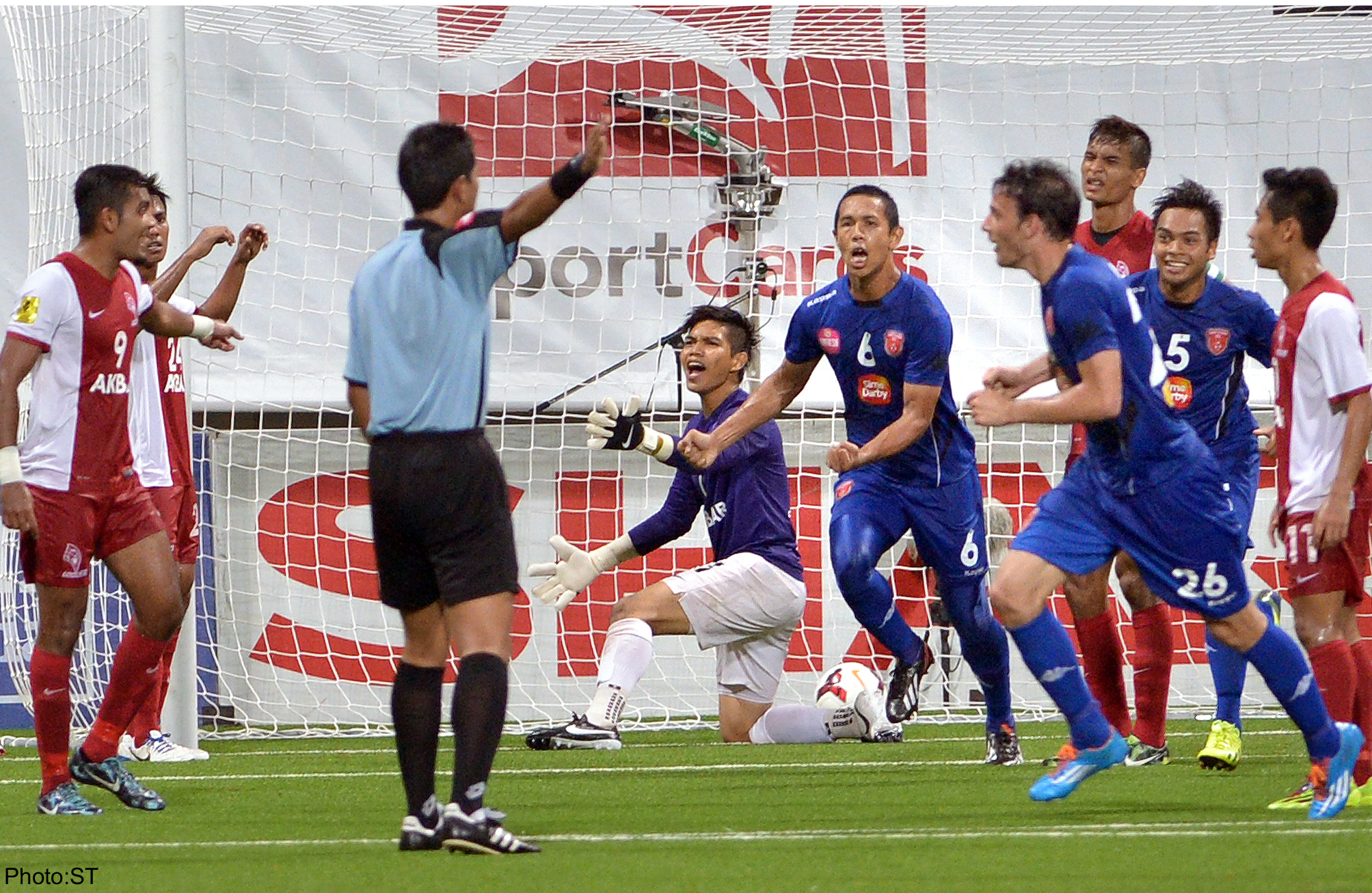 SINGAPORE - Dead-ball situations proved a reliable source of goals for the LionsXII in their march to the Malaysian Super League (MSL) title last season but are now proving to be a big source of danger.
While the team have continued to profit from set-plays - bagging eight of the 18 goals in 14 games through this method - they have also been punished by opponents in similar circumstances.
Eight out of 15 goals conceded have come from dead-ball deliveries - a rate slightly above 50 per cent.
Last year, only six goals out of the 15 let in over the entire season were a consequence of set-plays.
This month, two goals from corner kicks consigned the LionsXII to 0-1 defeats against Sime Darby and Selangor while a free kick for T-Team helped them earn a 1-1 draw in March.
"We are losing concentration at the key moments, and end up ball-watching when opponents attack the set-piece deliveries and score," said coach Fandi Ahmad who is advocating a free-flowing style to replace the pragmatic tack favoured by predecessor V. Sundramoorthy last year.
"The players need to focus more and remember their duties in set-plays better."
Fandi said the only way to get things right now is to constantly practise defending against set-plays in training.
Defender Afiq Yunos, who conceded the free-kick against T-Team that led to the equaliser, said there was an urgent need to correct the shortcoming.
"We have to be more confident in ourselves, be 100 per cent focused and close down the danger men better," he noted.
While goalkeeper Izwan Mahbud admits his backline needs to do better to counter set-plays, he said it is a problem that must be confronted as a team.
"It's not a problem with our individual ability," he said.
"We've got defenders who are great headers of the ball with the likes of Safuwan (Baharudin), Afiq and even Shakir (Hamzah) who is a left-back.
"My defenders and I have discussed a lot about the goals we have conceded from set-plays.
"Now it is up to us to concentrate harder and make sure we cut out these mistakes."
Fandi will be hoping to see an improvement when the side fly to Myanmar tomorrow for friendlies against the national side, now led by former Singapore coach Radojko Avramovic, and league champions Yangon United.
The MSL - where the LionsXII are currently sixth, seven points behind leaders Pahang - is taking a two-week break.
But plugging the dead-ball vulnerability will not be Fandi's main priority.
"My bigger concern is giving fringe players like Ignatius (Ang), Emmeric (Ong) and both Shahfiq Ghani and Syafiq Zainal a run-out," he said.
"With the league campaign still on-going and the Malaysia Cup campaign following it, we need to depend on everyone in the squad, and not just the usual regulars, to get through all these games.
"If we don't, we'll be in trouble when one or two of the regulars get injured so this is why everyone must be ready when they are called."
This article was published on April 27 in The Straits Times.


Get a copy of The Straits Times or go to straitstimes.com for more stories.