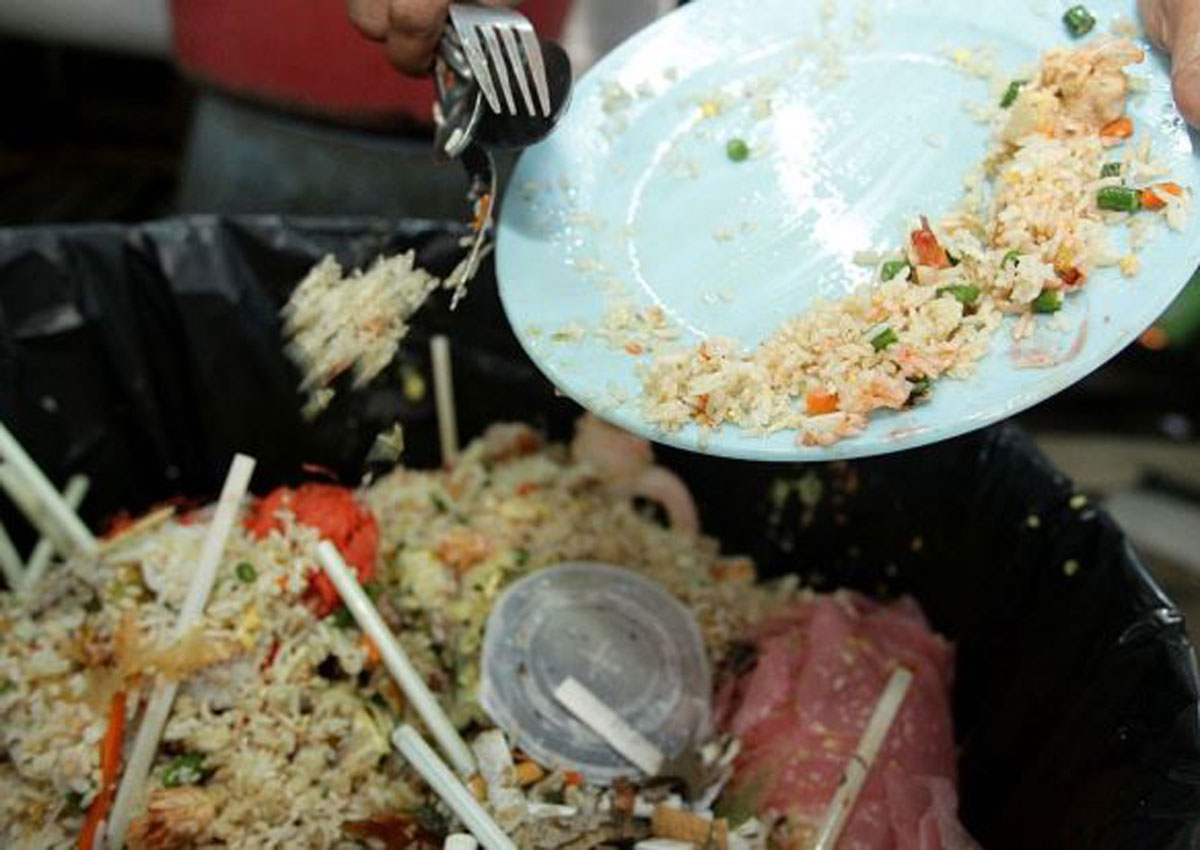 Chetan Bhagat is a famous Indian author. He's also a columnist, screenwriter, TV personality and motivational speaker.
I guess he must be wealthy, too. Just a year ago, he wrote about how he had gone to Hamburg in Germany and ordered food. He and his colleague were hungry, so they ordered more than they needed.
They were about to leave the restaurant when a few elderly ladies from another table angrily confronted them, pointing to the food that was still on the table. About a third of what they had ordered had been left uneaten.
He and his colleague were flabbergasted.
"We paid for our food, it is none of your business how much food we leave behind," my colleague told the ladies, Chetan wrote.
The furious ladies made a phone call and a man in uniform from Social Security came along. Hearing what had happened, he slapped the tourists with a €50 fine. They had no choice but to pay up.
What the man in uniform said was priceless.
"Order what you can consume. Money is yours but resources belong to society. There are many in the world who are facing a shortage of resources so you have no reason to waste resources."
And that's in Germany, one of the wealthier countries in the world.
We in Malaysia have a lot to learn from them.
Recently, the head of a consumers' association made a stunning declaration. He said almost RM9bil worth of food is wasted - during the fasting month alone.
Datuk Nadzim Johan of the Muslim Consumers' Association (PPIM) claimed so much food was wasted during the breaking of fast, creating artificial demand.
"Today, chicken prices, vegetable prices are going up because people waste an unbelievable amount."
It's not a new story. And it's not just during Ramadan. Almost all of our festivities lead to food wastage.
It happens during Deepavali. I should know. I host dinners and end up throwing a fair bit of food.
Earlier this year, during a Chinese New Year event in Kuching, a flimsy table laden with food packets collapsed. And all hell broke loose. Rela security personnel resorted to throwing food packets at guests. Some caught a few packets and gleefully took them home. Others fell over each other. And worse, the food packets were trampled upon.
It was a sad sight. One that should not be repeated.
It has already been reported that Malaysians waste up to 8,000 tonnes or eight million kilos of food a day - enough to feed six million people. In Kuala Lumpur alone, the waste comes up to about 3,000 tonnes a day while Penang island generates about 355 tonnes of food waste every day
Imagine, if we did not waste food, almost no one will go hungry in the country, and we could easily afford to feed the Rohingya in the refugee camps.
The cost of food waste management isn't something to be scoffed at either. It is estimated to run into billions of ringgit a year.
In Europe, there are already moves - France has passed a law - to bar shops from destroying food as they approach their sell-by date.
The unwanted items are to be donated to charity.
But it will take more than the supermarkets and big restaurants. It has to be you and me.
Things are bad. And they may get worse. Already, the padi fields in Thailand are drying up as a drought hits its farmlands. One bad harvest in Malaysia could lead to big trouble.
Nadzim says a food collection centre must be established to prevent wastage.
"There must be a food exchange centre. Food that is not finished must be sent there voluntarily. If we want it done, nothing is impossible. This is not about going to the moon, it's just about saving food."
It was like listening to my mother. As children, we could take only as much as we could eat. Seconds and thirds were allowed if you were hungry. Mum would be the boss at the sink - she did the washing up - and if there was leftover food on the plate, you would get a rap on the head.
Back then, we had to be frugal. There wasn't much in the family kitty. Now, we need to be.
Chetan wrote his Facebook post on July 18 last year. A year on, Malaysians will be into the second day of Hari Raya. We would do well to reflect on his experience as we feast.
Three months down the road lies another important day. Oct 16 is World Food Day. And we may want to think about having our own food police, like the Germans.
The writer, who can be reached at ­raj@­thestar.com.my, is planning a buka puasa gorging session at Penang's Queen Street tomorrow. He would like to wish all Muslim readers Selamat Hari Raya. Enjoy yourselves, you deserve to after a month of fasting. But eat in moderation. Waste not, and may you want not too. The views expressed are entirely the writer's own.