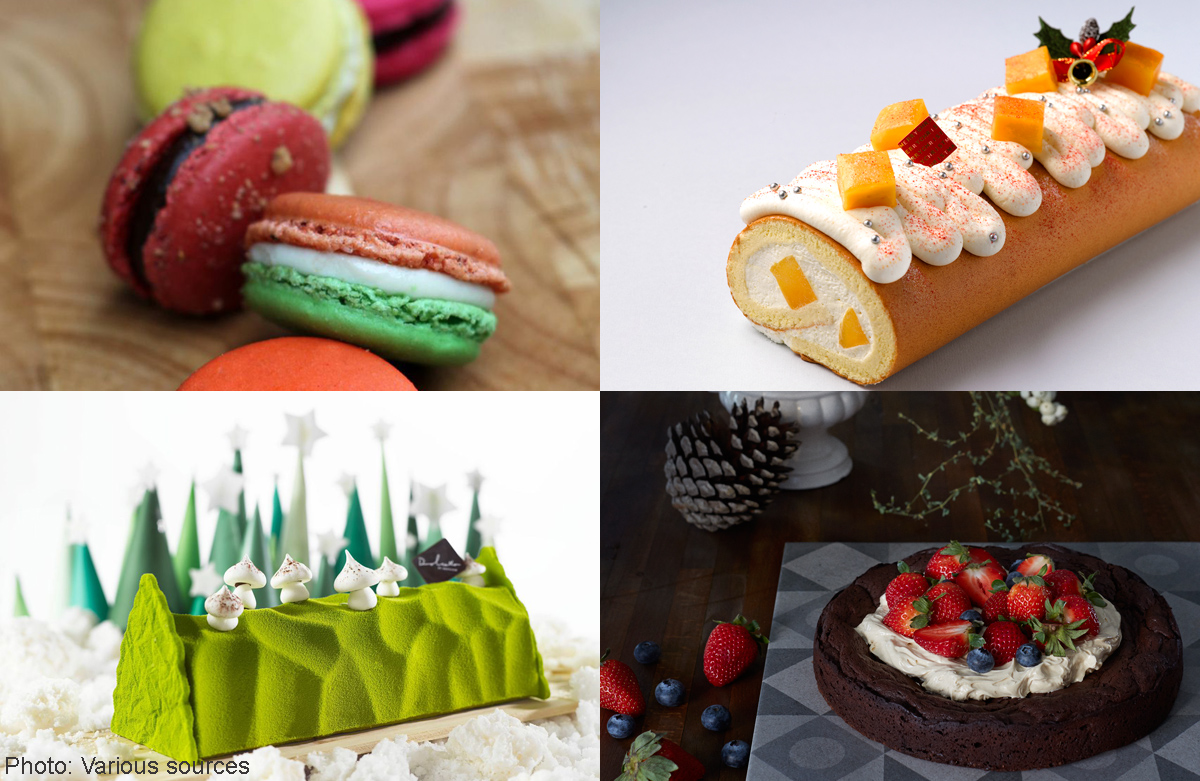 Choose from show-stopping log cakes, decadent chocolate confectionery, and a carnival of sweets to feast on this holiday - resistance is futile.
Avant-garde Christmas cakes
Award-winning pastry chef Janice Wong is back this season with a new retail pop-up store at Gardens by the Bay. For Christmas, Chef Wong gives the traditional log cake an abstract art-inspired look and subversive flavour combinations such as white truffle with smoked eggnog and salted caramel in the Truffle Dove (S$75) - a more predictable Chocolate Rocher is also available. Her range of designer-looking cakes in cherubic spherical shapes (S$10) also comes in festive flavours such as Praline Christmas Ruby with dark chocolate, praline, cocoa nibs and raspberry or the Mistletoe which pairs mint, milk chocolate, gingerbread and chestnut.
Available at the JANICE WONG travelling pop-ups: Christmas Wonderland @ Gardens by the Bay from Dec 14-21. ION Orchard Level One Atrium from Dec 22 Tel: 9712-5338
Pantler's French-Japanese classics
Tomoharu Morita and Matthias Phua met while they were working at Joel Robuchon Singapore and later partnered to open Japanese-French Pantler bakery in October. Check out their Christmas repertoire: the signature Pantler Cheesecake (S$48), festively decorated, of course, is described by Chef Phua as "a cross between a Japanese cheesecake and American cheesecake because it's not that fluffy or dense".
Unlike the usual sticky-sweet brick packed with electric green candied cherries, Pantler's version of the fruitcake (S$24) incorporates orange confit and boasts a more sophisticated shape - it's taller and leaner. They have also swopped their usual mango shortcake with a classic strawberry shortcake (S$62) using seasonal Korean strawberries.
While you wait for your Christmas cakes to be packed, tuck into Pantler's signature choux puffs that are piped with cream a la minute so the pastry remains crisp. There are also bits of nougatine inside.
198 Telok Ayer Street Tel: 6221-6223
Keeping it simple
One of the few festive cakes out there with no bells and whistles, the Chocolate Arc-en-Ciel from Lady M, is a simple quadruple-decker of sinfully moist chocolate cake layered with dark and milk chocolate mousse, a silky pour of ganache and cocoa powder dusting on top. Lady M is a New York import which made its name as the pioneer of the world-famous Mille Crepes cake. The Chocolate Arc-en-Ciel is not too sweet so you can easily have more than one slice plus it has achieved the perfect cake-to-mousse ratio - no small feat. Only available in December. S$8.50 per slice, S$85 for a nine-inch whole cake (needs three days' advance booking).
6 Raffles Boulevard, #02-103 Marina Square Shopping Mall Tel: 6822-2095
1 Fullerton Road, #01-10 One Fullerton Tel: 6820-0830
Festive macarons at Patisserie G
Le Cordon Bleu-trained Gwen Lim, a finance executive-turned-pastry chef, is known for her delicate macarons in unique flavour combinations. She doesn't disappoint this season with six new festive macarons (S$18 for a box of seven/ S$36 for a box of 14/ S$75 for gift box of 27). There are gingerbread-spiced ones as well as Blackforest-inspired treats that combine Kirsch with 64 per cent dark chocolate and pureed dark cherries. Aside from French confectioneries, Chef Lim improves her fruitcake (S$42) recipe this year with raisins, apricots, and prunes that have been macerating since last Christmas. The moist and rich fruitcake cake is spiked with a mix of brandy, orange liqueur and dark rum.
9 Raffles Boulevard, #01-40 Millenia Walk Tel: 6338-7578
Festive kouign amanns at Tiong Bahru Bakery
Bed-head French celebrity pastry chef Gontran Cherrier conjures up some festive French bakes for this season with two holiday renditions of the signature buttery Kouign Amanns (S$4.50 each). Perfect for Christmas morning breakfast while you open presents are the Pear & Cinnamon Kouign Amann (inspired by the Christmas carol 12 Days of Christmas) and the ultra-decadent Chocolate Kouign Amann. The Snow Log (S$30/S$45, serves four to six people) is a luscious cheesecake that packs in plenty of fruit - there is a good layer of mixed berries confit spiked with zesty green lemon. The piquant flavour acts as a foil to the rum-infused blueberry biscuit at the bottom. The Choco Log (S$30/S$45, serves 4-6 pax) offers a chocolate cream mousse and crunchy praline feuilletine resting on a base of chocolate biscuits. All log cakes require 24 hours' advance order.
56 Eng Hoon Street, #01-70 Tel: 6220-3430
#B1-11/12 Raffles City Shopping Centre Tel: 6333-4160
L1-16B Tangs Orchard Tel: 6735-3787
Mandarin Oriental's nutty cake-tart-pie
It's a cake. No, it's a pie. Or to be more accurate, it's a cross between mousse cake, tart and pie. The hotel's new Christmas Chocolate Mixed Nuts Crunch Pie (S$36 for a seven-inch pie) sees creamy chocolate mousse paired with a vanilla sable tart. Mousse cakes tend to collapse if they sit outside for too long, but this is held up by the crunchy nut crust - there are even bits of slightly salty crushed pistachios at the bottom. Log cake fans can also look forward to the Christmas Snow Noel, rolled in pistachio genoise sponge, pistachio nougatine bavarois, raspberry milk chocolate (S$74 for one kg) as well as The Northern Star Noel, consisting of citrus Victorian sponge, wild strawberry yuzu compote and Madagascar vanilla mousse (S$70 for one kg).
Mandarin Oriental, Singapore, 5 Raffles Avenue, Marina Square.
The festive counter is open until Dec 25, 2014. Tel: 6885-3081 or e-mail mosin-festive@mohg.com
Show-stopping log cakes
Dolcetto by Basilico's Bronte Pistachio and Crunchy Praline Log Cake (S$79 for one kg) certainly wins points for its attractive appearance. Resembling a tree log in a fairy tale forest with "white mushrooms" sprouting from it, the cake flaunts a dream team pairing of vanilla almond sponge cake, light mango curd and lush chocolate pistachio mousse. The rich Chuao Amedei Dark Chocolate Raspberry Log Cake (S$79 for one kg) is another good looker with shiny, tempered chocolate and baubles of chocolate spheres and raspberries on top. Rich, dark and decadent, it features intense Manjari cocoa sponge cake, dark chocolate mousse with raspberry jelly, and a layer of crunchy feuilletine.
Regent Singapore, A Four Seasons Hotel, 1 Cuscaden Road Tel: 6720-8000 or e-mail dolcetto.rsn@fourseasons.com
Tea-infused sweet treats
The local luxury tea brand TWG Tea has a new range of festive teas named after cities and they've incorporated these brews into their range of log cakes (S$9.50 to S$76 depending on the size) for Christmas. Imagine Noel in Vienna Tea, an aromatic black tea with notes of cream and wild strawberries, paired with chocolate in one log cake; and Noel in Paris Tea, a decaffeinated green tea blend with the aroma of candied Provencal lemon and sweet spices matched with Berry Macaron & Orange Flower in another cake. Don't miss the TWG Tea Scottish shortbread in flavours such as Matcha and Earl Grey as well as the Limited Edition Christmas Macarons featuring Noel in Singapore Tea & Spiced Mandarin Orange. Available at all TWG outlets.
2 Orchard Turn, #02-21 Orchard ION Tel: 6735-1837
Lighter confections at Antoinette
A departure from the over-the-top decadent French cakes and pastries that he's been showcasing at his boudoir-like tea-room Antoinette, pastry chef Pang Kok Keong goes light for a change. After a visit to A Tes Souhaits, an award-winning pastry shop located in the trendy suburbs of Kichijoji in Tokyo, Chef Pang came up with the Kichijoji Soufle Roll (S$53.30 for petite; S$107 for grande) which features a pillowy sponge cake with Chantilly infused vanilla crème, kirsch liquor, and fresh mango cubes. The roll is decorated with icing sugar powder "snow" and raspberry powder for a festive touch and requires three days' advance order. Equally easy on the palate is the Orange Earl Grey Tea Chiffon Cake (S$21.40), which provides a festive, yet underrated counterpoint to fancier desserts.
30 Penhas Road (off Lavender Street) Tel: 6293-3121
333A Orchard Road, #02-33/34 Mandarin Gallery Tel: 6836-9527
390 Orchard Road, #B1-08/09/10C Palais Renaissance Tel: 6735-6392
Holiday desserts from a heartland bakery
Best known for their lychee martini cake, heartland bakery Pine Garden's Cake brings on some new seasonal roll cakes to kick off the season. Chocolate and strawberries are a no-brainer combination but throw in some sweet-tart balsamic vinegar into the mix and they elevate the cake to the next level. The Chocolate Strawberry Balsamic log (S$59 for 800g/ S$86 for 1.2kg) features a dark chocolate sponge roll filled with strawberries, coated with a light strawberry Swiss meringue buttercream and drizzled with aged balsamic vinegar reduction from Modena. For flavours of autumn, try the cinnamon-spiced sponge cake roll packed with Ah-Ma's homemade apple stew and coated with a caramel buttercream frosting (S$42 for 600g/ S$63 for one kg).
Block 529 Ang Mo Kio Ave 10 #01-2369 & #01-2329 Tel: 6457-6159. www.pgcake.com
Robuchon's haute cakes
For the haute cuisine version of Christmas log cakes, the La Buche de Noels (S$85+ for 500g) from Joel Robuchon Restaurant are worth the splurge. Peruvian pastry chef Antonio Benites creates a new log cake with an Asian twist this season: citrusy yuzu melds together with a slightly spicy ginger cream and a gourmet breed of strawberries known as "Mara de bois". Orders have to be placed three days in advance; pre-orders end on Dec 22.
Joel Robuchon Restaurant Tel: 6577-7888
Yuzu-inspired danishes
Japanese bakery Asanoya casts the spotlight on yuzu fruit for its festive danishes. While yuzu is available all year round in Japan, it tastes best during winter, according to Naomichi Kobayashi, executive director of Asanoya. Fans can look forward to the Sweet Potato Yuzu Danish (S$3.60), a crispy pastry with Narutokintoki sweet potato and yuzu peel, and the Yuzu Cream Cheese Cube (S$4.50) stuffed with sour cream cheese and yuzu peels - both perfect for a Merry Christmas morning.
15 Queen Street, Wilby Central Tel: 6703-8703
Hitting the sweet spot
Inspired by the spirit of giving, SweetSpot has introduced a beautiful log cake topped with a golden ribbon made with chocolate paste to resemble a present. Evoking the flavours of Fall, the Caramelised Apple Yule Log (S$65) is covered in caramel glaze and filled with layers of milk chocolate mousse, caramelised apple and spiced chocolate sponge cake. Two new flavours are also available: Chocolate Chestnut Church Yule Log (S$65) and Mascarpone Cheese Mango Yule Log (S$65). Available till Jan 1.
2 Bayfront Avenue, #01-30 The Shoppes at Marina Bay Sands, Hotel Tower 3 Lobby Tel: 6688-8588
Laduree's exotic macarons
Instead of the ubiquitous snowflakes and pine trees, Laduree has launched a limited-edition Laduree Exotic Box featuring this season's new flavours: Pineapple and Chocolate Granada. As a nod to the sunny tropics, the Laduree Exotic Box adds a burst of freshness with pineapple and lush green forest motifs. Retailing at S$39 and S$70 respectively for a box of six or 10.
Takashimaya Shopping Centre, Ngee Ann City, #02-09 (boutique) and Level 1 #01-24A (counter) Tel: 6884-7361
Chocolate decadence
You can rationalise that without any flour, you can enjoy this decadent chocolate cake by indie baker Dewi Imelda Wadhwa without any guilt. Dream on. This flourless cake is a pillow of dark chocolate that ends in a crunch of golden sugar crystals at the base, topped with mild hazelnut butter cream and strawberries. Simple yet stylish. S$68 for a nine-inch round cake. Light and crisp gingerbread butter cookies are worth grabbing too. S$24 for a dozen.
And All Things Delicious. #01-61 462 Crawford Lane Tel: 6396-0820 or SMS 9382-4767 or visit www.andallthingsdelicious.com

This article was first published on Dec 13, 2014.
Get The Business Times for more stories.