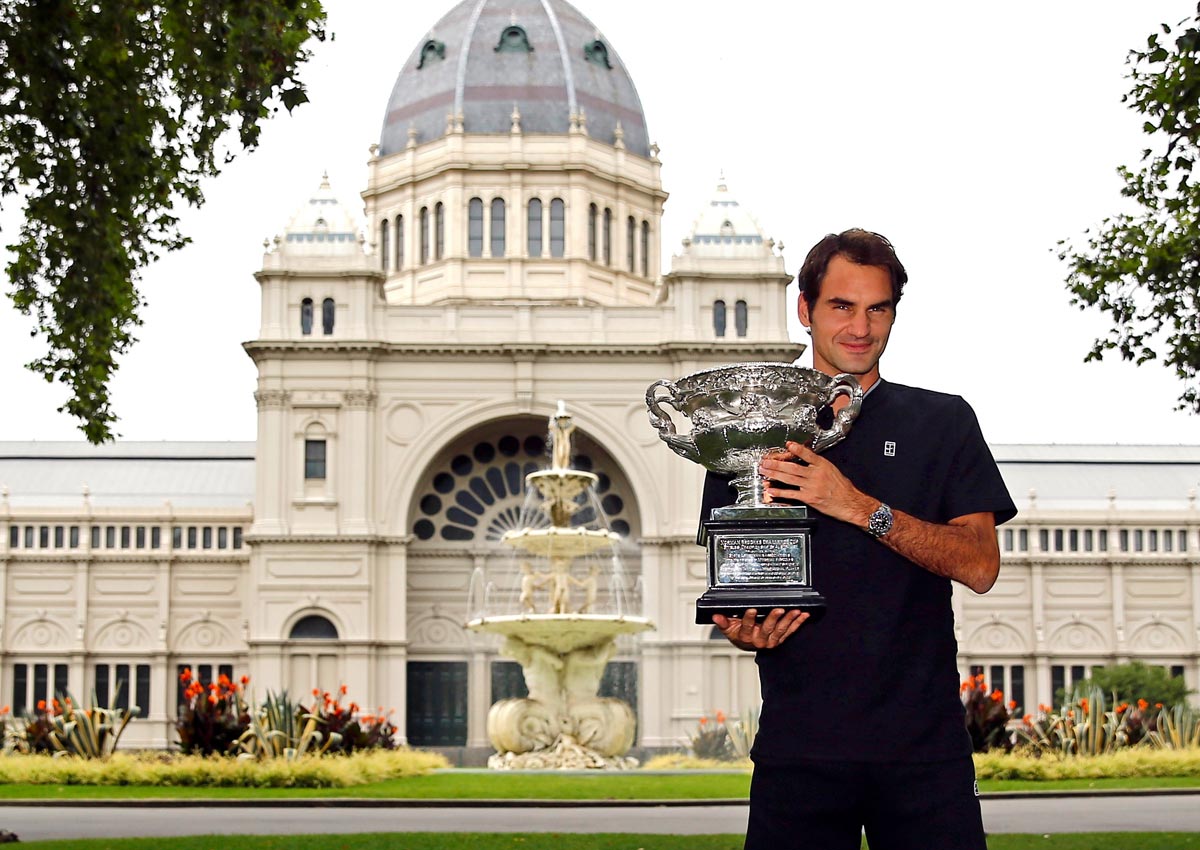 If you hadn't seen it, hadn't borne emotional witness to it, hadn't been here in this arena or at home nibbling at your nails, you'd laugh it off as a work of nonsense fiction.
Roger Federer won?
He beat the fighting man?
In the fifth set of the Australian Open?
When 0-2 down?
Come now. Enough now.
But this is what the exceptional athlete does.
He works with the impossible.
He spins tall tales.
He takes you to places you've never travelled to.
He turns back time, he rewrites history, he mocks prediction.
He makes you reconsider the idea of talent and insists you reassess the depth of genius.
The 61-minute fifth set on the way to Slam No.18 is possibly the greatest he has played.
Surely?
Because if he digs into that encyclopaedia in his brain, if he's looking for evidence to arm himself with it, there's nothing.
Nothing like this, nothing to prepare him at 35 on a sore leg against Nadal.
At two sets all, the match is only notionally even.
Nadal has won the fourth set and we know what he's like under pressure.
A dam, a dike, an impenetrable object.
We also know how these duels end and it's the predictability of it all which is exhausting.
Federer is done.
Body language is telling us unarguable tales.
Nadal runs off the court, Federer looks forlorn as he follows a trainer out.
He is more than tired.
As the amusing Yogi Berra, the baseballer, once put it: "It's deja vu all over again."
We keep forgetting he is five years older than Nadal but at an age where it tells more.
He has played 1,332 career matches, Nadal 990.
We keep underestimating the absurdity of not playing for six months for he must recover feel, find touch, arrange footwork, reclaim timing and discover the stamina for three five-set matches.
We accept he has talent, but really, this is showing off.
The noise as the fifth set starts is 15,000 people registering their approval.
Not necessarily of the play, which has been scratchy, but of these players.
Men who don't have crowds but personal choirs because they give tennis a heart and a gloss, because this duel in some way is also a partnership in excellence, because they are so different.
Federer with sculptor's chisel and Nadal with blacksmith's hammer. Both used bandannas for appropriately distinctive purposes: Federer to keep his hair in correct place, Nadal to absorb his excessive sweat.
In the first game of the fifth set, they start with a 10-shot rally.
Nadal wins.
Then a 16-shot rally.
Nadal wins.
Federer is broken.
No, he is beaten. 0-1.
Nadal serves and Federer flicks a backhand down the line and then another crosscourt for winners.
They sound as good as they look.
In the first four sets he hits six backhand winners combined, in the fifth alone he strikes eight.
This is his weakest stroke?
Nadal saves three break points, two with forehands made of muscle.
Two games later he will save another break point with a backhand crunched cross court.
The crowd howls.
The seagulls are not the only ones flying.
Nadal is 3-1.
Federer cannot break him and this is the issue.
He's the greatest ever with an asterisk that is 185cm tall and comes from Spain.
And then Federer wins five games in a row. 1-3 to 6-3.
It is madness and miraculous, it is skill and desperation, it is prayer and experience, it is last throws of the dice and the latest building blocks of his legend.
He wins 10 points in a row and his face is empty.
No emotion written, no hope, no bravado.
It's almost like he doesn't want to think too hard about what he is doing because it will not make sense.
He tells himself, "play free. The brave will be rewarded" but words everyone says to themselves.
It is the translation into action, under pressure, while facing Nadal, knowing what people will say if he loses - how is he the greatest? - which is outrageous.
Nadal is tired, to his bones, his energy leaked away, for he has played 860 more shots than Federer on his way to the final.
There are only so many miles even in Spanish feet.
Federer will serve for the match with new balls and Nadal will rattle him.
It's inevitable, a final rebellion, but it's also the end.
At 15-40, Federer flattens an ace down the middle.
At 30-40 he hits a forehand he has stored for a lifetime just for this moment: Inside out, searing, spinning, out of reach. He will watch the replay at home. He will not believe it.
Then he has won and tears come and we know why.
He believed he had one Slam left in him and yet Djokovic came, Murray arrived, a knee failed him, Grand Slam finals were lost, Kei Nishikori pushed him here and Stan Wawrinka exposed his anxiety.
How much can a man fight, and how does an artist fight, and how many things - Nadal, time, injury and himself - must he fight?
And yet he did.
People are more than stirred, they are moved.
Not just by him, but equally by Nadal.
Two men who need each other and push each other.
Two men who exist to win but know how to lose.
Two men of dedication and decency.
Two men who knew that last night there was only a single fairy tale available.
rohitb@sph.com.sg

This article was first published on January 30, 2017.
Get a copy of The Straits Times or go to straitstimes.com for more stories.