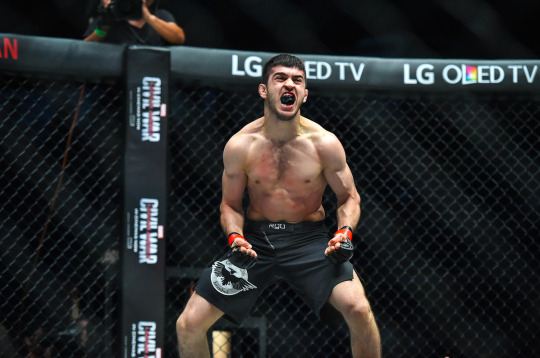 A thrilling lightweight affair as seen by ONE Championship lead commentator and Fox Sports Presenter Steve Dawson.
This Saturday night in Jakarta gives us all another chance to see the very impressive Saygid Guseyn Arslanaliev.
ONE: QUEST FOR POWER pits the 22-year-old against Bulgaria's Georgi Stoyanov. The young Russian has blitzed his way to a 4-0 record in a grand total of 225 seconds — an average of less than a minute per outing.
Watch out for a missile disguised as a left hook, but do not be deceived into thinking that his arsenal stops there. Dangerous with knees and feet, it is no surprise that Arslanaliev does not hang around in the cage for very long.
The man who has arguably had the most success against Arslanaliev was China's Ma Jia Wen. And yet if you are going to watch one fight to see how much knockout power the Russian has, then this 117-second contest is the longest look that you're going to get. The range and speed of his offense were on exhibition that night and will not be easily forgotten.
The lightweight division is full to the brim with impressive talent, and there is no need to stall the Istanbul-based fighter's progress with second-tier names. If he can get past the tremendous experience of his opponent on Saturday, the best that the division has to offer will surely be lined up for him over the coming 12 months. Get by those, and he should be in line for a title shot come 2018.
The first step is Stoyanov, who won all of his first 11 professional contests, but has gone through a rough time recently, having only managed one victory in the last three years. Still, his experience is significant. A 19-11 record carries substantial weight, and in all that time he has never been knocked out.
Having said that, only one of the 36-year old's 19 wins has come by KO, with 11 submissions left to take the headlines. He does though, have a heavy overhand right, although he will need to throw it with some velocity if it is to match the intensity of his opponent.
Stoyanov has a broad bulky frame, and when matched with his wrestling and submission pedigree — his grandfather was an Olympic gold medalist — his strength on the inside will be his biggest hope.
For that reason this battle will be a risky one for Arslanaliev, but it is one he should overcome. And if he does, 2017 should be a year when we see a steep climb up the ONE Championship ladder.
Steve Dawson is ONE Championship's lead commentator, a Fox Sports presenter and an author of sporting biographies. He can be found on Twitter & Instagram as @Gulasahi and on Facebook as Steve Dawson.