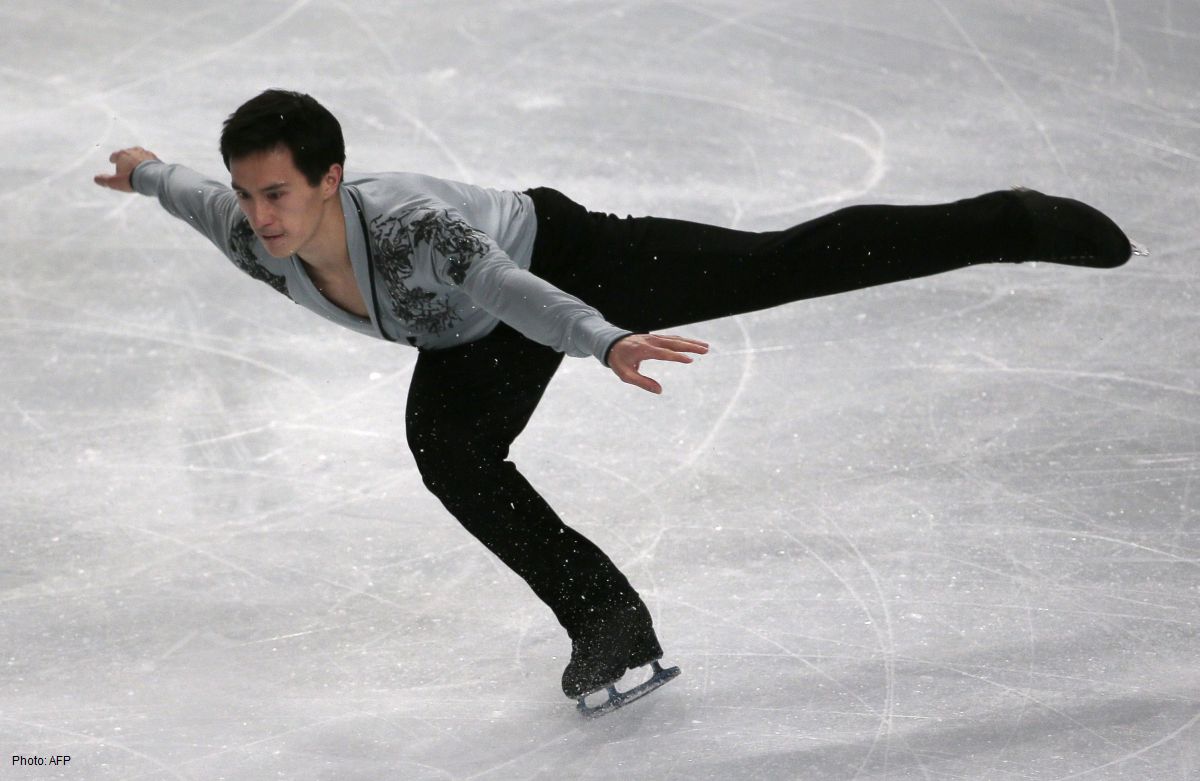 TOKYO - Men's favourite Patrick Chan and Japan's Mao Asada will look to make a strong statement at figure skating's Grand Prix Final this week, ahead of their bids for elusive Olympic gold.
Chan and Asada are unbeaten going into the Grand Prix season finale in Fukuoka, Japan, the last gathering of top global stars before they both challenge for a breakthrough Olympic title at Sochi in February.
Three-time world champion Chan, 22, has stood out in the men's competition, with wins in Canada and France as he topped the overall season standings.
The performances have made the Canadian favourite for Sochi, four years after he disappointingly placed fifth at Vancouver 2010 following a build-up hit by swine flu and injury.
With America's Olympic champion Evan Lysacek and Russian runner-up Yevgeny Plushenko both out with long-term injuries, Chan's task appears to have been simplified.
Japan's Daisuke Takahashi, the Olympic bronze medallist who won last year's Grand Prix Final, has also pulled out of Fukuoka after hurting his leg in training.
But Chan said he would face stiff competition this week, especially from Japan's Tatsuki Machida, second in the season standings after wins in America and Russia, and Yuzuru Hanyu.
"The Grand Prix final is going to be a challenge," Chan said after his triumph in Paris. "The Japanese will have the definite (home) advantage."
"(Yuzuru) Hanyu is among my rivals for the Olympic title," he added, referring to the 2010 world bronze medallist who was runner-up in both Canada and France.
Japan's Asada is also favoured for the women's competition but she will be keeping an anxious eye on the lower-tier Golden Spin in Zagreb, where Olympic champion Kim Yu-Na is making her comeback from a foot injury.
Asada, 23, the two-time world champion, placed second behind Kim in Vancouver when the South Korean compiled the world record score of 228.56.
Despite being erratic in her trademark 3.5-revolution triple axel, Asada reached a personal best total of 207.59 points in Tokyo, her second win of the Grand Prix season.
A quartet of Russian teenagers making their Grand Prix Final debuts, led by 15-year-old Julia Lipnitskaia, are seen as Asada's biggest threat in Fukuoka.
"She performs in a sort of mixture of figure skating and rhythmic gymnastics. I cannot do that," Asada said of Lipnitskaia.
But she added: "Everything has been going well this season so I believe I can go higher still."
In the pairs, world champions Tatiana Volosozhar and Maxim Trankov of Russia face their German rivals Aliona Savchenko and Robin Szolkowy.
The ice dance is expected to be a preview of the Sochi showdown between America's world champions Meryl Davis and Charlie White, and Olympic title-holders Tessa Virtue and Scott Moir of Canada.
Each skater or pair can enter only two of the six Grand Prix events per season, with the best six in each category qualifying for the season finale.