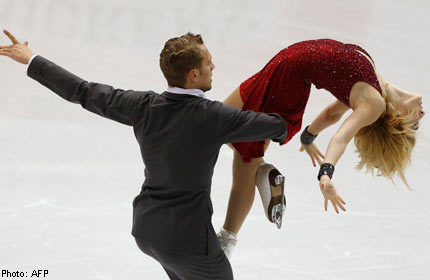 VILNIUS - Lithuania's president on Monday granted citizenship to US ice dancer Isabella Tobias, allowing her to compete in the 2014 Sochi Olympics with her partner from the Baltic state.
The decision marked a turnaround for President Dalia Grybauskaite, who first rejected the citizenship request in January on grounds that Tobias had failed to meet the strict requirements.
But the presidential office said in a statement Monday that Tobias now met the criteria for exceptional merit, after she and skating partner Deividas Stagniunas secured their Olympic berth in March.
She had improved her Lithuanian language skills, the office said, while presidential advisor Indre Pukanasyte told reporters that huge public support in Lithuania had also played a crucial role in the decision.
Tobias, 22, had been skating with Stagniunas since 2010 and needed to be a Lithuanian citizen to compete in the Olympics.
Lithuanian National Olympic Committee president Daiva Gudzineviciute hailed the decision, saying the pair would likely bring back the best results of the Baltic state's delegation of nine atheletes.
"We are very glad for Isabella but maybe even more for Deividas who has always been a Lithuanian citizen," Gudzineviciute told AFP.
The duo is currently ranked 19th by the International Skating Union.