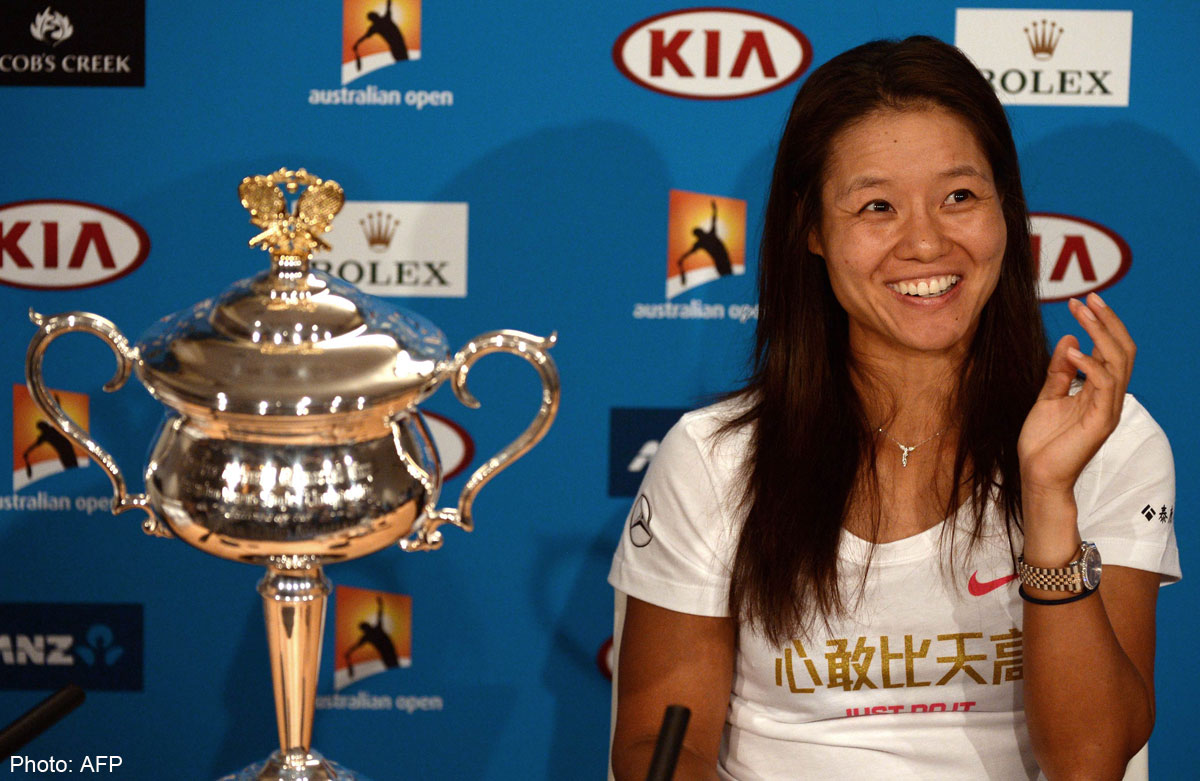 History doesn't have to be pretty. History will not care the tennis last night was uneven. History instead is a name printed in record books and forever, next to the words Australian Open 2014, it will say Li Na. It will note a score, 7-6, 6-0. It will state her nation, China. It will mention she is the first Asian to win it and the oldest woman at 31 years 334 days to triumph here in the Open era.
This history can never be rubbed out.
Twice before, Li has stood politely to receive the runner-up trophy at this Open and now the trite phrase, "third-time lucky", will follow her. Yet this is victory born of courage not fortune, of risk not karma.
At 31, athletes decline, but she has evolved. She hired a new coach Carlos Rodriguez, altered her grip on serve and backhand, added nuance to her game and advanced her fitness. She has built her greatness, it has not come to her. "Last year," she said, "I say I want to be top 3, nobody believe. Beginning this year I say, I want to win another Grand Slam title. Nobody believe. More important is I believe, (Carlos) believe, my team believe."
Hugged by 18-time Grand Slam winner Chris Evert, Li was awarded the Daphne Akhurst Memorial Cup, earned A$2,300,000 (S$2,600,00), but the crowd had been won long ago. Her timing on stroke and as comic is the reason. At the ceremony, she said of her husband, "so thanks for him giving up everything, travelling with me to be my hitting partner, fix the drinks and fix my rackets."
As the crowd hollered approval, she added, "You are nice guy. Also lucky, (you) find me." Later, asked what might happen if her husband said enough, she returned to comedy: "If he said, enough, I think we will divorce."
Nothing was straightfroward this day. Her rival Dominika Cibulkova arrives from a nation of 5.5 million; Li, before the match, had a social media following of 22,392,972. It was a grand day for big country and small.
The exuberant Slovakian, defeated yet proud, said: "It's been a fantastic two weeks of my life and I think I am going to cry." And she did. She is the top 100's shortest player, yet this fleet female David has smote a string of Goliaths. The average ranking of her six previous rivals was 21, for Li it was 134. It hardly seemed fair, but sport rarely is.
All week, Cibulkova defied the numbers. Not this night. Li is ranked 20 places higher, is 11cm taller and is one Grand Slam title (French, 2011) hardier. It had to show, but it took a while, the contest meandering through a nervy first set of 110 minutes and 29 unforced errors and into a one-sided second of 27 minutes.
The match commenced with eight straight unforced errors, a strummed Li backhand winner and a Cibulkova double fault. It was the first of seven service breaks for a wobbly match that will never make it into a tennis museum.
Li had break points for a 3-0 lead, but Cibulkova passed her, held and shouted. Three games later, Li double-faulted twice to be broken herself and soon the Slovak was leading 4-3. At one point, Li's husband ran from the players' box, extra rackets and gutting in hand, but the issue was not tension of her racket but in her stomach. "We were both nervous," she conceded.
From the same geography as the Slovak once came a fellow named Miloslav Mecir, of such lithe movement he was dubbed "Big Cat". Cibulkova is his smaller feline cousin, her lack of heft compensated for by wings on her sneakers.
Yet Li hits faster than Cibulkova can move except her hiccuping forehand meant she could not dominate. Her rival had become, as they do in major finals, her own demons, which is possibly why her autobiography is titled Playing Myself.
But Li is nothing if not brave. "Hang in there," she told herself, broke to 6-5 with yes, what else, but a backhand cross-court winner that glinted under the lights. She served for the set, was broken back to 6-6 and then finally discovered the champion lurking inside in the tie-breaker.
"OK, now you have to go," she told herself and off she went. She won it 7-3 and her next stumble came only at her first matchpoint. "After win match, what should I do?" she thought and lost it. Then, she told herself, "don't think, focus" and won it all. A long journey was done for the woman from Wuhan.
Liu Renjie, a journalist with China's Sina.com, told me that Li, once a rebel, now is viewed more positively in her nation. In China, he said, "when you're over 30, people think it's old. But when she got to No.3 last year (her highest ranking), people saw her courage and hard work and felt encouraged". Now they should simply make her an ambassador at large.
Li returns home for Chinese New Year with a trophy for a mother who is too nervous to watch her. She leaves behind a clutch of memories and one last dazzling image.
Late at night, smile dancing on face, her shirt embossed with Chinese lettering that read "the heart has no limits", she sat in the interview room. A gleaming trophy stood before her and she a polished champion behind it. History is beautiful.

Get a copy of The Straits Times or go to straitstimes.com for more stories.