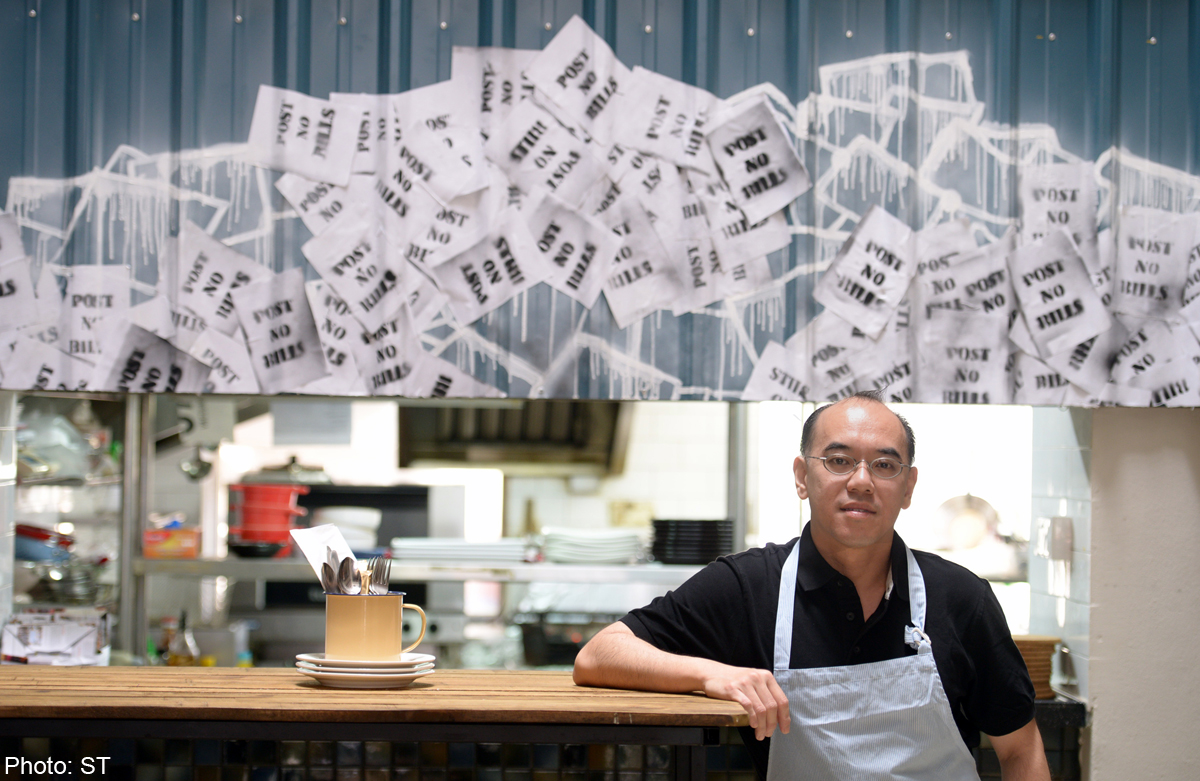 From cuts, bruises to scalds, chef Anthony Lim has helped salvage mishaps in the restaurant over the past two decades with his nifty first-aid knowledge.
The 42-year-old, who is a certified first aider, has been volunteering with St John's Ambulance Brigade for more than 10 years. He is the chef at The Prawn Star, an East-meets-West zi char restaurant in Duxton Hill, which opened last November.
Just one month into his new job, he stepped up as the assigned first aider when a glass-top table slipped off the hands of two members of the staff. It shattered and glass shards cut their arms. He removed the glass pieces, treated the wounds with antiseptic cream and bandaged them swiftly.
The unassuming chef says: "I gain satisfaction in lending a helping hand to others. That was why I considered becoming a nurse, but nursing wasn't offered as a course in polytechnics then."
Instead, he turned to another interest - cooking - and enrolled in hospitality school Shatec. After he graduated in 1992, he worked in
French fine-dining restaurant Les Amis for seven years and European restaurants Bistro Du Vin and The Disgruntled Chef.
At The Prawn Star, he whips up fusion zi char seafood dishes injected with Asian flavours, such as kimchi-miso butter and sriracha, a Thai hot sauce.
One of the dishes, Banh Mi shoestring fries, is crowned with barbecued pork, radish and jalapenos.
The dish was inspired by a trip two years ago to his Vietnamese wife's hometown in Can Tho, a four-hour drive from Ho Chi Minh City. He fell in love with banh mi, a meat- filled Vietnamese baguette sandwich.
His wife, 28, is a homemaker. The couple have no children.
He says: "On top of reading cookbooks and watching MasterChef, I also get inspiration from my travels, so that I can give zi char dishes an exciting new twist."
What is your favourite seafood to work with?
I like red-legged king prawns and tiger prawns for their natural sweetness. I like to lightly pan-sear and baked them to preserve their natural flavours, or char-grill them.
What do you remember most of your time in culinary school?
I was attached to Kriston and was tasked to man the eggs station at a cafeteria set up for Janet Jackson's concert in the early 1990s. I fried more than 100 eggs in a day in 10 different styles from scrambled to poached.
What are your favourite local foods?
Once a month, I buy bak kwa. I like its barbecued flavour and marinade and it can go with rice or beer and be eaten as a snack.
I also like char kway teow from a stall at the Toa Payoh Lorong 5 hawker centre.
Which ingredient can you not live without?
I need garlic, as a little bit of it can make a difference to dishes, such as stir-fried baby kai lan. I add a little garlic to kimchi too.
What is the most difficult dish that you have cooked?
In Les Amis, it took one week to prepare foie gras balls. First, we took three days to marinate the foie gras in brandy and port wine and cook it as a terrine, roll into balls and freeze for three days to let the flavours set. After that, we coated the balls with chopped truffle and glazed it with gelatine. It was very time-consuming to prepare.
Which markets do you go to buy ingredients for the restaurant?
I go to the markets five days a week. I like the Smith Street one in Chinatown for tiger prawn, crayfish, sea snapper and blue swimmer crab. Tekka Market is good for mud crab and vegetables.
Do you cook on your days off?
Sometimes, I cook on Sundays for my parents. I would cook Hainanese chicken rice, pan-fried kuning fish and fried bee hoon.
What do you usually have in your fridge?
Eggs, oyster sauce, chilli sauce, butter - for cooking Western food - and pandan leaves for brewing barley water.
What do you like to do on your days off?
I would gather the family for dinner at our favourite haunts, such as Wee Nam Kee chicken rice at United Square. I also accompany my parents to the swimming pool. My dad, 72, is still a strong swimmer, and my mum, 69, walks around the pool as a form of therapeutic exercise.
If you could have a meal with anyone, who would that be?
I would have a meal with my dad. He is always so happy whenever I cook and he will tell his friends about it. We would have chicken rice, kuning fish and chendol.
kengohsz@sph.com.sg
This article was first published on Jan 25, 2015. Get a copy of The Straits Times or go to straitstimes.com for more stories.