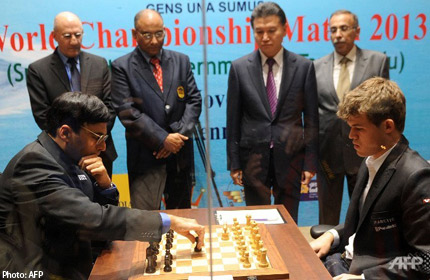 CHENNAI, India - Reigning world chess champion Viswanathan Anand of India opened the defence of his crown against Norwegian sensation Magnus Carlsen with a draw in the first game in Chennai on Saturday.
Both players agreed to draw after 16 moves each to remain even at the start of the 12-game showpiece watched by a select gathering of 350 inside the main hall of a luxury hotel and by thousands on live television.
Anand, 43, has been the game's undisputed champion since 2007, but experts predict the end of the road for the Indian against current world number one Carlsen, who is 21 years younger.
"I am happy it was a fairly comfortable draw with black," said Anand. "But there is a long way to go and it is very difficult to predict what will happen over the next 11 games."
Carlsen also appeared satisfied with a draw despite the advantage of playing first with white. "In the past, I have played a couple of embarrassing draws with white, so this was okay," he said. "No damage done."
The second game will be held on Sunday.
With one point awarded for a win and half a point for a draw, the first man to reach 6.5 points will be declared the champion.
If points are equal after the 12th game on November 26, the match will be decided by a sudden-death game on November 28.
The total prize fund for the title clash is approximately $2.24 million, with the winner getting 60 per cent and the loser taking home the rest.