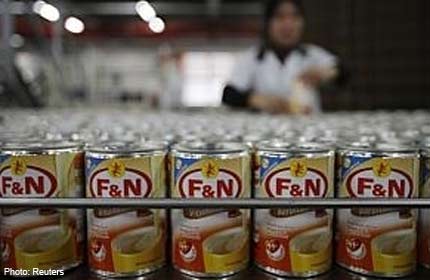 SINGAPORE - Fraser & Neave (F&N) is planning to return some $4.73 billion to shareholders in a capital distribution that follows the sale of its Asia Pacific Breweries (APB) unit.
The distribution, of $3.28 a share, "completes the plan articulated by the previous board to reward shareholders with the gains from the disposal of APB," it said.
It was announced as F&N unveiled its second-quarter results yesterday.
The bulk of this payout will go to TCC Assets and Thai Beverage, the vehicles of Thai billionaire Charoen Sirivadhanabhakdi who took over F&N earlier this year.
The conglomerate completed its divestment of APB in November last year, realising a gain of $4.8 billion in the process.
F&N was also itself the target of two rival takeover offers, which resulted in it having to pay one-off charges of $72 million.
This includes the $50 million break-up fee that F&N paid to Overseas Union Enterprise - Mr Charoen's vanquished rival in the takeover tussle.
As a result of the one-off charges, F&N posted a 45 per cent slide in its second-quarter net profit from the same period a year earlier to $47.1 million. Its revenue, however, increased 17 per cent in the second quarter to $912 million, as sales in most of its business units improved.
F&N's dairies business recorded a 17 per cent jump in revenue from a year ago, as sales and production in Thailand recovered from the massive floods which had caused the dairy plant to temporarily cease production in the first half of the last financial year.
Revenue in its commercial property unit rose 13 per cent, as both existing and newly acquired serviced residences contributed positively; development property revenue increased 36 per cent due to higher revenue recognition on development projects in Singapore.
F&N's net asset value stood at $8.80 at the end of March, from $5.32 as of last Sept 30.
Earnings per share rose to 7.2 cents for the second quarter from six cents a year earlier.
The outlook for F&N's food and beverage business remains uncertain, the firm said, but the property market is still strong.
"The food & beverage segment expects key raw materials and energy costs to continue to be volatile and has locked in key raw material prices over the mid-term. It will continue to monitor closely and take steps to mitigate any effects of rising costs," F&N said.
"Recognition of income from pre-sold units in Singapore and overseas will continue to support group earnings in the next 12 months." F&N fell eight cents to close at $8.88 yesterday.
yasminey@sph.com.sg

Get a copy of The Straits Times or go to straitstimes.com for more stories.