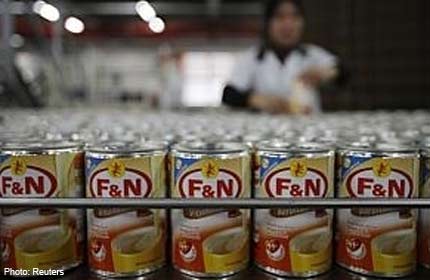 SINGAPORE - The market may have to wait until the new year for Thai tycoon Charoen Sirivadhanabhakdi to fire back in the five-month-old takeover battle for Fraser and Neave (F&N).
Mr Charoen's privately controlled TCC Assets yesterday extended its general offer for F&N to Jan 2 while keeping its bid price at $8.88, according to a filing with the Singapore Exchange (SGX).
"They are clearly just buying time while they continue to consider their options," said Jonathan Foster, director of global special situations at Religare Capital Markets.
Mr Charoen's offer remains lower than a competing $9.08 per share offer from a consortium led by Overseas Union Enterprise (OUE).
The OUE offer lapses at the close of trading on Jan 3.
F&N shares closed at $9.43 yesterday, 0.2 per cent or two cents lower.
Both tenders are conditional upon the offerers gaining majority control of F&N, a conglomerate with businesses in property development and beverages.
As at Nov 22, Mr Charoen's bloc, which includes listed brewer Thai Beverage Public Co, controlled about 33.6 per cent of F&N's shares, and had secured acceptances worth an additional 1.4 per cent.
The OUE consortium does not hold any F&N shares at the moment, but it has secured an undertaking of acceptance from Japanese brewer Kirin Holdings, which holds 15 per cent of F&N's shares.
The market had been expecting Mr Charoen to raise his offer yesterday, not simply extend it.
"Slightly surprised, but not super surprised," said a fund manager with exposure to F&N. "Don't think they have been as tactical as they could have been."
But the Thais did not state that their current offer is final, leaving the door open for them to raise their bid.
Mr Foster said the ball remains in the Thais' court, and he expects that Mr Charoen will eventually raise his offer.
That F&N's stock remained well above OUE's offer price yesterday also reflected the market's confidence that the bidding war is not over.
"The expectation is that they will still be competitive," Mr Foster said.
"If this is as good as it gets, there's no point extending it."
Mr Foster outlined two possible ways that a bidding war could unfold: Mr Charoen could come back with a substantially higher "knock-out" offer that it hopes will be enough to kick OUE out of the running; or OUE and TCC Assets could get involved in a rapid "iterative process" of outbidding each other.
But those possibilities are merely paths towards the eventual emergence of a winning bid.
F&N shareholders, who have watched the battle for control of their company unfold slowly since ThaiBev bought a stake in July, may not have to wait longer than Jan 21 to gain some clarity, said Mr Foster.
Under Singapore's Takeover Code, that is when the OUE consortium may make any final revisions to its offer if no new bidder emerges.
The Thais' deadline is aligned with OUE's, so that could be the date by which the market will know the final offer from each side.
"Day 46 of your offer is the last day that you can amend your offer," Mr Foster said.
"So we are going to know who our winner is by that time."
He said that neither side has an incentive to take longer than they have to.
"Nobody really wins by dragging this out into a Dutch auction at the 11th hour," Mr Foster said.