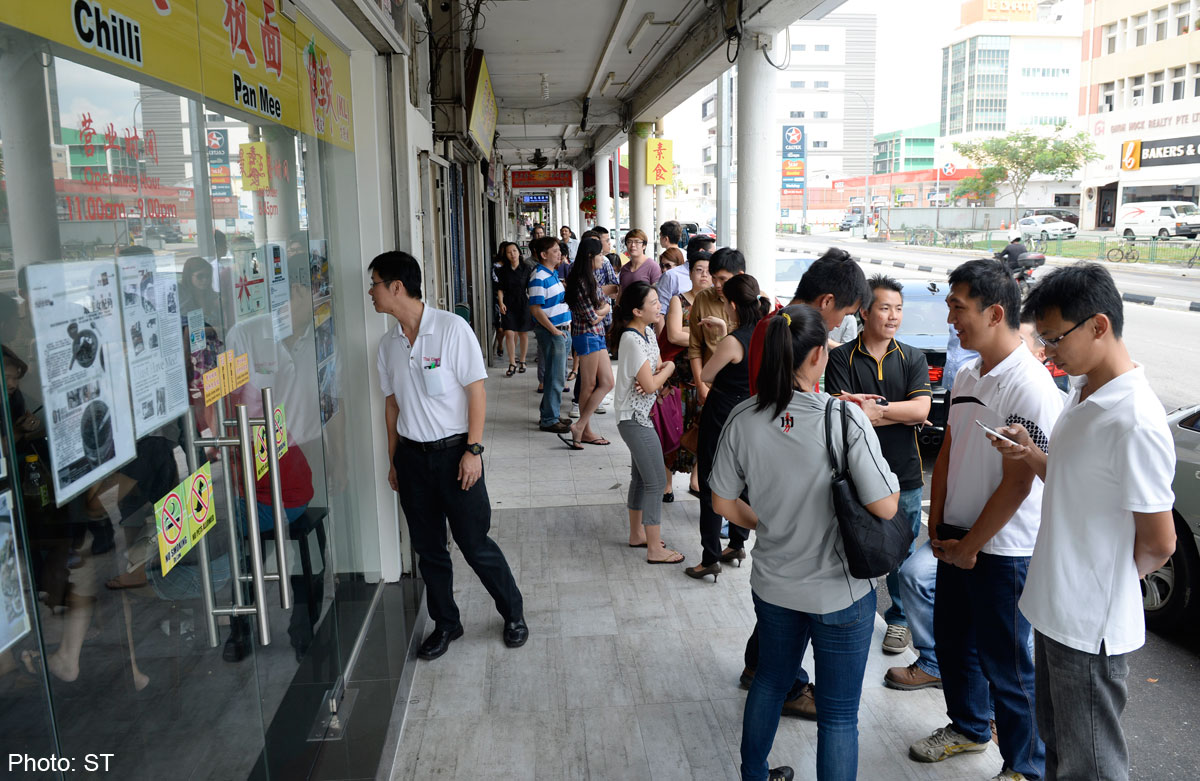 The popular Kin Kin Chilli Pan Mee from Kuala Lumpur has drawn crowds since it opened two weeks ago.
But diners that Life! spoke to say the MacPherson Road eatery's $5 signature dry ban mian, topped with crispy ikan bilis, fried shallots, meatballs, minced meat, poached egg and tossed in their special dry chilli flakes, is not worth the two to three-hour wait.
Mr Ryan Ng, 36, who is self-employed, thinks the brand has been overhyped on blogs and social media.
He says: "I have not eaten the original Kin Kin noodles, but I find this similar to ramen or la mian dishes in Japan, Taiwan or China, which are tastier.
"My wife and I queued for so long that when it was our turn, we ordered an extra portion to take away too. In a way, it's to justify our waiting time of almost two hours for only two bowls of noodles. I don't think I'll come back."
Student Ryan Wong, 23, who had waited 21/2 hours for his bowl of noodles at the 62-seat eatery, says: "I waited very long, too long for a $5 dish. The chilli is good, I don't think I have tasted something like this in Singapore before. But the portion is too small.
"I don't think I'll be back, not in the near future at least."
Klang-born art director Lian Ju Han, 32, who has tried the original Kin Kin in Kuala Lumpur, says: "The chilli tastes the same. But the egg yolk could be runnier. In KL, I queued for only 15 minutes. In Singapore, it's not worth the wait. It's the chilli that makes the dish."
Kin Kin's opening here is a partnership between a Singaporean couple, Mrs Eileen Goh, 46, and her husband Ray, 42, and Kin Kin's Malaysian owner Tan Lih Shing.
Mr Goh, who runs a mining business and an interior design firm with his wife, is a big fan of the original Kin Kin in Malaysia and convinced the owner to open across the Causeway.
There are three Restoran Kin Kin outlets in Kuala Lumpur - in Jalan Dewan Sultan Sulaiman, Pandan Indah and Publika Food Court.
Apart from the dry version of the noodles, there is also a soup one. Ban mian here is usually served in soup.
At Kin Kin, diners can add clams ($8) or prawns ($8) to the thin noodles or mee hoon kueh. The dry options come with a bowl of soup, with spinach leaves instead of the traditional mani cai or sweet potato leaves.
Amid the frenzy of handling queues, manning the cashier and worrying about fishballs and noodles running out, Mrs Goh explains the long wait for the noodles.
She says: "We have been trying to cope with the crowds. Many start queuing even before we open the doors. We have been ordering more noodles and ingredients. But we still run out and have to quickly re-stock.
"We can cook only six individual portions at one time. Sure, we can cook all the noodles at one go and diners may not know the difference. But we will know the difference in the taste and texture. The timing for cooking the noodles and egg has to be precise."
However, not all the eggs were poached to perfection and diners expressed disappointment at over-cooked eggs or those that came with the yolks broken.
Mrs Goh does not rule out expansion "if business is good", but wants to stabilise the business first. The store has been running out of food by 6 or 7pm for the past week.
While the chilli is from Malaysia, the noodles served are made here because she says it is "easier" to get them from a local supplier.
KL-born student Jasmine Koh, 23, who is a fan of Kin Kin's dry ban mian back home, says: "The chilli here seems authentic. But the noodles taste slightly different. I didn't get the chance to try the handmade fishballs, but I doubt they will taste the same."
Freelance designer Shireen Tan, 36, says: "Waiting time aside, I think the noodles are pretty tasty and go very well when mixed with the chilli and runny egg yolk. It's something different from the usual soupy ban mian we get here, that can have soggy noodles in a diluted soup."
euniceq@sph.com.sg
Kin Kin Chilli Pan Mee at 534 MacPherson Road opens from 11am to 9pm daily.

Get a copy of The Straits Times or go to straitstimes.com for more stories.