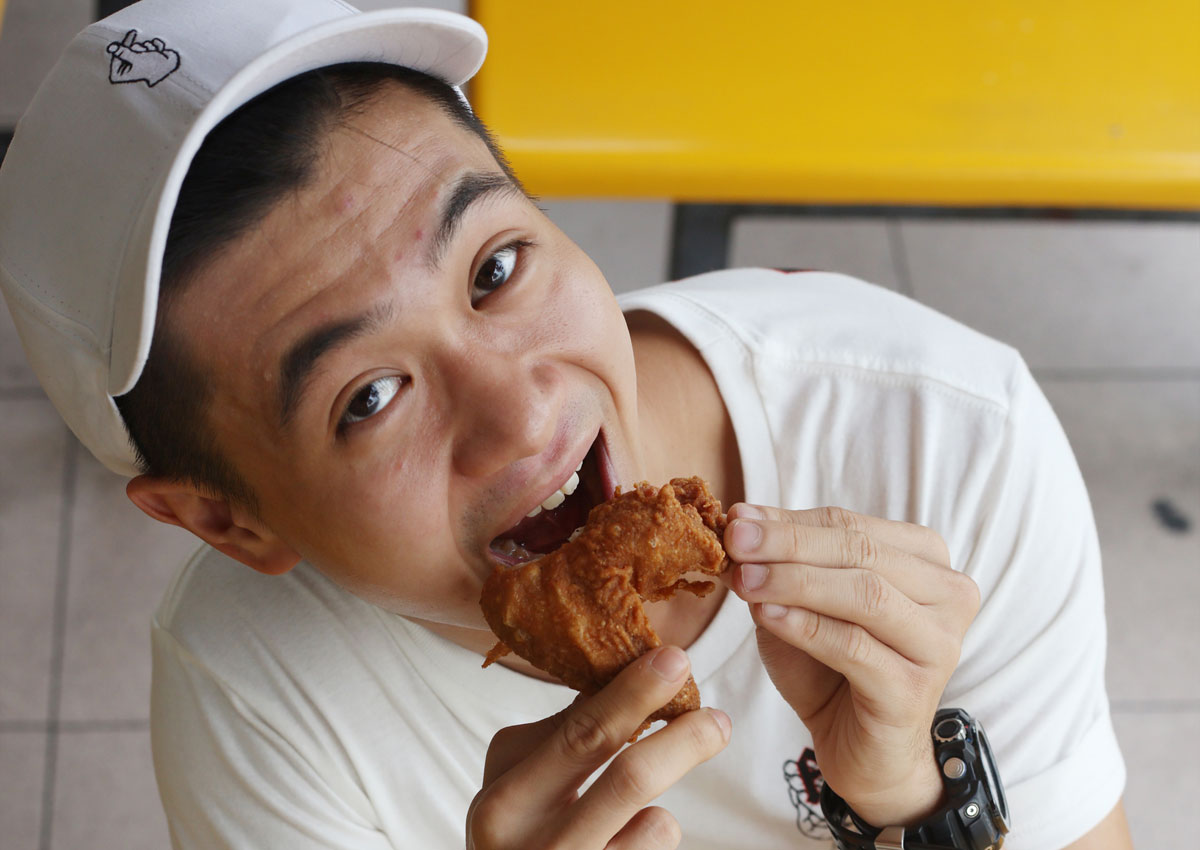 He may be best known for playing a cherubic and nerdy full-time national serviceman in the army-themed Ah Boys To Men movies, but actor Maxi Lim, 29, has had enough of "fat roles".
In fact, he is so serious about revamping his pudgy image that he went on a rigorous exercise and dieting regime and shed 13kg over the past five months.
The 1.71m-tall actor now sports a trim physique at 59kg - the slimmest that he has been.
Hoping to move away from the role of Aloysius Jin, the ambitious recruit whom he plays in the Ah Boys To Men movie series, he says: "Although that is my breakthrough role, I want to re-invent myself as an actor. Since I can't grow taller, I can lose weight, which opens up more acting opportunities for me, such as in action movies."
To shed the pounds, he limits his intake of carbohydrates, especially rice and sweet treats. The latter proved more challenging, given he has a sweet tooth.
"I love having desserts such as creme brulee and had to order a Frappuccino whenever I passed by a Starbucks shop," he says. "The first three weeks of dieting were tough as I had mood swings and got depressed. Whenever I had a crazy craving for sugar, I ate dark chocolate cube by cube to help burn fats."
His attempt to lose weight also re-ignited his love for martial arts, which he had not done since he started acting eight years ago.
Lim, who used to participate in kickboxing and mixed martial arts fights, picked up martial arts at 15 to defend himself against classmates who were associated with gangs in a neighbourhood secondary school.
These days, he sweats it out with muay thai training two to three times a week. He is also skilled in ninja-do, which involves the use of fight weapons.
His deft mastery of nunchucks can be seen in his upcoming comedy film, Take 2, which sees four ex-convicts turn over a new leaf with business ventures such as opening a ramen shop and a tuition centre that provides free massages and food. Lim plays an ex-convict-turned-teacher in the film, which also stars getai veteran Wang Lei and actor Ryan Lian. Take 2 opens on Thursday.
Chinese New Year is a true test of discipline as Lim is surrounded by his favourite festive snacks such as kueh bangkit, shrimp rolls and peanut cookies.
Not this year. "I am not even going to look at them. That's the best way to avoid them," he guffaws.
Lim, who has a girlfriend, hopes to hit his goal weight of 58kg and "being all ripped without any fats", he says, pointing to his abs.
"With my new weight, I am much more agile and not so clumsy, and I sleep much better at night."
How do you celebrate Chinese New Year with food?
For reunion dinner, I always look forward to my mother's ngoh hiang (five-spice prawn roll). It is my grandmother's recipe and it goes very well with a homemade chilli sauce. We also have steamboat, with ingredients such as abalone, seaweed and quail eggs, my favourite.
On the first day of the new year, my grandparents will make noodlelike rice cakes with ginkgo nuts and dates in a sweet ginger soup, and steamboat. The next day, I visit my mother's relatives. We catch up over kong bak bao (braised pork buns) and do-it-yourself popiah.
What is your favourite food and where do you get it in Singapore?
I visit Legendary Bak Kut Teh in Rangoon Road to catch up with the other Ah Boys To Men actors once every two months. I prefer the Hokkien-style herbal bak kut teh, but this is the only peppery version I like as it has a good dose of heat. We hang out there as we get VIP treatment with a table always reserved for us.
I also like Sushi Goshin in Robinsons Orchard for tempura and sliced steak. I also always order the cold soba noodles. The dipping sauce comes with mashed quail eggs and has a slimy texture that goes well with the springy noodles.
Share with us an incident that sparked your weight loss.
Six months ago, I was rejected by a sportswear brand for an endorsement deal as the representatives thought that I was fat and nerdy from my on-screen roles. I was quite affected by that. I exercised regularly, but I also ate a lot. So I decided to become disciplined in my diet so that I could change my image.
How do you eat healthy?
I avoid sweet drinks and rice. When I need to have carbohydrates, I eat steamed sweet potatoes or wholemeal bread with organic peanut butter. I cook steamed chicken fillet, broccoli and eggs almost every day. I also take apple cider vinegar with water twice a day to curb my appetite.
What do you eat on cheat days?
One of my favourite places to visit on those days is Ponggol Nasi Lemak in Upper Serangoon Road. My standard order is a plate of coconutinfused rice, with two sunnyside-up eggs that are not too oily, brinjal and chicken wings with chilli. I will never get tired of this combination. I also have fast food and a bit of beer.
What is the most adventurous thing that you have eaten?
Deep-fried whole pufferfish from a Chinese restaurant - I cannot remember its name - 10 years ago. The fish is eaten off its spine - like eating a drumstick. It is the best-tasting fish that I have had - the flesh was so sweet and soft. Now, I am interested to try raw pufferfish.
What is comfort food to you?
My mum's cooking, especially since I do not eat at home often. Some of my favourite dishes are her fried prawns, wontons and curry chicken.
Where is your favourite overseas foodie destination?
Malaysia. I was in Kuala Lumpur recently for filming and discovered Thai boat noodles. I ate three to four bowls every day, as the noodles go down well with coconut and chilli sauces. I also like a char siew and wonton mee stall in Penang. The char siew is charred and crisp on the outside, but soft inside.When I am in Malaysia, I indulge in durians, from red prawn to Mao Shan Wang varieties.
If you could choose anyone to have a meal with, who would that be?
Arnold Schwarzenegger as I grew up watching his movies such as The Terminator series and Predator, and am a big fan of his.
kengohsz@sph.com.sg

This article was first published on Jan 22, 2017.
Get a copy of The Straits Times or go to straitstimes.com for more stories.