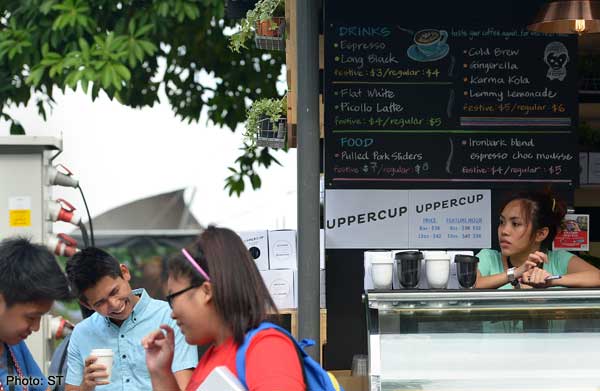 By Audrey Tan
About 1,000 people bought $30 VIP passes, which gave them priority queues at stalls, and a VIP area where they could get some shade and enjoy the music. Thrice that number bought normal passes for $25 to buy food and drink. But to their surprise, people without passes were served as well.

Get the full story from The Straits Times.
The event organisers had promised exclusivity for pass holders on the Cafe Fest website, however festival goers were disappointed when they attended the event on Saturday and found out anyone could also get in.  They took to social media to complain. Event organisers apologised for the oversight in their communications on Saturday, and tried addressing some of the complaints on the second day of the event.
Some of the complaints on Facebook:
1) Anyone could access the VIP area
It was stated on the Cafe Fest website that one would need a VIP pass to be able to access the VIP marquee. Unfortunately, according to pass holders, the area was not cordoned off or manned by staff, anyone could enter and sit on the couches.
2) Food and drinks were sold out quickly
It was stated on the Cafe Fest website that one would need a pass to be able to purchase food and drinks. However, festival goers complained that this was not strictly enforced and non-pass holders were able to buy food as well. Thus not having enough food for those who came later in the day
3) The discount was too small
Some pass holders complained that the 50 cents and $1 discount per item were not enough to cover the cost of their ticket, compared to non-pass holders who could also purchase food items. Some also complainted that the value of the goodie bags did not appear to add up to what was stated. 
4) No VIP/Express queue
On Saturday, VIP pass holders found out that there was no express queue as earlier promised. They had to queue in the same line as normal pass holders and the public.
Here is a statement from the Cafe Fest organisers posted on their Facebook account on Saturday, Sept 6
Hi everyone, we're sorry for the late reply. We were taking in all your feedback and we wanted to see how we could make things better. We recognise the oversight with our communications regarding who can and cannot buy F&B on our website as we were too caught up with the preparations that we didn't clarify this point with you. That's our mistake and we would like to apologise to all of you.
We're also sorry to hear that many of you didn't enjoy the festival experience as we had hoped. We understand your frustrations with the passes and justifying the cost.
Taking your feedback in for tomorrow's festival, we will make the following changes:
- VIP express queues at certain cafes for VIP pass holders
- To create more value for our pass holders, we've decided to increase the prices for non-pass holders. That value will be at least $2 to $3 more than pass holders
- Tighter management of access to VIP tentage
As some of you have attended Saturday's session and might not come for Sunday's, we are working out some form of compensation for you. Please drop us an email (cafefest.compensation@gmail.com) with your name and NRIC, which and how many passes by Sunday, September 13. We will consolidate and inform you about the compensation details.
We conceptualised this festival with the best of intentions, and we're extremely disappointed we fell short of your expectations. We know this may not put all of you at ease, but we do apologise and will continue to do our best to address all your concerns.
- Sarah & Gabe
What the event was about?
Twelve cafes and coffee roasters - including Tiong Bahru Bakery, Jimmy Monkey, Toby's Estate, The Providore, Maison Ikkoku, Common Man Coffee Roasters and I Am - were gathered together for the two-day pop-up at the Waterfront Promenade near Marina Bay Sands on the Sept 6 weekend.
A $25 two-day pass got holders a goodie bag worth $60, discounts on food and drinks and $20 credit on car service Uber. Limited VIP passes, at $30 each, granted privileges such as a goodie bag worth $100, as well as access to a marquee and a priority queue at each stall.
Admission is free, but only pass holders can purchase food and drinks according to the website.