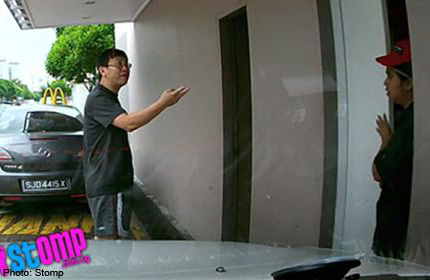 STOMP contributor Shaun was waiting in line at a McDonald's drive-though at Sengkang when a man got out of the car in front and started shouting at staff.
The man appeared to be angry that his food was taking so long to be prepared.
From the video, he appears to be shouting, "Yeah my big breakfast. It's taking very long."
When a McDonald's employee come out and tries to appease the man, he shouts, "Filet-o-fish no more, breakfast no more."
Shaun found the man's behaviour both hilarious and obnoxious, and wrote:
"Video of a rude, impatient and obnoxious drive-through customer.
"This incident happened today at the Sengkang Anchorvale Community Centre McDonald's drive-through.
"The driver in front of me got impatient, got out of his car, and shouted at the McDonald's staff in broken English.
"He started gesturing and walking around aggressively, then he decided to barge through the door into the kitchen and I heard he shouted 'WHERE IS MY BREAKFAST!' behind the closed door.
"This man has absolutely no culture at all. It was hilarious and obnoxious.
"He then tried to barged into the McDonald's kitchen, showing his unhappiness and impatience."

Visit STOMP for more stories.