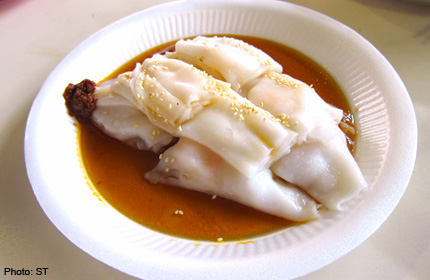 SINGAPORE - The one thing I like about hawker centres is the smorgasbord of food they offer, and the fact that I almost always leave feeling satisfied.
To decide what to eat, unless I have a craving or know exactly what to zoom in on at a particular hawker centre, I walk up and down the aisles, observe how hawkers cook and what other diners are eating.
While at lunch last week at Pek Kio Food Centre, I found myself drawn to a made-to-order chee cheong fun stall. You can opt for plain chee cheong fun ($2), or cheong fun filled with char siew, prawns, scallops or abalone (from $2.50).
What is interesting is that here, the rice rolls are still done the traditional way - steamed on a sheet of cloth. First, rice flour mixture is poured onto a rectangular cloth. Filling of your choice is then placed in horizontal rows on the cloth sheet that now holds the mixture.
The mixture - cloth, filling and all - is then steamed for what seems like less than a minute before the cloth is taken out of the steamer.
Clinging firmly to the cloth is a cooked rice sheet with, in my case, prawns. The rice sheet is gently separated from the cloth, and placed on an oiled counter top where it is then rolled with a plastic spatula.
Second-generation hawker Eddy Tan, 41, who used to run his father's 50-year-old chwee kueh or steamed rice cake stall, converted it to a chee cheong fun stall two years ago. Part of the reason, he says, is because he wanted a more open kitchen where diners could see how their food was prepared. His handmade chee cheong fun is soft, smooth and thinner than most other versions available at hawker centres.
Served in a salty but slightly flat soya-sauce gravy that has been doctored with ingredients such as garlic and sesame oil, the warm cheong fun slithers down my throat and settles in my tummy. Mr Tan's chee cheong fun tastes a lot like what I had growing up - simple and unfussy Hong Kong-style har cheong.
Hong Kong Style Chee Cheong Fun

Pek Kio Market & Food Centre, Block 41A Cambridge Road, 01-25
Open: 6.30am to 1.30pm daily. Closed on alternate Wednesdays
Rating: ***