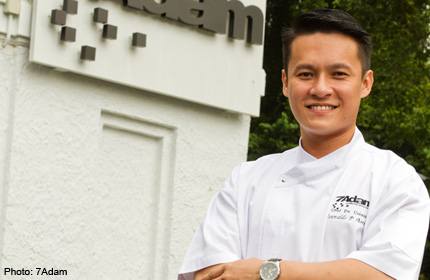 Chef Reynaldo Arriola's first three weeks at two-Michelin-starred restaurant Chateau Cordeillan Bages in Bordeaux, France, were so tough that he would, on occasion, cry himself to sleep.
The Singaporean chef, who now heads 7Adam which serves European fare with an Asian twist, says that period was the "darkest point" in his life.
"I had no friends, no family. I couldn't understand much French and no one understood me," the 32-year-old recalls. "I had so much pent-up frustration, but I just couldn't express it. I felt like an Asian alien."
He wanted to throw in the towel and head home, but persevered because he did not want to let his family and friends down.
Chef Arriola graduated from hospitality school Shatec in 2004 with a diploma in culinary skills and worked in the kitchen of Raffles Hotel for a year before leaving for France in 2005.
A Frenchman from Bordeaux, who is married to his father's cousin, had got him a job at the restaurant as he was keen to pursue French cooking.
But his French was limited to the basics when he started working there, and the only words he could say were "oui", "merci" and "au revoir", or yes, thank you and goodbye respectively in French.
It took him eight months to be able to converse in the language, and it was only then that he began to understand the unkind words his sous chef would yell into his ear.
Chef Arriola says: "I had no idea that I was being scolded and would just say 'yes' and 'thank you', even though the chef was calling my mother a cow."
After two years at Chateau Cordeillan Bages, he moved to a restaurant in Margaux and then to Beziers in the southern part of France. In total, he worked in France for five years before returning to Singapore in 2010. He joined 7Adam as chef de cuisine last November.
Chef Arriola says he developed an interest in cooking at a young age.
His favourite childhood television programmes included Chinese American chef Martin Yan's cooking shows Yan Can Cook and Wok With Yan, as well as the cooking segment in the 1980s children's Malay variety show Aksi Mat Yo Yo.
The son of a Spanish-Filipino musician father and a Chinese-Singaporean receptionist mother, he would set the table and help his mother in the kitchen. He also enjoyed "playing masak masak", a colloquial term that describes the act of children pretending to cook.
His wife, Liyin, 29, is a line manager at The British Council, where she coordinates and organises class schedules, among other things. They have no children.
What is your favourite childhood food memory?
I would help my mother bake butter cookies for Chinese New Year. I was probably still in kindergarten when I started because I remember having to kneel on the chair as I could not reach the table. I loved the smell of vanilla extract and butter, and would eat the cookie batter. My mother told me not to - she said it would give me a stomachache - but when she wasn't looking, I would pinch a bit of it.
Who is the better cook - your wife or your mother? Which dishes of hers do you like the most?
My mother. My wife knows how I feel about this and says she plans to learn to cook. I love my mother's baked beans with luncheon meat, black soya sauce chicken and beansprouts with tau kwa.
Do you cook much at home?
I usually cook only for special occasions, such as Christmas or birthdays. Dishes I would cook include Quiche Lorraine, roast chicken and simple appetisers such as frozen tomato water infused with lavender, or whatever I feel like cooking.
What do you usually eat after work?
Rice and two eggs, fried in butter and topped with dark soya sauce. Just thinking about it makes me hungry.
What is your guilty pleasure?
Pan-seared foie gras. When I was working in France, I used to eat foie gras trimmings every day because I thought it was such a waste to throw them away. But these days, I can't eat too much of it because I have very high cholesterol.
What creation of yours are you most proud of?
Beansprout risotto with mascarpone and truffle jus. I created it when I was a chef de partie at Chateau Cordeillan Bages for head chef Thierry Marx's personal, pre-service meal. He was so impressed by it that he included it in the Sunday specials menu and I was overjoyed.
The dish was inspired by my mother's beansprouts with tau kwa. Beansprout risotto is currently available on 7Adam's a la carte menu.
What is the one thing you wish you had known about working in a kitchen before embarking on your chef career?
I wish someone had told me that the kitchen can be a mean place and that you can't please everyone. You might put your heart and soul into your cooking, but that does not mean your food is always going to please customers. Food is subjective.
Have you any advice for aspiring chefs who want to head a kitchen?
Be patient and remain humble. Be open to and accept criticism, and always be prepared to stand for hours at a time.
rltan@sph.com.sg

Get a copy of The Straits Times or go to straitstimes.com for more stories.