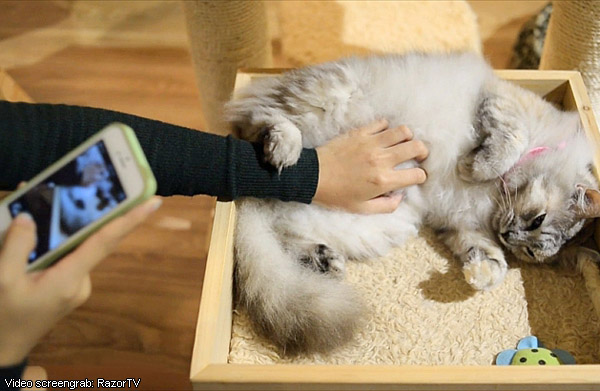 SINGAPORE - The first cat cafe in Singapore opened on Christmas Day, 2013. Called Cat Cafe Neko no Niwae and located in Boat Quay, it has 13 cats, each once abandoned, unloved and malnourished.
By opening the cafe, owner Tan Sue Lynn, 36, hopes to give these cats the love and attention they had missed out on. In return, guests get to bring home memories of a purring, contented cat. 
Sue Lynn introduces the resident cats in a RazorTV video:
"This is Jia Jia, she is a tortoiseshell. She is about one-year old, and she was found with her brother. Her brother is the ginger cat called Kai Kai. They were found in a flooded canal along Bukit Timah road when they were only three months old. At about the same time, the pandas came to Singapore, therefore their names Kai Kai and Jia Jia."
"Dewey was found under a tree in a box with a few of his other siblings when he was very young, new born kittens. They had red ants crawling all over them, obviously abandoned. But look at this boy, so beautiful. And his brother is Mr White, the resident black cat."
"Cats have always been my passion. Because I find it so enjoyable and therapeutic and so misunderstood, I really like to create not just an educational platform but also experiential as well where customers get to interact with the cats."
In the video, Neko no Niwae's patrons also share their thoughts on the first cat cafe in Singapore.

Ashley Wong, a student, says: "I'm actually not allowed to own a cat at home, so petting strays and coming to a cat cafe is the next best alternative."
Nora Haida, another student, shares that "I love cats, and I've been to the Bangkok one. It makes me happy coming in contact with their cats, looking at the cats running around and playing."
Ridzuan, an operations officer who is curious about the cafe, says: "Since it's the first cat cafe in Singapore, I would like to see and feel the environment itself. It sometimes clears the mind, but I guess once I'm out of here it's back to reality."
Regarding her plans for the cafe in the future, Sue Lynn has added: "To bring in more cats, there would be maybe a plan for the future. But for now, we'll let this team of 13 stabilise first, because it's difficult to bring cats together. They are not pack animals, so it takes a while to socialise and integrate them. Myself and my girls, we are very happy to see customers leaving with smiles on their faces."