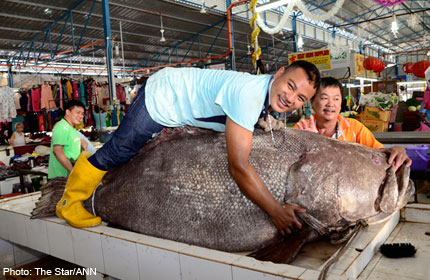 GEORGE TOWN - The fishermen who caught the giant kerapu should consider themselves lucky since large groupers usually stayed close to the seabed, says Universiti Sains Malaysia marine biologist Associate Professor Dr Aileen Tan Shau-Hwai.
Describing the fishermen's catch as a case of the "one that did not get away", she said the large grouper, or epinephelus lanceolatus, had been over-fished. The giant kerapu used to be common in the Straits of Malacca, with most of it hiding under rocks on the seabed.
"The one that was caught might have been unlucky, as it usually does not venture out of its comfort zone.
"Trawlers fishing in the area might have swept across the seabed and dragged the poor grouper," she said on last Sunday's 200kg catch in waters near the Kedah-Penang border.
She said going by the size and weight of the fish, she estimated it to be about 60 years old. Tan said the population of giant groupers had declined and would most likely become endangered soon.
"The International Union for Conservation of Nature has classified the giant grouper as 'vulnerable', which means it is likely to become endangered."
She also dismissed claims that the frequent encounter of the fish were related to bad omen or imminent natural disasters, including tsunami or earthquakes.
"It is not a sign of climate change either. It so happened that the fish had roamed out of its territory and got caught.
"I have dived in many parts of Malaysia. When you dive deep, you do find them at the bottom, hidden under the rocks," she said, adding that the large grouper's behaviour was similar to its smaller cousin, the common kerapu.
Tan hoped in the future, fishermen would release any large grouper that they caught for conservation purposes.
"Giant groupers are spawners. Due to their age and size, they can produce more eggs and this will ensure survival of the species."