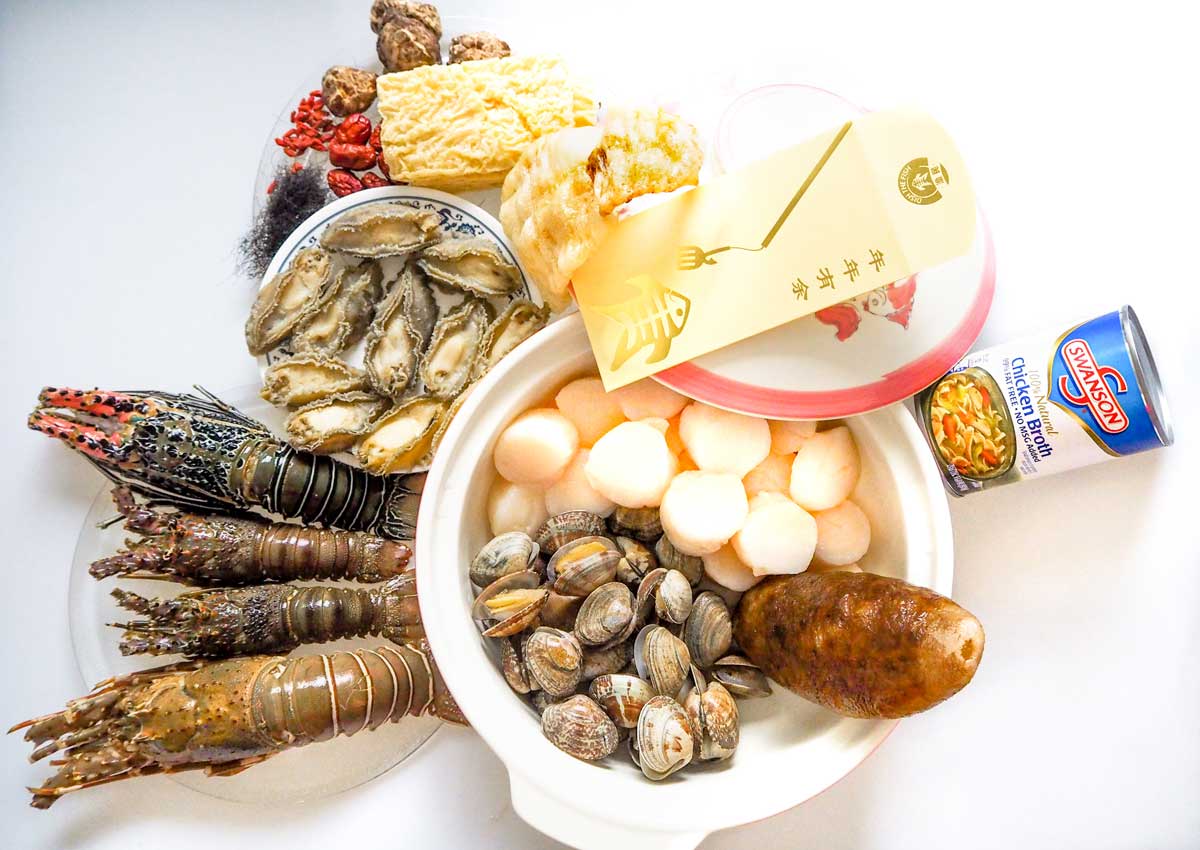 It is a week to Chinese New Year and the clock is ticking if you are planning to stock up on meat and seafood for festive feasts.
Most wet markets are closed on the first two days of Chinese New Year and, though some supermarkets have extended their opening hours during the festive season, they carry limited fresh stocks during this time.
If you cannot get your hands on fresh food or do not want to be caught in the last-minute frenzy at supermarkets, go for frozen food products. There is raw food such as seafood and shabu shabu meat, which can be used in steamboats, as well as pre-cooked dishes such as steamed herbal chicken.
At least five food suppliers, wholesale distributors and gourmet grocery shops tell The Sunday Times they are seeing healthy sales of frozen products. This is despite a sluggish economy and customers being more cautious about spending, given the close proximity of Christmas and Chinese New Year.
Buying frozen food products during the festive season is getting popular as they typically have longer shelf lives of up to a year. These items also have relatively stable prices compared with those of chilled fresh products in wet markets, which tend to increase as Chinese New Year approaches.
Some places that sell frozen food provide home delivery services.
The convenience of frozen products, which are either packaged in cooking kits or in sliced or skewered forms, is also a big draw.
Dish The Fish, a fish stall in Beo Crescent Market, has put together the Treasures of the Sea Fortune Pot, a pen cai package of 10 frozen and dried ingredients and chicken stock in a claypot. Frozen items include bamboo lobster and little neck clams; and dried items include mushrooms and threadfin fish maw.
More than 70 per cent of the 55 sets, priced at $188 each, have been sold in the past two weeks.
Dish The Fish's owner, Mr Jeffrey Tan, 32, says: "This pot solves the problem of sourcing for ingredients and it features uncommon seafood such as unbleached, softer sea cucumber and abalone. Some families stretch their dollar by using half of the pot's ingredients for another steamboat meal."
The package comes with cooking instructions and a link to an online cooking video demonstration.
At seafood and meat wholesale distributor Far Ocean in Fishery Port Road, business at its annual warehouse sale, where mostly frozen products are on sale, has increased by 15 per cent from last year.
About 80 per cent of the distributor's products are frozen. Most of the frozen meat has been skewered and sliced, making them easy to use for barbecues and steamboats.
A Far Ocean spokesman says: "More customers are stocking up on frozen food items earlier so they can avoid dealing with rocketing prices of chilled food during their last- minute shopping in wet markets."
He expects prices of seafood to go up by another 20 per cent in the coming week due to increased demand.
For those who preferchilled fresh products, but want to avoid jostling at the markets, home-grown fish supplier Kuhlbarra, which farms locally bred barramundi, started selling platters of sliced barramundi and air-flown Norwegian salmon two weeks ago. Prices start at $25 for a 450g platter of sliced salmon.
This is on top of Kuhlbarra's usual cuts of fish such as fillet. Half of the online fish retailer's festive orders comprise sliced-fish platters.
Ms Eva Lim, 41, Kuhlbarra's global head of sales and marketing, says: "Cutting the fish into slices is more suited for Asian cooking, as they can be used in steamboats and stir-fried dishes."
The fish are harvested three or four times a week. They are sliced and vacuum-packed in cold chain storage conditions before being delivered to customers in insulated boxes filled with ice.
Ms Lim adds that Kuhlbarra has kept its barramundi prices the same as last year's as its farm has a consistent supply of fish.
Those who are too busy to cook from scratch can go for frozen pre-cooked packages.
Seafood and soup supplier Fassler Gourmet in Woodlands Terrace has introduced a pre-steamed herbal chicken ($39.80) stuffed with multi-grain rice, mushrooms and red dates this year, to go with other pre-cooked items like pen cai.
Ms Melissa Chen, 48, chief executive officer of Fassler Gourmet. says: "There is a strong demand for ready-to-cook sets as we do the preparation work and customers can cook the dishes in their own time."
Corporate communications executive Wilson Ng, 28, who ordered a ready-to-cook pen cai package from Fassler Gourmet last week, loves the convenience.
"There is usually a lot of preparation work to cook other dishes for Chinese New Year gatherings, so having this ready-to-cook pen cai set helps save effort and time."
Accountant Serene Loh, who is in her 40s, ordered a Fortune Pot from Dish The Fish for a second straight year.
"I don't cook often, but the cooking instructions for the Fortune Pot are simple and it can be ready within an hour. It is also cheaper compared with cooked versions in restaurants," she says."Buying frozen products in advance ensures that I can get the items I want for reunion dinner before stocks run out or become more expensive."
kengohsz@sph.com.sg
Thaw, heat up and eat
Ready-to-Eat Crab (above)
What: House of Seafood has come up with microwave-friendly crabs in three flavours: chilli, black pepper and salted egg yolk.
The Sri Lankan crabs are cooked before being vacuum-packed and frozen.
To heat up, thaw the package for five to seven minutes before placing it in a microwave for five minutes or stir-frying the crabs.
The restaurant's owner, Mr Francis Ng, spent three years developing the product. The crabs are priced at $60 a kg in a box - similar to dine-in prices.
Where: 01-01 The Punggol Settlement, 3 Punggol Point Road; and 03-33, 756 Upper Serangoon Road
Open: 11am to 11pm daily; closed on first day of Chinese New Year
Info: Call 6466-9000/9003-9000 or go to www.houseofseafood.sg
Fassler Gourmet
What: Golden Treasures Herbal Chicken ($39.80) is a healthy spin on herbal chicken. It is stuffed with 16 wholesome ingredients, including multi-grain rice, quinoa, mushrooms and red dates, before being steamed for two to three hours in a herbal broth concocted with huai shan and Chinese angelica root. To eat, submerge the thawed pouch in boiling water for an hour.
Those who prefer a Western dish can opt for another new product - the salmon cordon bleu ($16.80 for two pieces), which has the breaded fish layered with chicken ham and cheddar cheese. The salmon has to be deep-fried.
Golden Treasures is available till the end of March.
Where: 46 Woodlands Terrace
Open: 8.30am to 5.30pm, weekdays; 8.30am to 12.30pm, Saturdays; closed on Sundays; 7 to 11am, Chinese New Year Eve; closed on first three days of Chinese New Year
Info: Call 6257-7257 or go to www.fasslergourmet.com
Where to buy
Kuhlbarra
What: The home-grown fish farm offers four chilled sliced-fish products, including the Kuhl Steamboat Reunion ($68), which consists of 450g of locally farmed barramundi and 450g of air-flown Norwegian salmon, and two packets of barramundi broth.
Where: Go to www.kuhlbarra.com.
When: Order by Wednesday, 4pm, to receive orders by Chinese New Year's Eve, 2pm. Delivery resumes on Jan 31. Order two days in advance.
Dish The Fish
What: The Treasures of the Sea Fortune Pot ($188, serves eight to 10 people) is a pen cai dish which has 10 ingredients - five frozen ones like bamboo lobster and scallops, and five dried ones like fish maw and mushrooms. It is available for order till Wednesday.
Where: 01-19/24 Beo Crescent Market, 38A Beo Crescent
Open: 7am to 1pm daily, closed from Thursday to Jan 31
Info: Call 8742-8957 or go to dishthefish.com.sg.
Ryan's Grocery
What: Enjoy shabu shabu with premium meats from Australia such as organic Blackwood Valley Black Angus Beef. The Fortune Shabu Shabu set has 10 packets of assorted pork cuts, while the Prosperity Shabu Shabu Set has eight packets of beef, lamb and pork cuts. Both sets ($118 each) come with canned abalone, pacific clams and razor clams.
Where: 29 Binjai Park
Open: 9am to 7pm daily except Thursdays (open on Jan 26); 9am to 1pm (Friday), closed from Saturday to Jan 30
Info: Call 6463-3933 or go to www.ryansgrocery.com.
Emporium Shokuhin
What: The Japanese supermarket has rolled out four new shabu shabu value sets ($68 to $188). The packages include pork belly, collar, brisket and ribeye shabu shabu. The sets are available for order till Feb 28. Make orders three days in advance and by Feb 24, 2pm.
Where: 01-18 Marina Square, 6 Raffles Boulevard
Open: 10am to 10pm daily; 10am to 11pm (Wednesday & Thursday); 10am to 6pm (Friday); noon to 8pm (Saturday)
Info: Call 6224-3433 or go to www.emporiumshokuhin.com.sg.
Far Ocean
What: Choose from more than 200 seafood and meat items at this annual warehouse sale that will see prices slashed by up to 70 per cent.
Where: S-Mart, 15 Fishery Port Road
When: Today, 9am to 5pm, and Friday, 9am to 1pm
Info: Call 6261-3788 or go to farocean.com.sg.
iChef
What: This online seafood retailer is offering about 80 frozen food products in its warehouse sale.
Where: 26 Tai Seng Street, ground- floor atrium
When: Till Thursday, 10am to 7pm
Info: Call 6436-4865 or go to www.ichef.com.sg.

This article was first published on Jan 22, 2017.
Get a copy of The Straits Times or go to straitstimes.com for more stories.