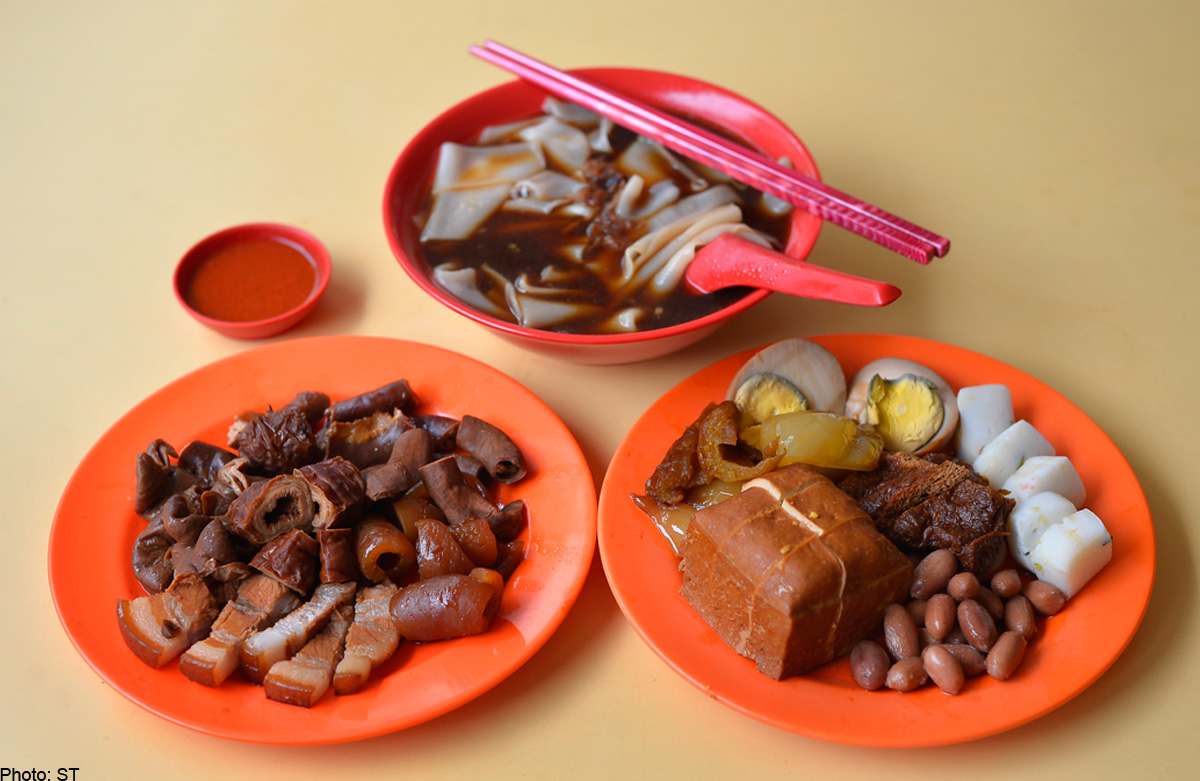 My perfect breakfast looks something like this - a steaming bowl of kway chap accompanied by a cup of kopi C and the morning paper. I don't get to do it nearly often enough but when I do, on weekends with my mother, it is a real treat.
For the uninitiated, kway chap is a Teochew dish. It is a steaming heap of braised pig offal, served with flat rice noodles in a garlic-infused soy-based broth. Delicious.
The problem is, most people who eat it these days are a lot older than me.
At my favourite kway chap stall, at a hawker centre near Bedok Reservoir, you would be hard pressed to find the same young crowd you see tucking into eggs benedict at hipster cafes.
To many from Gen Y or younger, offal is smelly, off-putting and just plain gross.
These days, those of us who still eat offal often have to endure frowns of disapproval when we order the nasty bits.
I have been eating dishes such as kway chap, sup tulang (braised bone marrow) and paru goreng (fried beef lung) all my life and regard them as cultural heirlooms to be preserved.
These dishes were borne out of the waste-not-want-not attitude of Singapore's formative years, when thrifty family matrons bought the cheap cuts and scraps and devised delicious ways to make them palatable.
Indeed, Anthony Bourdain, the chef and well-eaten television traveller, once said: "Nearly anyone - after a few tries - can grill a fillet mignon or a sirloin steak. A trained chimp can steam a lobster. But it takes love, and time, and respect for one's ingredients to properly deal with a pig's ear or a kidney."
It is a noble thing to stand for hours over a blazing charcoal fire, imbuing flavour into every fibre and sinew of tongue, tripe and feet until in the end they taste even better than prime cuts. To understand the effort is to gain a healthy love and respect for food and tradition.
I learnt this early on, raised in a household where we did not scorn offal. On our dinner table, it was a regular sight.
Both my sister and I have our favourites. I loved the slippery, sticky-sweet jelly-like texture of braised chicken's feet, while she would go nuts over pig's tripe in Mum's bak kut teh.
And when we had fish head or a whole roasted chicken, we would fight over the fish eyes and the "pope's nose".
When exams were coming, Mum would put a whole pig's brain on a slow boil and serve us soup. It was supposed to energise and invigorate the mind. It must have worked because after 25 years of education (and eating), I am finally graduating this year.
But we started young. Perhaps that is how we can get younger Singaporeans to start eating from the inside out.
One of my earliest memories as a boy is of Dad dragging me out of bed and onto my bike for the short ride to the coffee shop for kway chap.
Back then, you could get cuts like lung and congealed pork blood, but unfortunately, these were banned after the Nipah virus outbreak in the 1990s.
Devouring those morsels with my Dad birthed in me a lifelong love for food in all its bizarre shapes and forms. It also taught me that things that seem humble, ugly and unglamorous often deserve the most respect. After all, it is what's inside that is important.
And I think there is hope, because these days many do eat new-style offal.
We scarf down fatty duck liver or lamb testicles without a second thought, if they are put on a pretty plate and given a fancy name. Now, we need to show the same enthusiasm for local specialities, or they might disappear.
And if our hawker heirlooms go, they would take a part of Singapore's history with them, leaving our culinary tapestry - and our lives - a little less whole.
For there must always be a place for the strange and wonderful. Chicken rice has its mass appeal but the murky mystery of sup tulang has its seat in our culinary pantheon too.
So the next time you eat out, get a plate of bright pink marrow bones, pick up a straw, and suck away.
The writer is a final-year journalism student at the Wee Kim Wee School of Communication and Information, Nanyang Technological University, and a Singapore Press Holdings scholarship recipient.
This article was published on May 4 in The Straits Times.


Get a copy of The Straits Times or go to straitstimes.com for more stories.