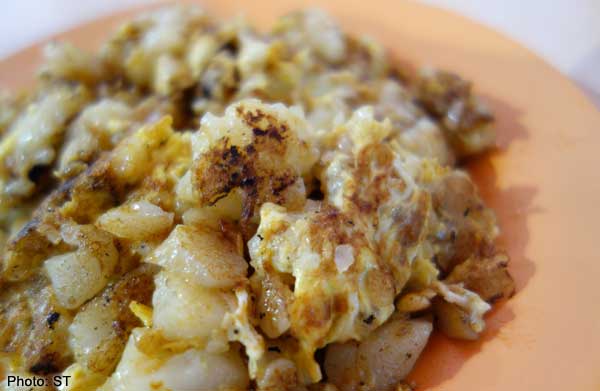 Fu Ming Cooked Food Carrot Cake
Redhill Food Centre
Blk 85 Redhill Lane #01-49
Singapore 150085
Do you prefer the sweet dark carrot cake or its paler, more savoury other half? Whether you like it black or white, the hand-made carrot cake at Fu Ming Cooked Food never fails to impress.
Owner-chef Goh Chye Oo tells us that both his white and black versions are equally good, so you don't have to struggle to choose one.
Mr Goh makes the carrot cake by hand daily, and hand cuts the blocks. He is very generous with adding egg, radish and seasoning to his dish.
We give both versions the SoShiok test!
---
Read also The Straits Times Food Editor Tan Hsueh Yun's review on the carrot cake dated July 13, 2013.
Redhill Lane is bustling with shops, a market and a busy hawker centre. It is also home to what I think is one of the best versions of fried carrot cake in Singapore.
I do not say this lightly because the dish is one of my favourite hawker foods. It is hard to find a good one so I don't have it often. Yet, I have been here once every week since a friend told me about it. The stall opens until midnight, which pleases me no end. Late night chye tow kueh is the best kind.
The dish costs $2, $3 or $4 and they cut the steamed radish cake into large chunks, just the way I like it. I am persuaded to try the white version. It is peppery and crisp at the edges. Pretty good. But the black version wins hands down. The uncle who fries it gets a layer of char on some chunks of the cake and the black crust crumbles just so when you take a bite.
Although the dish is flavoured with sweetish dark soya sauce, it is never sugary. Instead, with every bite, there is a deep, nuanced savoury flavour.
It helps also that there is a lot of preserved radish, so there is a satisfying crunch with each bite.
Where: Fu Ming Cooked Food, Block 85 Redhill Lane, 01-49, Redhill Food Centre MRT: Redhill Open: Noon - midnight daily

Get a copy of The Straits Times or go to straitstimes.com for more stories.