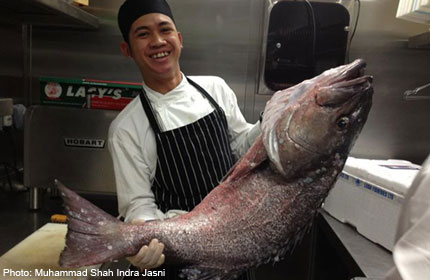 After aspiring chef Muhammad Shah Indra Jasni earned an internship at a famed two Michelin star restaurant in France, he faced another challenge.
The Institute of Technical Education (ITE) College West student only had a minimal knowledge of French. It did not help that the chefs and staff at the La Pyramide restaurant were not conversant in English either.
"But I wanted to learn more about French cuisine and expose myself to a real French kitchen, so I forced myself to learn the language and spoke to my colleagues in French every day for the three months that I was there," he said.
On Monday, the 21-year-old was among the pioneer batch of 19 students who graduated with a technical diploma in culinary arts from ITE College West.
The certification is a collaboration between the school and the Paul Bocuse Institute, a well-known French culinary school based in Ecully, near Lyon. Students have to complete two restaurant internships as part of the course.
Mr Alvin Goh, deputy director of the culinary arts programme at ITE College West, said the partnership is part of the college's focus on hospitality.
"Even at the graduation ceremony earlier on, some chefs from the industry who were present were already asking if they can get some of our students to intern at their restaurants," he said, adding that the college is "hoping to set up a pastry technical diploma programme" in future.
Ms Soh Yi Si, who graduated as valedictorian on Monday, described her journey in the 2 1/2-year course as a "stressful but fulfilling" one.
"We had theory and practical tests almost every week. During the practical test, you have to multitask and prepare different dishes at the same time, and complete them within the time limit," said the 21-year-old, who received a scholarship to pursue the technical diploma course from the Les Amis Group two years ago. She will go on to work at one of the chain's restaurants for a year, to serve out her bond. "I don't yet dare to dream of having a restaurant one day," she said. "I just hope to be a sous chef within the next five years."
leepearl@sph.com.sg

Get a copy of The Straits Times or go to straitstimes.com for more stories.