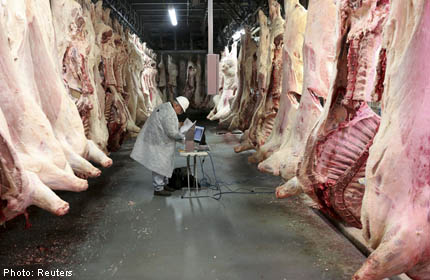 JAKARTA - Indonesia's beef and cattle imports will total around 20 per cent of total consumption next year at about 112,000 tonnes, the agriculture minister in Southeast Asia's biggest economy said on Monday.
Beef consumption in Indonesia will hit 560,000 tonnes in 2014, up from 549,000 tonnes this year, Agriculture Minister Suswono told reporters, without giving a reason for the rise.
"We estimate that around 80 per cent of beef consumption next year can be supplied from domestic production," he added.
In an effort to ease food inflation and following a beef shortage and import corruption scandal earlier this year, Indonesia has loosened rules on imports, all but abandoning a 2014 self-sustainability drive.
Prior to relaxing the beef and cattle import rules in the second half of this year, Indonesia used a quota system in an attempt to boost its domestic beef market.
The new 2014 import estimate will be more than triple the now scrapped beef import quota for 2013 at 32,000 tonnes, of which approximately 20 per cent consisted of prime cuts. The live cattle import quota was set at 267,000 head of cattle.
Australia, the world's No.3 beef exporter, is the main supplier of beef to Indonesia.