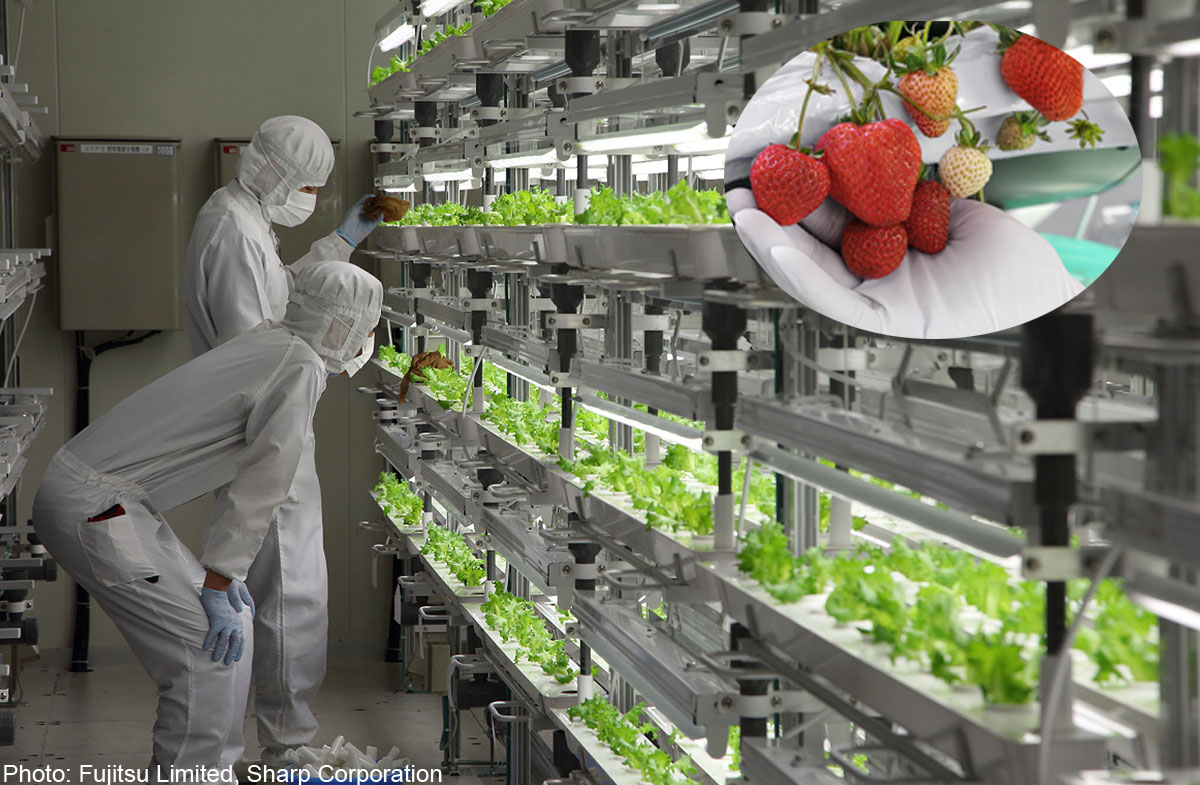 What does spinach have to do with massage chairs?
Mr Takayoshi Tanizawa was confused when his boss at Panasonic told him that his next project, after being in charge of massage chair development, was to grow a high-tech spinach farm.
That was three years ago.
"I was not confident of handling the new job," said Mr Tanizawa, 41. "But I decided to see the project through."
His hard work has paid off.
This October, Panasonic plans to market its "Passive Environmental Control System", which grows spinach in greenhouse environments regulated by computer, and produces a stable supply of the vegetable all year round.
"Spinach is the most difficult leafy vegetable to grow. Now that we are successful, we plan to apply the system to other vegetables," said Mr Tanizawa, now a senior executive at Panasonic's in-house Eco Solutions Company, which is behind the project.
Panasonic is not the only Japanese electronics maker to jump into agribusiness. Faced with slumping global demand for their traditional products, they see high- tech farming as a promising revenue source.
According to influential business daily Nikkei, Panasonic was forced to retreat from its once much-touted plasma TV business and scale down its consumer electronics business to focus on products for corporate customers.
But the company is reluctant to project too far into the future.
"In agribusiness, there are many problems on the ground, so there are still many ways we can contribute. But to keep going, we need to have a business model that will benefit not only our company, but all stakeholders involved," said Mr Tanizawa.
Fujitsu, which went through years of restructuring to shrink its chipmaking operations, has also waded into high-tech farming, turning a disused semiconductor facility into a plant factory.
Using fertiliser produced in- house and clean-room technology to control the environment, it successfully grew low-potassium lettuce last October and began commercial production in January.
"Our lettuce can be eaten raw by people with kidney problems. If kept refrigerated, it can last around two weeks," said Fujitsu spokesman Rishad Marquardt.
It hopes to sell 150 million yen (S$1.9 million) worth of its lettuce this year, and sees demand rising to 400 million yen in 2016. But consumers may find it too pricey. Sold at selected supermarkets at 500 yen for a 90g pack, Fujitsu's lettuce costs up to 25 times more than ordinary ones.
Housewife Fumiyo Sasaki, 41, said she might buy the Fujitsu lettuce for her husband, a chef, to try, adding: "But otherwise, I definitely won't buy it."
Meanwhile, Sharp is eyeing the growing foreign market for Japanese farm products, which have a wide reputation for quality.
Since last September, it has been farming strawberries at an experimental facility in Dubai. The United Arab Emirates location was chosen for of its proximity to Middle Eastern markets, where Japanese strawberries are popular, said a Sharp spokesman.
After the tests end next March, Sharp plans to launch a plant factory business in cooperation with local partners in Dubai.
Japanese firms keen on agribusiness have the support of the government as agriculture is one of three growth areas - the others being labour and medical care - targeted by the Abe administration.
Sharp's strawberry farm, for instance, was given a government subsidy as a project that promotes "agricultural industrialisation".
Under growing global pressure to open up its highly-protected farm sector, Tokyo is planning major reforms to make farm goods more competitive. These include laws to facilitate the aggregation of tiny family-owned farms into larger plots to make farming more commercially attractive.
Instead of waiting for reforms, some companies are taking advantage of the new special economic zones around the country where red tape will be relaxed to encourage business activity.
Financing and leasing company Orix is set to start growing organic vegetables in Yabu city in western Hyogo prefecture, while convenience store chain Lawson is going into rice-planting in Niigata city, located to the north of Tokyo on the Japan Sea side.
wengkin@sph.com.sg

This article was first published on July 28, 2014.
Get a copy of The Straits Times or go to straitstimes.com for more stories.