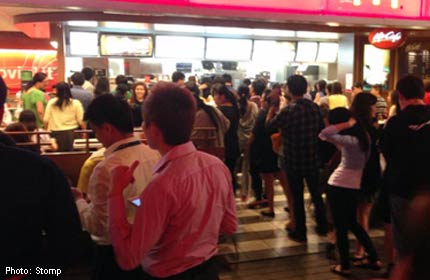 Queues at McDonald's are long again. The culprit this time? Gru's minions.
According to Stomp.com, queues at the fast-food chain's United Square branch started at 12pm as minion dolls were already available for the taking.
"The Stomp contributor said that the queue reminded him of the recent Hello Kitty craze which saw Singaporeans queuing for hours to get their hands on the dolls," STOMP.com said.
Minions are popular in Singapore these days as Despicable Me 2 is currently being shown in theatres island-wide.
If queues for Hello Kitty lasted for as long as four hours, how much time do you think would Singaporeans spend to get their hands on the cute little yellow minions? Are you planning to collect the minions too?