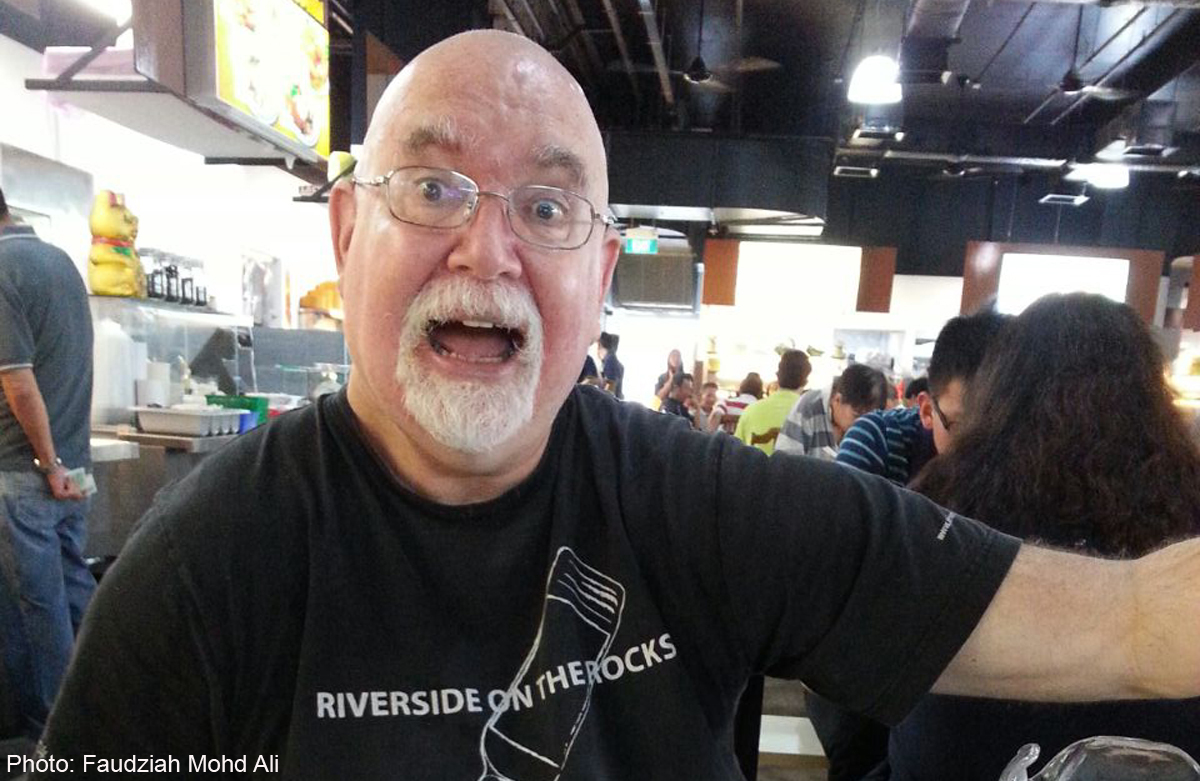 Restaurateur Bernie Utchenik, 62, is the former owner of Botak Jones, a popular chain of hawker stalls serving affordable American diner fare. Born in Detroit, United States, he became a Singaporean in 2009.
After opting out of the partnership in 2011, he now runs Big Bern's American Grill at a foodcourt in Toa Payoh North.
He lives in a two-storey HDB maisonette in Yishun with his 52-year-old wife, Madam Faudziah Mohd Ali. His two grown-up stepchildren do not live with them.
"On weekend mornings, I go to the stall to help out with kitchen preparations.
I am a bit of a control freak in the kitchen, but it helps me keep in touch with the business and know what's going on.
I make all the coleslaw and meat patties, as everything in our stall is done by hand.
Lunch is simple with a cajun chicken burger from my stall or economy rice with my favourite beansprouts and egg tofu with gravy from another stall in the foodcourt.
After that, I like to walk around and talk to customers or check the restaurant's Facebook page while having a hot cup of coffee or lemon tea.
Occasionally, I relax by watching the sports channel on the TV installed at the foodcourt with a pint of my favourite beer.
When I am on the way home, I make an effort to talk to the bus or taxi drivers because, sometimes, all it takes is a smile and a nice word to make someone's day.
When I'm home, my wife and I have dinner prepared by our Indonesian domestic helper who has been with us for about four years. I enjoy eating at home because I can control my portions since I'm watching my weight.
My favourite meal is brown rice with curry or a Thai dish. I've always liked Thai cuisine ever since my two-year stay in Thailand in 1992.
I have an anxiety disorder which usually keeps me home for the rest of the night, so I spend my time watching TV shows such as The Big Bang Theory or CSI or football.
Even though I'm not a fan of reality TV shows, I will watch The Voice occasionally to either accompany my wife, who is a fan, or keep me focused on the TV during my weekly 20-minute exercise sessions on the elliptical cross-trainer.
I go to bed at midnight and wake up at 7am the next day.
After my usual breakfast of a bagel with cream cheese and coffee, it's back to the stall for another day of prep work.
I used to be more active before I had my anxiety disorder. I would jam with my musician friends at The Barber Shop at Timbre and Crazy Elephant during weekends. People would request blues and rock numbers such as Five Long Years by Eddie Boyd and Sweet Home Alabama by Lynyrd Skynyrd. Since I am getting better now, I may go back and sing a few tunes again.
Occasionally, I go on short trips to Kuala Lumpur with my wife to get away from work and relax. We stay at the Shangri-La hotel because it is affordable luxury once you convert the Malaysian ringgit into Singapore dollars and the rooms and service are good.
We will meet a close friend from the residential suburb of Bangsar and have dinner with his wife and kids. Bangsar has some really good Indian shophouse restaurants.
Otherwise, my wife and I will settle for dim sum at Shang Palace in the hotel and indulge in traditional deep-tissue massages."
This article was first published on Nov 28, 2014. Get a copy of The Straits Times or go to straitstimes.com for more stories.