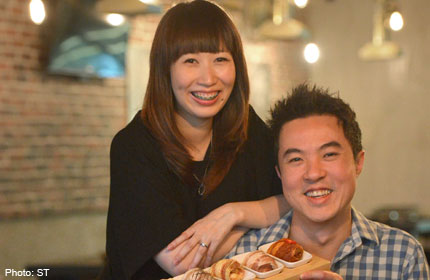 SINGAPORE - The bustling restaurant scene in Singapore is getting frenetic, with close to a dozen which have just opened or which will open in the next two months.
They add to no fewer than 10 restaurants which opened in the past month: The Black Swan in Cecil Street, Bar-roque Grill in Tanjong Pagar, Sardinian restaurant Sopra at Pan Pacific Orchard, Blue Lotus Chinese Eating House at Quayside Isle in Sentosa, and Argentinian restaurant Bochinche in Martin Road, among others.
Now, a new wave of restaurants offering everything from authentic Thai cuisine to well-executed British classics, is sweeping the dining scene.
SundayLife! highlights seven places to check out in the next two months. These add to another three that will also be setting shop soon.
Popular Australian-based Mexican chain Guzman Y Gomez will be opening its first outlet in Singapore at Asia Square Tower 2 with a Free Burrito Day on Oct 24.
The fast-casual restaurant which offers made-to-order burritos, tacos and quesadillas, will be taking up a 900 sq ft space in the office building's food court.
Hotelier-restaurateur Loh Lik Peng will be opening a yakitori restaurant at Block 78 Moh Guan Terrace in Tiong Bahru, in the space previously occupied by Hua Bee coffeeshop.
The partners for the new restaurant include Mrs Mavis Oei, chairman of the Goodwood Park Hotel, who is also a partner of Esquina and Burnt Ends.
The coffeeshop's old bak chor mee tenant will still run a stall there in the day when the space reopens in October.
But when the stall closes at night, the area will be converted into a partially air- conditioned yakitori bar.
A new fine-dining Japanese restaurant, Sushi Kuu, is also slated to open at Palais Renaissance at the end of this month. It is an offshoot of Sushi Kuu in Hong Kong, which also runs high-end restaurant Sushi Sase.
Restaurateurs say that although competition is stiff, there is still room in the market for different food segments.
The manpower shortage remains a challenge, but restaurateurs remain positive.
The chairman of The Prive Group, Mr Yuan Oeij, who will be opening WOLF, a nose-to- tail restaurant in Gemmill Lane in October, says: "I am very happy to see interesting and quality concepts coming up, and many of the established restaurants continuing to deliver great experiences. Competition is always there and it's not something I worry about."
Mr Loh adds: "Singapore's restaurant scene is pretty vibrant and there are a lot of exciting new openings. It is a good thing, but it does put a squeeze on existing resources, including manpower."
rltan@sph.com.sg
Slappy Cakes
Where: Modern Asian Diner (MAD), The Grandstand, 200 Turf Club Road, 01-20/21, tel: 6466-3303

Open: 10am to 10.30pm (weekdays), 9am to 10.30pm (weekends)
Head to Slappy Cakes at The Grandstand in Bukit Timah for a taste of fluffy American-style pancakes.
The 70-seat make-it-yourself pancake concept from Portland, Oregon, in the United States, has opened in the space previously occupied by the bakery-cafe section of multi-concept eatery Modern Asian Diner, known as MAD.
The other components of the eatery: cocktail bar, Asian tapas restaurant and retail shop, remain.
The month-old American offshoot, which also has outlets in Tokyo, Manila and Maui, has been brought in by the TungLok Group, one of the partners behind MAD.
A larger, flagship outlet is slated to open near Universal Studios Singapore's ticketing counter at Resorts World Sentosa soon.
At Slappy Cakes, diners first decide on a pancake base - there is a choice of buttermilk, chocolate, whole-grain, peanut butter and zucchini batter - followed by toppings that range from fruit and nuts to cheese and ham.
Each table is fitted with a griddle for diners to cook pancakes in whatever shape or size they desire. Thereafter, the stacks can be topped with chocolate sauce, maple syrup, and other spreads such as Nutella and lemon curd.
Expect to spend about $10 to $15 a head, and upwards, depending on how many ingredients you opt for.
On the decision to bring Slappy Cakes to Singapore, TungLok's executive chairman Andrew Tjioe, 55, says: "I fell in love with the interesting and interactive concept and decided to bring it in because it is fun and encourages customer participation."
He also alludes to the fact that the DIY concept helps to alleviate the manpower crunch in the food and beverage industry - diners cook as they please, and do not have to wait too long for their food to be ready.
Mr Tjioe believes that Slappy Cakes will attract the masses given the growing appeal of all-day breakfast in Singapore. Response to the concept has been "encouraging and good so far", he says.
Slappy Cakes complements the offerings at MAD, because it is "cheerful and fun".
He adds: "The Grandstand is a destination location where people travel just to dine. Between travelling there to buy bread and pastries, and going there for pancakes, I believe the latter is more probable.
"Diners have a choice of having main courses at MAD, or pancakes at Slappy Cakes at any time of the day."

Oxwell & Co
Where: 5 Ann Siang Hill, tel: 6438-3984
Open: The restaurant is slated to open on Aug 29. Meanwhile, the bar is open from 5pm to midnight (Mondays to Saturdays), closed on Sundays
New food and beverage group The Blind Group opened it first restaurant, Oxwell & Co, a British gastro-pub, in Ann Siang Hill last Thursday.
The restaurant's name is inspired by the heritage of its Chinatown location, where in the old days, ox carts would transport water from wells.
The group is made up of about 10 investors which include expatriates from Australia and Britain, most of whom are in the finance industry.
Shareholders also include Mr Luke Whearty, 30, bartender and co-general manager; Ms Aki Nishikura, 22, co-general manager of the restaurant; and well-known British chef Mark Sargeant, 40, who worked with Gordon Ramsay for 13 years and now runs Rocksalt and The Smokehouse in Britain. He is also the food director of British restaurant group Canteen.
The food here will resemble Sargeant's style of cuisine - simple, ingredient-driven food with a focus on quality produce.
The chef-restaurateur is the second of Ramsay's prodigies to open an eatery here. The first was chef Jason Atherton who co-opened restaurants such as Pollen, Esquina and Keong Saik Snacks.
The opportunity came through a "tenuous connection", from someone who knew someone who was looking for a chef to open a restaurant in Singapore, chef Sargeant says.
He adds: "Of course, I had been following what Jason (Atherton) had been doing, and I kind of thought to myself, though not in a very serious way, and I have never had an agenda to open anywhere in Asia, that it would be great if something like that would happen to me."
He received an e-mail about the venture on a Tuesday in May, and after a day of conversations, he found himself on a flight to Singapore on Thursday morning.
He says: "When this opportunity came up, it was a no-brainer for me."
He had visited several times while working for Ramsay and already had a very positive image of Singapore.
Heading the kitchen will be chef Alex Farrow, 27, who had previously worked with chef Sargeant for two years at Ramsay's restaurant at Claridge's.
The menu at Oxwell & Co will not change with the seasons, but will instead "evolve gradually".
The bar on the ground floor can take up to 150 people both seated and standing. Drink offerings include gin and tonic, a nutmeg and calamansi Jungle Beer, a vermouth-based sangria infused with strawberry, cinnamon and vanilla, and prosecco.
It also serves snacks such as mussel popcorn and radishes with anchovy mayonnaise.
Upstairs will be a 35-seat restaurant that opens at the end of this month.
Of the food, chef Sargeant says: "I like to cook the food that I like to eat. And when I go out, I like a great piece of steak, a fish with some sides, oysters, some lobster - I don't like food that is overly fussed. I like it simple and very accessible."

E!ght Korean BBQ
Where: The Central, 6 Eu Tong Sen Street, 02-79/90, tel: 6222-2159
Open: 11.30am to 2.30pm, 5.30 to 11pm, daily.
Month-old E!ght Korean BBQ at The Central is contemporary, trendy and well thought out.
Unlike many other Korean barbecue joints, this 130-seat restaurant is not cramped and does not reek of smoke.
There are also no pipes to trip over because recesses in the floor have been specifically built to house them. Each table has a drawer where diners can help themselves to cutlery, keeping table tops clutter-free, and the drum-like stools double up as storage units for bags, shielding them from the odd oil splatter.
The restaurant, whose interior features 150-year-old bricks from Korea, is an offshoot of E!ght in Los Angeles, a popular Korean barbecue restaurant formerly known as Palsaik.
It has been brought in by Mr Jamie Lim, 36, and his wife Kristin, 33, who are also the founders of home-grown handmade rock candy store Sticky.
The couple saw a gap in the market for premium Korean barbecue. Here, E!ght focuses on American Berkshire pork belly, and also offers other meats such as USDA Prime beef.
The signature 8 Colours Set ($98) comes with eight slices of thick-cut pork belly in different marinades from wine and herb to Korean red pepper paste. It serves three to four people, but expect to spend about $30 or more a person if you order other complementary dishes.
The restaurant, which cost about $1 million to open, is a full-service one. This means that the cooking is done for diners, at your table, on a specially-designed a tilted hot plate that drains away access oil.

Wolf
Where: 18 Gemmill Lane
Opens: Early October
Another new restaurant is set to open in Gemmill Lane, the quieter but increasingly bustling end of Club Street where Luke's Oyster Bar & Chop House and Club Street Social have been drawing diners.
WOLF, which takes over the space previously occupied by a bicycle shop, will offer nose-to-tail dining, every part of an animal from tongue to tail. While the focus will be on pork, the restaurant will also serve beef, poultry and fish.
The 45-seat restaurant is the latest concept by lifestyle and restaurant group Prive, which runs Roadhouse and The Green Door in Dempsey Hill, and Prive Grill and Prive Cafe at Keppel Bay Island. Behind the interior is design firm The Stripe Collective.
The Prive Group's chairman, Mr Yuan Oeij, 44, says: "We will offer honest food with bold flavours - food that comes from the heart and makes the diner feel good. In respecting the entire animal, we will use all parts, from the nose to the tail."
He adds: "It is such an inspiration and pleasure to make something delicious out of parts no one thinks about, surprising the diner with new textures and experiences."
Expect to tuck into juicy chops, fork- tender trotters and flavourful braised ox tongue.
Although the restaurant is dedicated to nose to tail offerings for the more adventurous diner, it is also committed to serving customers who prefer steaks and more conventional cuts of meat.
Lunch will cost about $40 a person, while the average spend for dinner will be about $80 a head.
Mr Oeij says that through the restaurant, he hopes to educate diners and make them realise what they have been missing out on.
He adds: "The odd bits are delicious, and more precious - you can get lots of pork chops out of a pig but only one tongue."

No Menu Bar
Where: Corner of Boon Tat and Telok Ayer Streets
Opens: Sept 9
Osvaldo Forlino, Italian chef-owner of two-year-old No Menu restaurant, which now spans two shophouse units in Boon Tat Street, is expanding.
He is opening a pizzeria, wine and cocktail bar, delicatessen and Italian-style small plates bar. Curiously, the new place will also sell economy rice at lunch time.
The 59-year-old chef, who runs the restaurant with his wife Patrizia, two daughters and a niece, has taken over a large corner shop unit previously occupied by a coffeeshop, a little farther up the road from No Menu.
He had heard on the grapevine that the coffeeshop's lease was coming up so he jumped at the opportunity to consolidate his businesses in one location.
The former co-owner of Italian restaurant Amarone at Capital Tower and Spanish eatery Ola at Marina Bay Financial Centre sold his shares in those restaurants about two months ago.
He and his wife saw potential in offering something more affordable and accessible to diners.
Mrs Forlino says: "How many times can people come to eat at a restaurant? At the bar, they can have a slice of pizza or Chinese food for lunch, some wine, a couple of light bites after work, pancetta - anything they want."
Chef Forlino adds: "No Menu Bar will be an Italian-style eating house with a respect for local culture."
They want the space to be somewhere diners can head to for lunch or to unwind and relax over drinks and food after work.
In keeping with the design of the shophouse, chef Forlino has decided to keep the coffeeshop's old Peranakan tiles, and has even hunted down more tiles from around Singapore to decorate his Peranakan-tiled bar counters.
The new Italian eating house will have a wine cellar and a retail shop which will sell items such as burrata and seasonal produce that the restaurant uses.
The chef has also ordered a $15,000 chiller which can regulate temperature and humidity. He will use it to cure salami, pancetta and other cold cuts such as lardo. These can be sliced-to-order.
One part of the eating house will serve Chinese food at lunch, prepared by a few of No Menu's local chefs. At night, this area turns into an Italian-style seasonal tapas bar where diners can opt for small plates that range from vitello tonnato, a cold veal appetiser with a creamy tuna sauce; to pastas and asparagus frittata. Prices will start from about $7 serving.
There will also be a cocktail bar and a pizzeria and alfresco seating along the five-foot way.
Chef Forlino is spending about $600,000 to $700,000 on his new venture.
He says: "We are offering a new take on the traditional eating house."

Nara Thai Cuisine
Where: Ion Orchard, 2 Orchard Turn, B3-21
Opens: Next month
Singaporeans after authentic Thai fare will have another place to head to.
Popular chain Nara Thai Cuisine, which has two outlets in Bangkok, opens its first Singapore offshoot, a 2,000 sq ft restaurant in Basement 3 of Ion Orchard.
The 112-seat restaurant will be headed by a Thai chef and will "mirror" the menu offerings in its Bangkok outlets.
Diners can expect to spend about $25 to $30 a head, and feast on everything from tom yum soup with river prawns to soft-shell crab with yellow curry, to kuay tiew rua or Ayuthaya boat noodles.
The restaurant here is owned by a group of investors including Nara Thai Cuisine's founder Narawadee Srikarnchana, and Singapore managing partners John Wangwanikul and Christopher Tan. Mr Tan also runs and owns Zsofi Tapas Bar and Slice, The Pizza Reform.
Mr Wangwanikul, 32, who is Thai, says: "Nara's offerings are uncomplicated and comforting, just like how it is in traditional Thai homes."
He found that it was difficult to find authentic Thai food here, and felt that there was a "missing segment" that could be filled. He feels that Thai food in New York, Boston and San Francisco is much better than that available here. And, given Singapore's proximity to Thailand, this had puzzled him for years.
The food and flavours here will be kept authentic, but some adjustments can be made to the spice level on request.
The owners plan to evaluate the response to the first restaurant, but foresee expanding with at least two more offshoots here in the next five years.

Fluer De Sel
Where: 64 Tras Street
Opens: Next month
French chef Alexandre Lozachmeur's dream of having a restaurant to call his own has finally come true.
Next month, he opens new 20-seat French restaurant, Fleur de Sel, in Tras Street, next to classic French restaurant Brasserie Gavroche.
The former chef de cuisine of Brasserie Les Saveurs at The St Regis Singapore grew up in Nice. He will offer French fare inspired by the cuisine of the south of France.
His cuisine will follow the French seasons he says, but dishes on the menu are likely to include a cote de boeuf and fish, as well as vegetables such as artichokes and heirloom tomatoes.
The 33-year-old trained with Michelinstarred French chef Alain Ducasse for six years before moving to Singapore 71/2 years ago. His experience here includes being chief instructor at At-Sunrice GlobalChef Academy, heading the kitchens at Dolce Vita at Mandarin Oriental hotel and the now-defunct Harbour Grill at Hilton Singapore. He was also the executive chef of Au Petit Salut before working at The St Regis.
He says he discovered and fell in love with Tras Street about four years ago because of its humble charm.
It took him five months to find a suitable space, which will also feature a five-seat chef's table counter, as well as a private room that can seat 10 to 12.
He and his Indonesian-Chinese wife, Feronika, 28, own the restaurant. Both are Singapore permanent residents and have two children aged two and six months.
On the choice to open a small, intimate restaurant, Chef Lozachmeur says: "I enjoy interacting with and being in contact with guests." He adds that in bigger kitchens, there is a lot less interaction with customers, which was something he missed.
Set lunches will start at $38 a person for three courses and set dinners will be priced at $88 a person for four courses. There will also be an a la carte menu.
The wine list will have about 100 wine labels, of which about 85 per cent will be French. About half the wines will be priced below $100 a bottle.
Specials will include risotto and handmade pasta, which he has been making since he was about six years old; his parents run a 30-year-old pasta-making business in Nice.



Get a copy of The Straits Times or go to straitstimes.com for more stories.