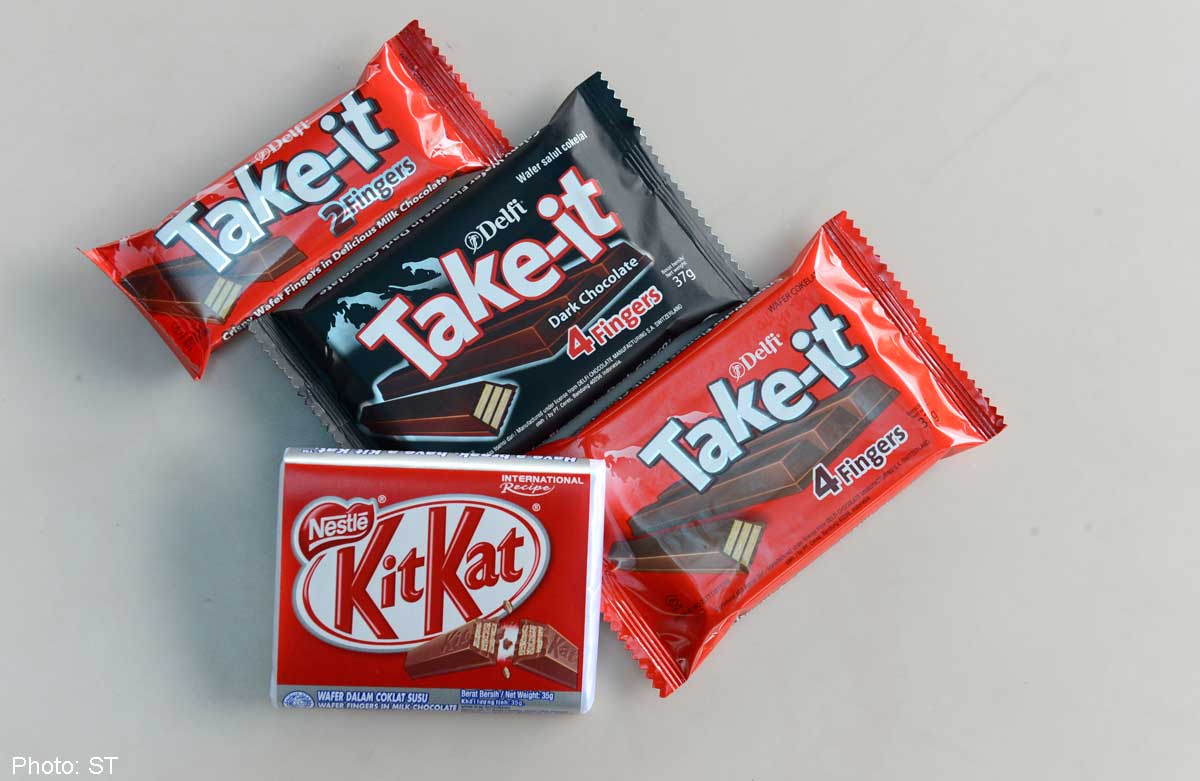 It may be the slogan of its world- famous Kit Kat bar, but chocolate giant Nestle did not get the break it was hoping for in court here.
Its claim that the shape of chocolate bar Take-it, made by rival firm Petra Foods, infringed its intellectual property (IP) rights was thrown out by the High Court.
The court ruled that even if Singapore-based Petra Foods "did copy" the shape of Kit Kat bars, it was not wrong.
"Imitation is no less valid a business strategy than innovation. There is nothing unconscionable about competition," said Justice Chan Seng Onn in a 153-page judgment issued last week.
Swiss food giant Nestle had registered the shape of its "four-finger" and "two-finger" Kit Kat brand of wafer products.
The grooves found in the confection allow for each finger of chocolate to be snapped off easily, and have become part of Kit Kat's identity.
Its lawyers, Mr Arthur Yap and Ms Sheena Jacobs, argued that Petra had deliberately modelled the shape of its 2-Fingers and 4-Fingers Take-it chocolate wafer bar to ride on Nestle's "coat-tails".
But Petra's lawyers, Mr Dedar Singh Gill and Mr Gabriel Ong, said the shape of the Take-it products was necessary for efficient production, which meant Nestle could not register Kit Kat's features as a trademark.
Justice Chan held that trademark law should not be misused to "impede the freedom of competition".
It will harm the market if "the registration of a three-dimensional sign has the effect of forcing competitors to resort to a more expensive manufacturing process or to use a cheaper process which would result in a product that is less attractive to customers".
The judge dismissed Nestle's claim "in their entirety" and ordered that its Registered Shapes be removed from the Register of Trade Marks. He ordered damages be assessed to compensate Petra for the "groundless threats of trademark infringement" made by Nestle.
The judge noted the court battle here is one among many worldwide.
Last year, Cadbury successfully blocked Nestle over the trademark of the two-finger shape in Britain.

This article was first published on November 30, 2014.
Get a copy of The Straits Times or go to straitstimes.com for more stories.