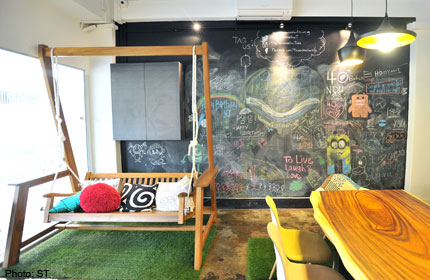 SINGAPORE - Retro decor, check. Gleaming coffee machines and friendly baristas, check. Artisanal cakes and handmade savouries, check.
Singaporeans are consuming coffee with more than a dash of hipster chic these days.
But what is a caffeine fiend to do when established joints such as 40 Hands and Loysel's Toys are packed to the brim?
Why, head to the newer outlets that only those in the know have a bead on of course.

The Marshmallow Tree
Tucked in a corner of Telok Blangah, this blink-and-you-will- miss-it cafe adds unexpected whimsy to Singapore's cafe scene. Opened less than two months ago, The Marshmallow Tree is styled like an intimate picnic.
Marshmallows hang from green shrubs framing the entrance. Inside, the focal point of the room is a 3m-long, suar wood, communal table. The 20-seat eatery has a mix of wooden benches and vintage pencil-leg chairs upholstered in warm and floral patchwork.
Artificial turf lies underfoot. The service counter is of red brick and lined with more faux grass. And the ceiling is painted a bright blue, dotted with clouds. One almost expects to hear the sounds of birds chirping from the rafters.
The cafe takes its name from its signature treat: All of their drinks ($3 to $6) are served with a marshmallow tree - a roasted marshmallow on a stick, "planted" in a miniature clay pot. "We thought of the marshmallow tree and designed everything around that," says co-owner Ng Shu Ling, 22, a recent graduate of the Swiss Hotel Management School in Switzerland. Her business partner, Mr Gabriel Pay, 22, is a recent design graduate of Ngee Ann Polytechnic. The pair met through Ms Ng's brother.
"We wanted a relaxing space where people could chill, hang out and play," adds Ms Ng.
Hipster quotient: A lamp-post stands in a corner, across from a wooden swing. Patrons can leave messages or doodle with coloured chalk on a blackboard wall. Coffee and marshmallows are the menu's focus here, including Oreo S'mores ($3 for a pair); marshmallow pops, a roasted marshmallow rolled in Coco Pops, cornflakes and sprinkles ($1.50 each); and marshmallow macaroons ($4 for a pair).
Be sure to also try the signature drink, rose latte, steamed milk with rose syrup ($4.50).
Where: 46 Telok Blangah Drive, 01-85, Tuesdays to Fridays, 10am to 10pm; Saturdays and Sundays, 9am to 10pm; closed on Mondays
Info: Call 9852-1210 or go to www.the marsh mallow tree.com.sg
W39
What: Sisters Jasmine and Jamie Lu are the duo behind this cheery pastel bistro in the sleepy Clementi neighbourhood. It has been open since May.
Jasmine, 26, is a music technology graduate from Lasalle College of the Arts, while younger sister Jamie, 25, has a diploma in moving images from Temasek Polytechnic. But the pair have decidedly foodie roots: Their parents run The Royals Cafe along Upper East Coast Road, where the sisters help out.
The W in the cafe name is a nod to it being in the western part of Singapore, while 39 is the cafe's unit number, says Jamie.
The 60-seater cafe, which includes both indoor and outdoor areas, gets about 50 customers a day on weekdays and double that on weekends - mostly the office crowd and families from around the area.
The menu includes a Hearty Breakfast ($13.50) with eggs, mushrooms, bacon and sausage, Braised Pork Cheek Gruyere Panini ($13), and the Seared Tuna ($12.50), served with avocado salsa, soy glaze and wasabi mayo.
Hipster quotient: The place is decorated like a child's playroom, with light yellow, green and blue pastels, and full-length windows - a departure from the original dark wood furnishings as the place used to be a bar.
A shelf display holds a Holga camera, old sugar shakers and coffee tins; while a counter holds local old-school knickknacks such as push-pops and chocolate coins.
The owners' 13-year-old sister also chips in with her own craft for sale, making hair ribbons, wallets and pouches from multi- coloured duct tape ($2 to $12).
Where: 39 Jalan Mas Puteh, Tuesdays to Fridays, 11am to 10pm; Saturdays and Sundays, 9am to 10.30pm; closed on Mondays
Info: Call 9646-5372 or go to www.w39bistro.com

Just Want Coffee
Opened in December last year, this cafe is simply decorated: white walls, standard Ikea chairs, a white rattan outdoor seating set in a corner. There are no frills, save an oddly placed piano near the rear exit. Here, it is all about the coffee.
The prime seats in the house are at the counter, where you can watch the baristas at work, hand-crafting your coffee.
While you can order standard espresso-based drinks, such as a latte ($4.50), Just Want Coffee offers hand-brewed coffee methods as well.
The espresso is nothing to sneer at: a signature blend of coffee beans from Brazil, Sumatra and Columbia, blended and roasted by the cafe's owner Nelson Lai, 31. Still, trying the single-origin coffee is the best way to learn about the flavour profiles of different coffee bean varieties, says cafe manager Shaun Chua, 25.
Hipster quotient: You can select beans from Brazil, Ethiopia, Columbia, Papua New Guinea and Malaysia's Liberica coffee plants, which are rare here. The beans are ground on the spot.
Next, choose your preferred preparation method: v60 paper filter drip for the lightest body coffee ($6.50), cloth filter drip for a medium body ($6.50), or syphon vacuum coffee ($7.70) for the strongest brew.
Alternatively, try the ice drip method ($9), where the coffee is brewed by letting ice cubes melt through freshly ground beans. The coffee is then left to steep for three to four days, to emphasise the charcoal, wine-like flavours of the roast - as opposed to the natural flavour of the bean. The coffee is served with a side of milk and caramelised sugar, so patrons can see how the taste of the roast changes with the gradual addition of each.
Take note that no skim milk is served here. Only whole milk is on offer, as the higher fat content brings out the full flavour of the coffee.
While food is available, options are limited to some cakes and meat pies (about $5) and sandwiches ($3.50 for half, $6 for whole), which are bought from a local supplier. Coffee is king here.
Where: 1 Everton Park, 01-27, Mondays to Thursdays, 8.30am to 6.30pm; Fridays and Saturdays, 9am to 8.30pm; closed on Sundays
Info: Call 6225-8115 or go to www.facebook.com/ JWCEverton
Butter Studio
What: Sandwiched between a car tyre shop and a coffee shop, this two-month-old joint is run by MsShannon Lua , a home baker who spent eight years in corporate marketing before striking out on her own with a takeaway outlet at Changi Airport 1 1/2 years ago.
The 29-year-old then started her hunt for a cafe space a year ago and alighted on Jalan Besar, a district more known for its furniture and appliance shops, rather than quirky cafes.
But she explains: "Cafe-goers may already have an overdose of places like Tiong Bahru, which has many hipster cafes, but this area is raw and unpolished and has its own charm."
She speaks fondly of the smell of butter in home kitchens, having grown up in a family of housewives who take their craft seriously.
She bakes the preservative-free cakes at the 40-seater cafe from scratch daily, with help from her 59-year-old mother and 60-year-old uncle.
The eatery has about 20 customers a day on weekdays and double that on weekends - mostly residents and the office crowd who work in small design studios in the area, as well as tourists from nearby boutique hotels.
Try the butter loaf cakes that come in variations such as Classic Marble and Tangy Orange ($3.50) and the Salted Caramel Nutella Tart ($5.90), which are family favourites.
Hipster quotient: The place was an old picture studio, says Ms Lua, so she wanted to keep the history of the place by displaying the studio's original Mandarin signboard. The place is dotted with stacked tiffin carriers, a Raleigh sewing machine and a typewriter.
The cafe also holds workshops for floral and leather craft, as well as small-scale dance and theatre performances.
Where: 147 Jalan Besar, Sundays to Thursdays, noon to 11pm; Fridays and Saturdays, noon to midnight; closed on Tuesdays
Info: Call 6294-7115 or go to www.thebutterstudio.com

Lola's Cafe
What: Opened in May, this 30-seater cafe is run by co-owners Foo Choo Kiat, 26, and June Tan, 24, a couple who met and bonded over late-night cook-outs during their days on exchange in the Netherlands as Singapore Management University undergraduates.
The cafe is named after a nickname given to Ms Tan, and the duo get their hands dirty: Ms Tan bakes the pastries and cakes from scratch daily, while Mr Foo does most of the heavy-duty cooking.
On the menu are signatures such as Duck Leg in Orange Mustard Sauce ($16), braised and pan-fried duck with buttery mashed potato and mustard, and Slow-braised Pork Goulash ($13) - pork chunks with celery, carrots, onions and paprika braised in herb-infused tomato sauce.
Since it opened, it has gotten about 900 customers a month, mostly families and expatriates from the housing estate nearby, and a younger crowd at night.
Hipster quotient: A blue-grey wall done up to resemble a stylised alleywall, with lamps and empty glass frames placed haphazardly to look like windows.
A working Crosby vinyl player and records are placed in a corner and the tables sit atop the legs of old-school sewing machines, complete with pedals.
Where: 5 Simon Road, Tuesdays to Sundays, 11am to midnight; closed on Mondays
Info: Call 6343-1808 or go to www. facebook.com/lolascafesg
Penny University
When Mr Mouss Kamal returned to Singapore three years ago after studying and working in London and Japan for 15 years, he was surprised to find there were no boutique, Western-style cafes in the East Coast area.
When he quit his job organising energy sector events 11 months ago to open his own cafe, he knew exactly where he would locate it.
Penny University opened in October last year. It is named for 18th-century coffee houses in Britain, which charged a penny for admission and a beverage. Mr Mouss wanted to create a similar gathering place, where people from eclectic backgrounds can meet and chat.
The unpretentious decor is a mish-mash of booth seating and open tables, mismatched furniture and vintage details, such as a 1940s cash register sitting on the service counter.
"I wanted the same kind of vibe as the cafes I liked in London - laid back, not overly designed, lackadaisical, very friendly, where the focus is mainly on coffee," says Mr Mouss, 36, who is of Malay, Indian and Japanese heritage.
"A neighbourhood cafe," he adds.
Hipster quotient: Born and raised in the east of Singapore, in Marine Parade and Telok Kurau, Mr Mouss shares the hipster values of keeping his cafe as local as possible. His produce and baked goods - pies, cookies and cakes ($4.50 to $7.50) - come from shops in the east, such as My Love Bites and The Bread Project in Joo Chiat Road.
Even the carpenter who built the cafe's service counter and tables lives in the east.
The majority of the patrons live in the east too, although on weekends, the 45-seat cafe swarms with coffee lovers from all over Singapore. They queue for up to 30 minutes to get a table and a sip of the cafe's signature muddy espresso ($5.50, above). Items on the all-day breakfast menu include Turkish eggs ($8) and savoury Belgian waffles ($10).
The kitchen closes at 4pm on weekdays and 9pm on weekends, but a dinner menu is expected to roll out at the end of the month.
Where: 402 East Coast Road, Tuesdays to Thursdays, 8.30am to 6pm; Fridays, 8.30am to 9.30pm; Saturdays and Sundays, 8.30am to 10.30pm
Info: Call 9008-9314 or go to www.pennyuni .com

Symmetry
What: This 10-month-old cafe is run by chef Abby Lim, who trained at Le Cordon Bleu in Sydney, and is executive chef at CM-PB in Dempsey and The Coastal Settlement in Changi.
The 29-year-old former Singapore Polytechnic business graduate named her first joint after a sense of balance.
"As with everything in life, including food, you need to have symmetry," she explains.
Her cafe sits about 80 people indoors and outdoors. On weekdays, about 150 customers go there daily and on weekends, the number goes up to about 250, she says.
Most are in their 20s and 30s.
Try the squid ($16), fried calamari fritters that come with a dip of black pepper aioli, tuna ceviche ($22), served with green peas, kelp and mint, and the hamburger ($25,) - beef cheek, onion and beetroot tucked in a soft bun.
Hipster quotient: A coffee drip tower sits on the counter bar and the joint's coffee is brewed with the rare American Slayer Espresso machine, which costs $30,000, says Ms Lim.
The walls are clad in distressed reddish-brown bricks, the result of contractors tearing down the old wall to unearth this "happy accident", she adds.
Other quirky touches include mid-length louvre windows at the cafe front resembling old-school provision shops, two retro fans from the United States and Thailand, and a tip box bearing a sticker calling for "tattoo funds".
But there is a limit to the "hipness", especially when it comes to the names in the menu, says Ms Lim. For example, a beef bolognaise dish was originally called orecchiette - the traditional name of a small ear-shaped pasta - but that did not sit well with diners.
"If the name comes across as too difficult and pretentious, diners will not order it because they are embarrassed that they do not know what it is," she says.
Where: 9 Jalan Kubor, Tuesdays to Thursdays, 11am to 11pm; Fridays, 11am to midnight; Saturdays, 10am to midnight; Sundays, 10am to 7pm; closed on Mondays
Info: Call 6291-9901 or go to www.symmetry .com.sg

keziatoh@sph.com.sg
vlydia@sph.com.sg



Get a copy of The Straits Times or go to straitstimes.com for more stories.