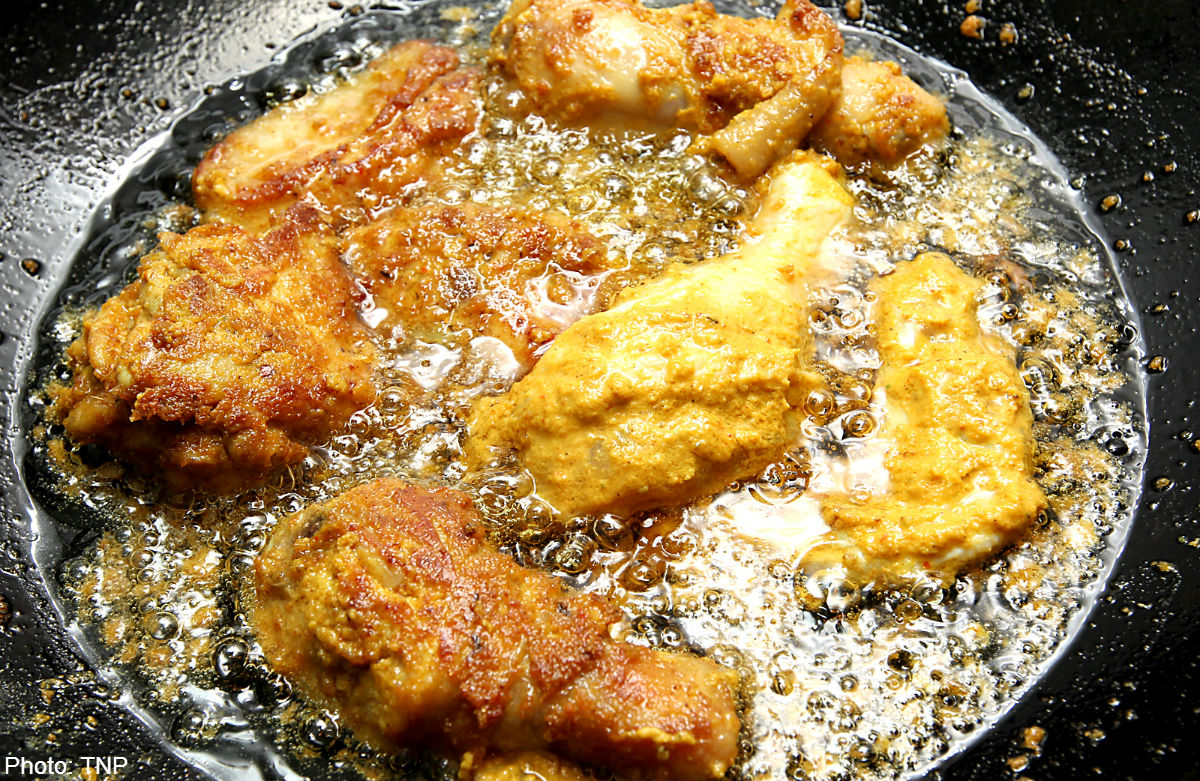 SINGAPORE - To make eating out healthier for food-loving Singaporeans, the Health Promotion Board (HPB) will be spending millions a year on subsidies to get food joints to use healthier oil.
Starting this month, the HPB will absorb the difference in cost between palm oil - which is generally used by food outlets - and a healthier mix of palm and canola oil, which costs 20 per cent to 30 per cent more.
The HPB is subsidising wholesale oil suppliers to get them to sell the healthier mix to restaurants, hawker stalls and other food outlets at the same price as palm oil. The aim is to get 20 per cent of food outlets to switch from palm oil to the canola mix by 2020.
Palm oil is the cheapest cooking oil and costs around $6 to $8 for a two-litre bottle in retail shops. But it has 50 per cent saturated fat, clogs up the arteries and can lead to heart attacks and stroke.
The canola and palm oil mix reduces the fat saturation to 38 per cent.
The HPB hopes that this will make a huge difference to diners' health - provided they do not use it as an excuse to eat more deep-fried food.
Said Mr Zee Yoong Kang, HPB's chief executive officer: "By the time the oil gets down to the individual plate, we're being literally poisoned for one or two cents a plate.
"But if you sell 5,000 plates, it makes an appreciable difference to the bottom line."
One of the oil suppliers involved in the scheme is Sime Darby. Its marketing manager, Ms Valerie Ong, said that some food outlets will go for the healthier oil if it does not cost them more. But others may resist, fearing it could affect the standard or taste of their food.
Mr Zee, however, said that tests have shown that people cannot taste any difference when palm oil is replaced with the healthier mix.
Health Minister Gan Kim Yong had said in Parliament last week that the Government would work with community partners to make healthy living as "effortless as possible".
But experts are divided on how effective the scheme will be.
Cardiologists The Straits Times spoke to said that even with the saturation at 38 per cent, deep-fried foods are still bad for health, though nutrition scientist Jeyakumar Henry said there will be benefits on a national level.
Said Dr Chin Chee Tang of the National Heart Centre Singapore: "A slight decrease in the percentage of saturated fats in the cooking oil would probably not have a substantial effect on the overall healthiness of the dish. More relevant would be the food that is being cooked in the oil - as well as the amount of salt and sugar used."
But Professor Henry, director of the Clinical Nutrition Research Centre, which was set up by the National University Health System and the Agency for Science, Technology and Research, said: "It will not be the panacea for all ailments, but it is a move in the right direction and the HPB should be lauded for its initiative."
Ms Ong suggested using soya oil instead, as it costs less than half the price of canola. But Prof Henry said soya does not have the same heart-healthy benefits as canola, which contains omega-3, omega-6 and alpha-linolenic acid.
salma@sph.com.sg

This article was first published on July 14, 2014.
Get a copy of The Straits Times or go to straitstimes.com for more stories.