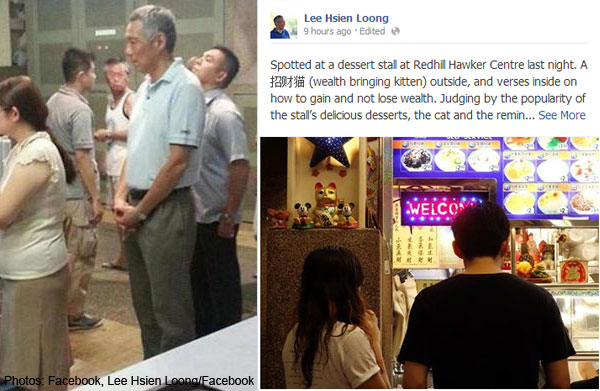 SINGAPORE - Prime Minister Lee Hsien Loong was spotted at Redhill Food Centre, queueing for 30 minutes to buy fried chicken on Thursday night.
A passerby took a photo and uploaded it on Facebook with the tongue-in-cheek caption: "Just your regular 50-60 plus uncle queueing half an hr for famous fried chicken wings. Albeit swarmed with guards. Lots of em."
According to Lianhe Wanbao, the photo of him started circulating this morning, with many excited to see the PM dining at the hawker centre located at Blk 85 Redhill Lane.
Netizens commented on the prime minister's willingness to queue for food himself just like any other member of the public.
The Chinese daily learnt that the stall, Yan (#01-19), is popular for its chicken wings and fried bee hoon. Online reviews recommended its two signature items, and cited reasonable prices and large portions as other plus points besides taste. Bee hoon costs 60 cents, while a chicken wing costs $1.20.
The minister also posted a picture of a dessert stall at the same hawker centre on his Facebook page, mentioning that the 'Lucky Cat' in front of it seemed to bring it popularity and business indeed.
He also thanked an anonymous person for giving him a bowl of green bean soup.

Visit STOMP for more stories.