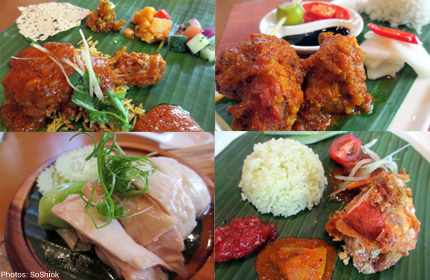 Chicken rice is a quintessentially Singaporean dish. However, the term chicken rice usually conjures images of the Chinese steamed and roasted chickens sold at coffeeshops and hawker centres.
Given Singapore's multi-cultural heritage, each major ethnic group has their own version of chicken rice, from ayam penyet to chicken nasi biryani.
The Fullerton Hotel's Town Restaurant brings together five local variations of the dish as part of their Chicken Rice Festival Buffet which runs from Nov 11 to 24.
A must-try is their signature Hainanese Chicken Rice. It is one of the best I've tried. The rice is flavourful, and you can taste the chicken stock. Fullerton Hotel says that the rice is cooked with pandan and lemongrass.
The chicken is succulent, and the poached skin is smooth and not too fatty. The chilli sauce is tart and not too spicy, just right for me.
The other four chicken rice dishes will taste slightly different to those accustomed to the traditional way of cooking. It is understandable that as a hotel with international guests, these dishes will be tweaked.
"Ayam Penyet" is one tweaked dish that is delicious. It has quotation marks, because the name means smashed chicken in Bahasa Indonesia, but the chicken is very much whole. Technicalities asides, the crispy batter and juicy chicken makes this dish finger-licking good. While I love the chilli jam, I do wish there was sambal to go with it for a spicy kick.
Other chicken dishes include the European Chicken Devil's Curry flavoured with bacon bone, Ayam Cincalok in Peranakan style and the Indian Chicken Nasi Briyani which you can pair with peppercorn papadum, mango pickle, and Indian-style potato salad.
The buffet is available from Nov 11 to 24 for weekday lunch (11.30am to 2.30pm) and dinner (6.30pm to 10.30pm) from Sundays to Wednesdays at $53++ per adult and $26++ per child. It also includes other local dishes such as laksa and satay.
Alternatively, you can enjoy the buffet with a seafood spread every Thursday to Saturday at $69++ per adult and $34++ per child, or with barbecued items at $80++ per adult and $44++ per child.
Town Restaurant
The Fullerton Hotel, 1 Fullerton Square, Singapore 049178
Contact: 6877 8128 or town@fullertonhotel.com