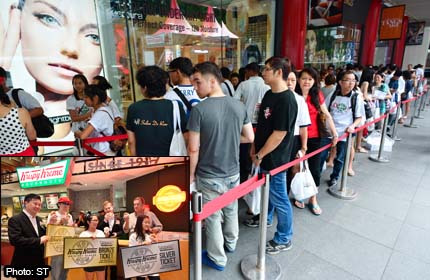 SINGAPORE - The person at the front of the queue outside Krispy Kreme's first Singapore outlet at the basement of Tangs Orchard today will be awarded a Golden Ticket.
That entitles the holder to a dozen free Original Glazed doughnuts every week for a year.
The second in line wins a Silver Ticket, netting him or her a dozen free doughnuts a week for six months; while third in the queue will get the Bronze Ticket - a dozen free doughnuts a week, for three months.
There will also be freebies or goodie bags for the first 500 people in the queue. The offshoot of the popular American doughnut chain is slated to open at 9am on Saturday morning and long queues are expected to form at the basement of Tangs Orchard.
It is famed for light and fluffy doughnuts coated in a signature sugar glaze.
There will be 16 doughnut flavours on offer including Red Velvet, Chocolate Iced Custard Filling and New York Cheesecake.
Prices start at $2.60 a doughnut, and from $23.40 for a dozen Original Glazed doughnuts.

Get a copy of The Straits Times or go to straitstimes.com for more stories.
Mr Ng Weily, 41, was the golden ticket winner. He was in the queue since 11.40am on Oct 11.
The second person in line, Faith Lee, won the silver ticket and a dozen free doughnuts for a week for six months, while Sunnie Genevieve Ong, 15, was the bronze ticket winner.