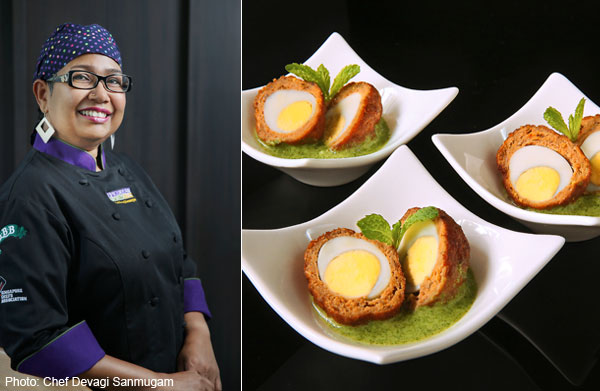 SINGAPORE - She may have inherited her cooking genes from her mother, who made recipe-free dishes based on her taste and touch, but Chef Devagi Sanmugam had her fair share of cooking disasters before she was dubbed the "Spice Queen" of Singapore.
Remembering an embarrassing incident during her novice days, Chef Devagi shared how she attempted to whip up nyonya assam fish curry at the age of 22, and got so caught up in following recipes to a tee, that she didn't realise the recipe had left out a key ingredient - red chillies. Luckily, the dish was salvaged when her mother walked in and asked if she used pepper instead of chillies.
Gone are the days when Chef Devagi stumbles over her own cooking. Today, Chef Devagi is an accomplished chef who has penned 19 cookbooks, done live shows on television and radio, as well as given presentations and taught classes, spreading her knowledge and skills of local ethnic cuisine to people locally and internationally.
The award-winning chef will be joining other local and international chefs at Suvai 2014 which takes place from July 17-20, 2014 and aims to inspire interest in the local Indian culinary scene. Held as part of the Singapore Food Festival (SFF) 2014, Suvai 2014 is organised by the Indian Chefs and Culinary Association (Singapore) and supported by the Singapore Tourism Board.
Suvai, which means flavour, was chosen as the title of the four-day event comprising cooking competitions, master classes, spice exhibition, live music performances and of course, feasting. It will bring together chefs from Singapore and the region such as Thailand, South Korea and Cambodia. They will be conducting cooking demonstrations of authentic Indian dishes, explaining the essence of Indian cooking and the use of spices; there will also be hands-on cooking classes for those who want to prepare simple dishes at home.
One of the highlights of the event is the International Chef Competition, where chefs will team up and pit their skills against each other to replicate a mystery, local iconic dish within an hour. Visitors and their families can also join in the fun at the festival and participate in one of the contests and win prizes up to $3,000.
Chef Devagi will be presenting a pastry class at the Suvai event, where she will be giving cooking tips on how to prefect your bakes at home. She said she is looking forward to see how the crowd will perceive her dishes and is excited to be a part of Suvai 2014.

Chef Sultanul Arfin's Grilled Roulade Prata
Equally excited to join Chef Devagi at Suvai is Chef Sultanul Arfin, a familiar face on local television channel, Vasantham, as well as OLI 96.8FM. Chef Arfin, who brings with him 30 years of experience in the culinary world, will be preparing a special creation called the Grilled Roulade Prata. This dish consists of a crispy prata stuffed with minced mutton; but instead of being cooked the traditional way on a hotplate with oil, it is rolled and grilled to make it more contemporary and healthy.
Another well-known local chef, Chef Rajeswary Sinan of popular restaurant Gokul, will also be participating in Suvai and will be presenting her Trio of Assorted Rice, a vegetarian dish made up of of three delicious variations of the Asian staple-lemon rice, yoghurt rice and sambar.
Other than the above-mentioned local culinary heavyweights, attendees can also look forward to meeting celebrity chefs from the region such as Dr Chef K. Damodaran (India), Chef Seetharam Prasad (India), and Chef Kevin Ryan Singaraya (Malaysia), who will be sharing their knowledge of the Indian cuisine at masterclasses. They will also be whipping up delicious dishes that should not to be missed.

Three delicious creations by Chef Rajeswary Sinan: lemon rice, yoghurt rice and sambar rice.
Address: State Land bounded by Birch Road/ Burmah Road & Serangoon Road
Dates: 17-20 July, 2014
Nearest MRT: Farrer Park MRT station
Tickets: Priced at $18 for an all-day pass and valid for multiple entries on the same day. Visitors will also receive $10 worth of free "Suvai" dollars which will be given for every ticket purchased and can be used to buy food and drinks. Admission is free for children below the age of 12.
This year, the Singapore Food Festival (SFF) will be reliving the best memories of the festival's 20-year history. Themed "A Walk Down Memory Lane", the festival will feature an array of dining experiences and cuisines that represent Singapore's rich food legacy, at various locations from July 11-20, 2014.
For more information on the Singapore Food Festival 2014, please visit www.singaporefoodfestival.com .