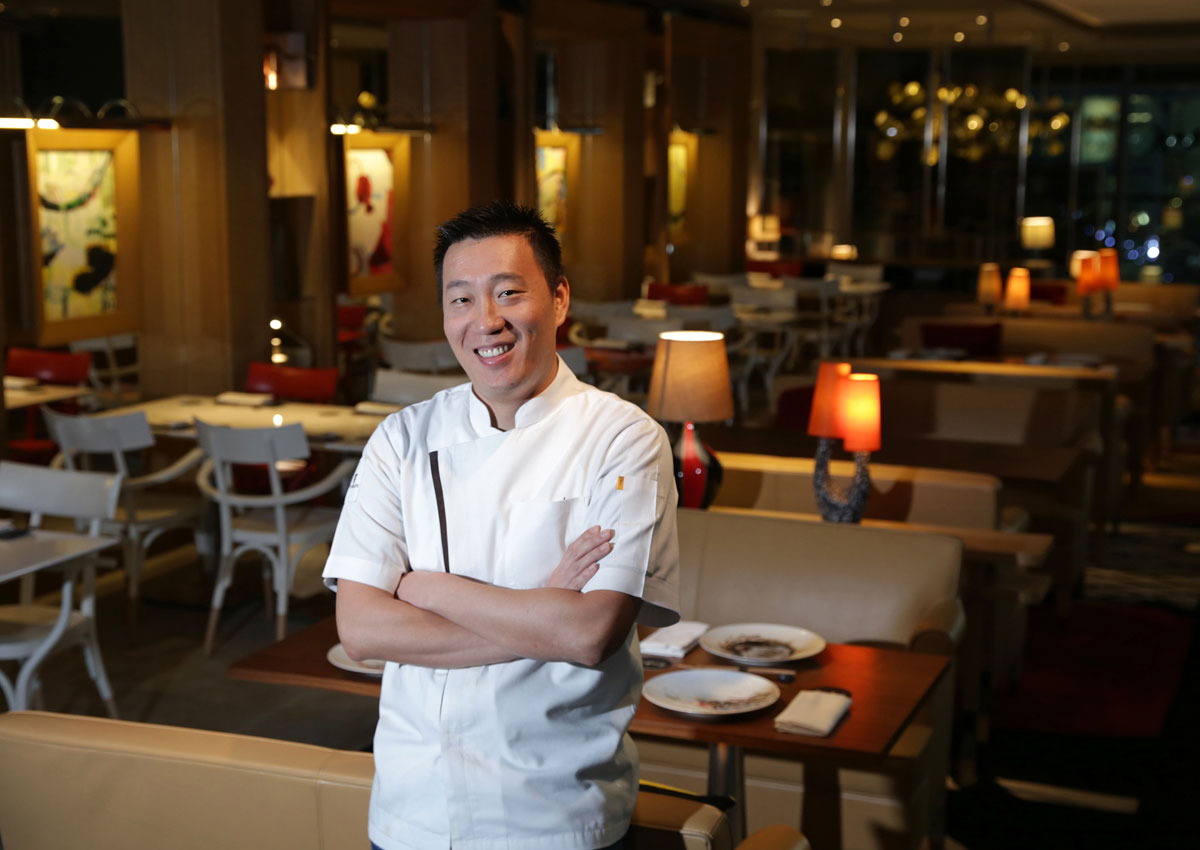 At the age of 22, Akira Back made quite the career jump, going from professional snowboarder to sushi chef.
That risk has paid off handsomely. Chef Back, 42, has six restaurants worldwide, with six more slated to open next year. The latest addition to his portfolio is Akira Back - his namesake restaurant that opened last Thursday in JW Marriott Hotel Singapore South Beach.
Like the other two Akira Back restaurants - in New Delhi and Jakarta - one can expect modern Japanese cuisine with Korean accents.
"The food is modern, but it doesn't break traditions. We put a twist on things without overwhelming," he says.
These "twists" include flavour combinations such as soy beurre blanc or spiced lychee honey, and exotic ingredients such as sea beans and pop rocks.
The restaurant's signature dish is the Tuna Pizza ($25) with thinly sliced fresh tuna, ponzu mayonnaise, truffle oil and micro shiso atop a crisp crust.
Other dishes include the Miso Black Cod ($30) with yuzu sake foam; or Gyudon ($42), a beef bowl featuring brown rice from Hokkaido, grilled Ohmi wagyu beef slices, foie gras and an onsen egg.
The 100-seat restaurant's swanky decor and thumping music are a nod to Las Vegas, where the 42-year-old is based with his wife and five-year-old daughter.
"I want to bring Vegas and I want to be different in a fun way," says the gregarious chef, who was born in South Korea and is an American citizen.
However, he admits that being a chef was "the last thing anyone thought I would do".
This was due to his initial dislike of raw fish - and his start as a professional snowboarder .
It began when he moved with his family to Aspen, Colorado, at the age of 14, because of his father's business of managing imports of waterproof fabrics such as Gore-Tex and outdoor brands such as The North Face.
At the time, he did not speak English, but wanted to make friends.
"I saw interesting people with mohawks and piercings who did skateboarding and snowboarding. I tried it and ended up picking up snowboarding very fast," he says.
After seven years on the professional circuit, he started working in Kenichi, a Japanese restaurant in Aspen, to supplement his income.
He says he had never touched a knife until then, but was inspired by the chef, Kenichi Kanada, whom he saw drinking with a customer and having fun.
"I wanted to be like him. The reason I started cooking was the same as snowboarding - I wanted to be cool," he says. He also says he did not want to "burn his father's money" going to school.
After three years, he became enamoured of cooking.
"I love the freedom of cooking and I also love prepping. You feel like you're talking to the ingredients. The sound of cutting vegetables makes me happy and prepping is the one time I can relax," he says.
This downtime is necessary because restaurant kitchens are like pressure cookers.
"Gordon Ramsay on TV? He's considered nice - it's more hardcore in the kitchen," he says of his experiences.
He jokes of "wanting to cry every day" in his early days, but then adds with a shrug and smile: "The kitchen's awesome. I love it."
Back is executive chef and partner of the Hakkasan Group, which owns Kumi Japanese Restaurant + Bar and Yellowtail Japanese Restaurant & Lounge - both located in Las Vegas. His first namesake restaurant, Akira Back, opened in JW Marriott Hotel New Delhi Aerocity in 2014, followed by a standalone outlet in Jakarta, Indonesia.
Following the success of the branch in New Delhi, the hotel group and Back were keen to open another outlet together, when the opportunity to open in JW Marriott Hotel Singapore South Beach arose.
Within the next year, more Akira Back restaurants will open, in cities such as Toronto and Dubai.
Apart from his namesake restaurants, he also opened modern Korean cuisine restaurant Dosa in Seoul earlier this year.
For the Singapore restaurant, he is working with his team to develop a unique dish.
"I want to do a fun roll, but it's still under development."
He cites laksa as one of his favourite Singaporean dishes, despite the heavy coconut milk, which deviates from his usual taste for lighter flavours.
He has also toyed with the idea of a chilli crab-inspired dish, but has cast it aside.
"If I can't make something better than it, people will laugh at me. But how can I make something better than that? It's just too good. "
ckylin@sph.com.sg
For more food stories, go to straitstimesfood.com

This article was first published on Dec 21, 2016.
Get a copy of The Straits Times or go to straitstimes.com for more stories.