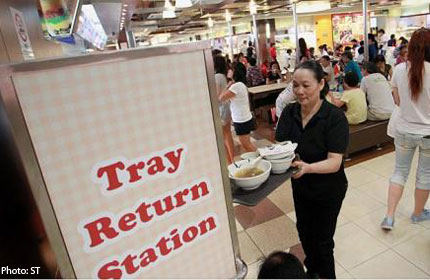 SINGAPORE - The tray-return programme first launched as a pilot last November has provided cleaner and more hygienic dining areas for patrons at hawker centres and food centres.
But the National Environment Agency's (NEA's) initiative has also brought with it a new set of challenges for cleaners.
Cleaners My Paper spoke to at four eateries islandwide cited issues such as misunderstandings over uncleared trays and sarcastic comments from patrons and even overly-cluttered tray racks.
One cleaner, Madam Tan Siang Keow, 50, has had to tip-toe on numerous occasions to reach for stacks of dishes piled on top of tray-return racks.
Madam Tan, who works at Gourmet Paradise in Toa Payoh Hub, said the rack gets cluttered quickly during busy lunch and dinner hours. She said: "I worry the plates will topple on me one day."
Her colleague, Madam Lin Ah Lye, 70, has had her share of less-than-gracious patrons. She told My Paper that one patron even remarked: "Should I wash the dishes for you too, as I need to return them myself now?"
While she said that such patrons are few, Madam Lin added that she could not help but be angry. However, she chose to remain silent. Another cleaner at a food court in Junction 8 in Bishan said that patrons there rarely returned their trays and utensils.
Madam Z. P. Teo, 54, said: "People just eat and leave but I will just clear the tables anyway since it's my job."
My Paper understands that the NEA continues to work with the management of food places and will assess feedback from cleaners.
The initiative will see all 104 hawker centres here installed with tray-return points and racks over the next two years.
However, most cleaners My Paper spoke to praised the NEA initiative.
Cleaner Lim Su Zhi, 70, who works at a Fork & Spoon food court, said eight out of 10 patrons support the programme.
She said: "It has made the cleaning process more efficient and our jobs less tiring."
However, last Friday student Nicole Khoo, 13, related on citizen-journalism website Stomp an incident at a hawker centre in Jurong East Street 31 when a cleaner "sneered" at her family, asking them to clear a table.
In response to My Paper queries, Madam Karney Ngai, 65, chairman of the Jurong East Street 31 Merchant Association, explained that the incident was due to a misunderstanding.
"The cleaners thought the dishes left behind belonged to her (Nicole's) family and asked them to return the trays themselves," she said.
"Maybe the cleaner was a bit tactless, hence the misunderstanding."
samboh@sph.com.sg

Get My Paper for more stories.