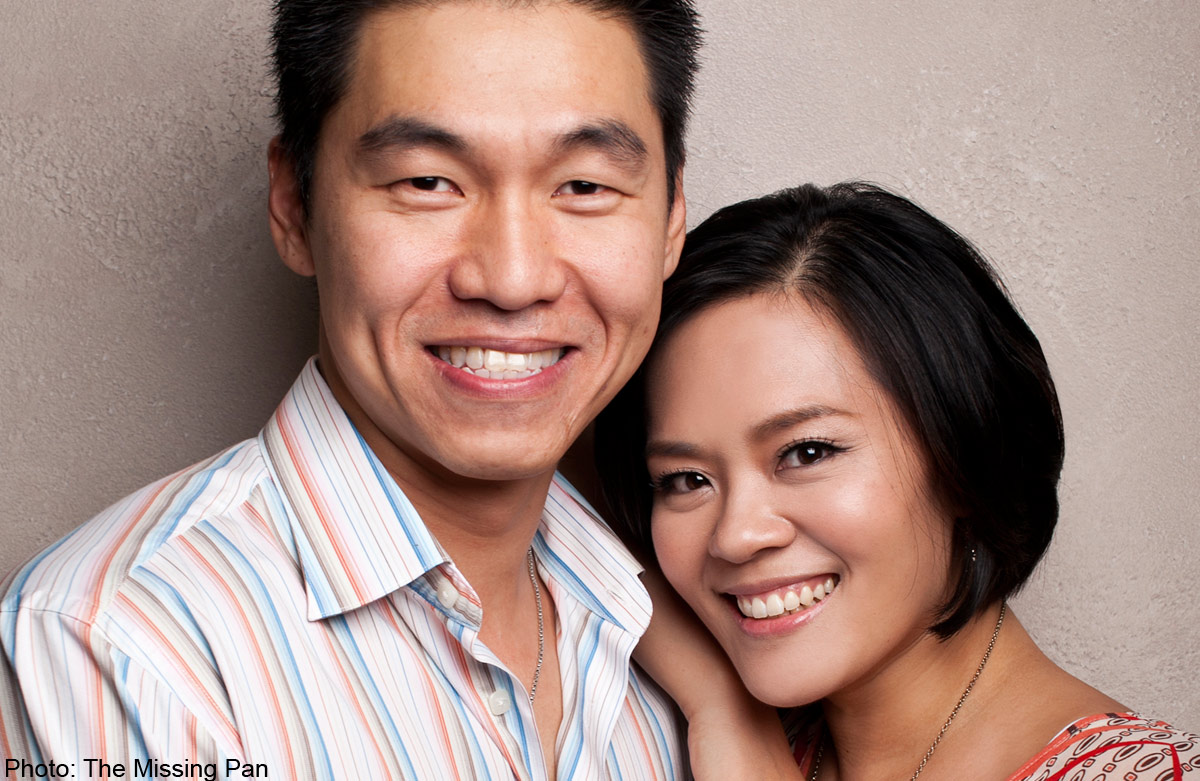 SINGAPORE - It was a humble plate of char kway teow that brought together the couple behind bakery-cafe The Missing Pan.
Ms Grace Chia, 35, recounts how her husband, Mr Bernard Toh, 37, wooed her with the hawker staple: "He fried it for a pot luck with a Good Morning towel around his neck. He won my parents and me over."
The couple, who have been married since 2009, have a one-year-old daughter, Clarissa.
In 2007, they had set up online bakery The Organic Baker, followed by gourmet sandwich shop Uppercrust in 2010 in the Central Business District. Both concepts combined to form The Missing Pan in Bukit Timah Road in November last year. The 2,200 sq ft outlet specialises in brunch items and freshly baked breads, from focaccia to organic sourdough loaves, baked by Mr Toh, a Shatec alumnus.
The duo admit to having trouble with leaving work at the door when they get home.
Ms Chia, a former mechanical engineer, says candidly: "After we get home, maybe by 10pm, we stop talking about work. But at 8am the next day, it's back to business talk.
"We run the outlet like a family business, our staff are like family too. We can have different ways of perceiving things, so we make sure we discuss things first before addressing our staff."
How did food bring both of you closer?
Grace: Bernard introduced me to eating at hawker centres as I usually ate home-cooked food. I also remember that during our first month of dating, he took me to eat fish head curry in Race Course Road. We had the Tuesday special that cost only $10. It was an eye-opener for me.
Bernard: I remember taking her to eat nasi lemak at Changi Village. Most guys impress with restaurants, I chose hawker centres.
Where are some of your food haunts now?
Grace: We eat out two to three times a week at places such as Peperoni Pizzeria at Binjai Park and Ristorante Da Valentino in Turf Club Road for Italian cuisine. For local food, we'd have nasi briyani at Zam Zam in North Bridge Road and Sembawang White Beehoon at 22 Jalan Tampang. Bernard can be quite obsessive about chicken rice, he can eat it every other day from Sin Kee Famous Chicken Rice at Mei Ling Street Food Centre.
What are your biggest indulgences?
Grace: Previously, if we were hung over, having a Sausage McMuffin was the cure. We would have McDonald's for supper, but it's harder now because the outlet at King Albert Park has closed. We order delivery sometimes but it doesn't taste the same. I need to have fries dipped in my hot fudge sundae and Bernard cannot stand it when I do that.
Do you guys cook at home?
Grace: I cannot cook, I can bake. Normally, Bernard cooks and I bake a cake or tart. When we mess that up, it doesn't work. For our anniversary last year, I made a gyudon (beef bowl) and he made a chocolate souffle that deflated.
Bernard, since you're the cook in the family, what was the first dish you ever made?
Bernard: At a camp competition in primary school, we were given beansprouts, flour and bananas. I made stir-fried beansprouts and banana waffles. I cooked everything using a bunsen burner and mess tins.
What's your worst kitchen disaster?
Bernard: Look at all these free tattoos on my arms because I got "kissed" by the oven. When I was in a catering company, I got scalded by oil for deep frying, had blisters on my stomach because the oil splashed, had to go to the hospital and was given three weeks of medical leave.
Both of you are familiar with Australia's cafe scene. How does Singapore compare now?
Grace: Our scene has exploded. Melbourne's coffee is no longer unbeatable. Cafes such as Stranger's Reunion at 35 Kampong Bahru Road have made a big impact.
Some cafes that have unique spaces are Wheeler's Yard at 28 Lorong Ampas and The Coastal Settlement at 200 Netheravon Road. I wouldn't mind doing something like that. I like a laidback cafe culture.
What is your take on the local dining scene?
Grace: Over the past five years, the dining culture has diversified. Diners here are very educated and have a fantastic palate. They can tell between good and mediocre food. People base dining options on social media, which plays a big role.
If you could have a meal with someone, who would you pick?
Grace: My great grandmother because I heard from my dad that she used to be the fierce "mafia queen" who would scare the living daylights out of everyone. I've heard so many stories about her that I would love to meet her.
What would your last meal be?
Bernard: Since I'm going to die, I don't need to worry about my shape. Just put it all out and I will eat. I'll have carbonara pasta, bak chor mee, beef noodles, char kway teow, oyster omelette, carrot cake, ramen, nasi briyani, duck rice, chicken rice, kway chap, yong tau fu and laksa.
Grace: You can tell his choices are all carbs. I'll have Teochew porridge and steamed fish.
euniceq@sph.com.sg

This article was first published on Nov 16, 2014.
Get a copy of The Straits Times or go to straitstimes.com for more stories.