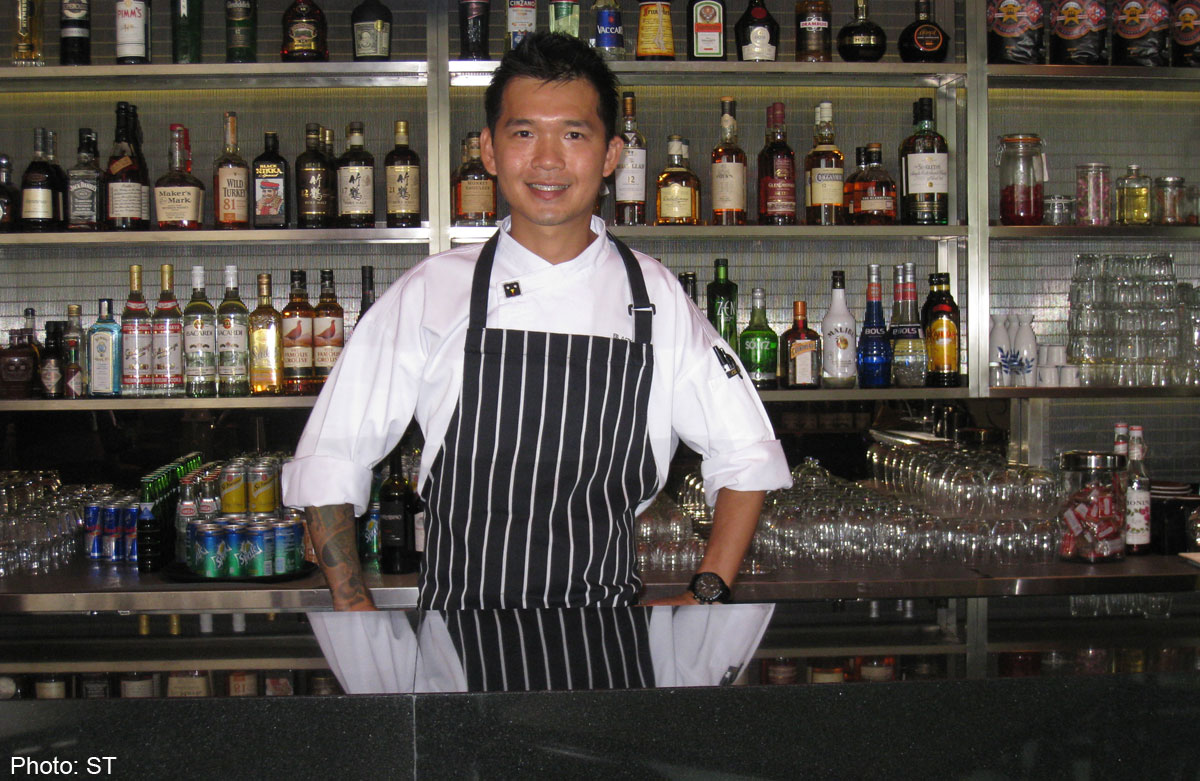 Chef Ken Tan set his sights on a culinary career when he was young. He was inspired by his mother, who cooked dishes for an economic noodle and rice stall in a canteen on Jurong Island.
But the 34-year-old was born deaf and no cooking schools would take him in.
That did not stop him, however, from building a career in cooking. He now heads the kitchen at Blackbird Bistro and Bar in Handy Road.
It opened in May 2010 and was recently renovated. Now, the place seats 100, about double the capacity before the makeover.
The bistro and bar has a Western fusion menu with such dishes as Crab Meat Aglio Olio and grass-fed lamb and beef from New Zealand.
When chef Tan was three, he attended the Canossian School in Circuit Road.
However, he dropped out at age 16 because he was not interested in studying.
His mother urged him to go back to school, but later accepted his decision and encouraged him to join the food and beverage industry instead.
Chef Tan, whose older brother is an army officer, says with the help of a sign- language interpreter: "I wanted to attend culinary school. But I was always rejected because of my hearing impairment and my lack of qualifications."
Despite that, he has chalked up 13 years in the culinary industry.
When he was 18, he made his first dish - fried bee hoon.
He says: "I learnt to cook it from my mother. However, it didn't turn out as good as expected - it was quite bland. My mother and I had a good laugh."
One year later, he worked as a cooking assistant in the now-defunct Lim Chew Tiam Pub at Le Meridien hotel, now known as Concorde Hotel Singapore.
He has also worked at the now-defunct Sumo Restaurant at Bugis Junction and with One Rochester group, where he worked at a few of its restaurants: 1-Altitute, 1-TwentySix and One Rochester, where he picked up fine-dining cooking skills in French, Italian and Japanese cuisines.
His work impressed his then boss and he was offered a job in Dubai. He did not take it up as his mother did not want him to be so far away from home.
Instead, he honed his skills here and also met his girlfriend, a 21-year-old marketing executive, on the job. They met when she was working part time at Blackbird and they have been dating for 2 1/2 years.
Is it difficult to work in the kitchen when you cannot hear?
It's not difficult, just challenging. This is especially so when new staff members with no hearing problems join us. It might be a bit difficult for everyone at first, but as time goes by, everything gets better.
How do you communicate with your team?
I usually mouth the words and they know what I need. Some of the staff whom I have been with for years have picked up basic sign language, making communication easier.
Did you use to be very emotional about your condition?
I have never been emotional about it. I guess it's because I have accepted how I have been since birth and am used to it.
What is your favourite local dish?
Classic roast chicken drumstick rice. I like it with chilli sauce and I get it from a coffeeshop in Bukit Batok Street 31.
Have you ever made chicken rice?
I did try making it once or twice, but the one from the stall is much better.
Do you cook at home for your family?
I don't cook for my family very often. However, when I have the time, I try to whip up something for them. I go fishing sometimes on my days off, so whenever I manage to catch fish, I'll cook it for them.
Where do you usually fish?
I usually fish on Kusu Island with my friends.
What is your favourite fish to cook and how do you cook it?
I like grouper. I usually steam it with light soya sauce, sesame oil, ginger and garlic. It's a very simple way of cooking.
What is an essential ingredient you always have in your kitchen?
Chicken stock. We make it ourselves and boil it for five to six hours. Another important ingredient is our seafood broth, which is used to make one of my signature dishes, seafood risotto.
What is your favourite cuisine?
I like Japanese cuisine. I like the ramen from Ramen Santouka in Cuppage Road. It's so good.
What are your future plans for Blackbird Bistro and Bar?
I will always be coming up with new menus and I hope we will be able to expand with a few more outlets in future.
What advice do you have for aspiring chefs?
Follow your dreams. Don't expect success to come easily, there will be lots of hard work but it'll definitely be worth it.
WHAT WOULD YOUR LAST MEAL BE?
My mother's braised pig trotters and porridge. I can never have enough of it.
stlife@sph.com.sg

This article was first published on Sep 7, 2014.
Get a copy of The Straits Times or go to straitstimes.com for more stories.