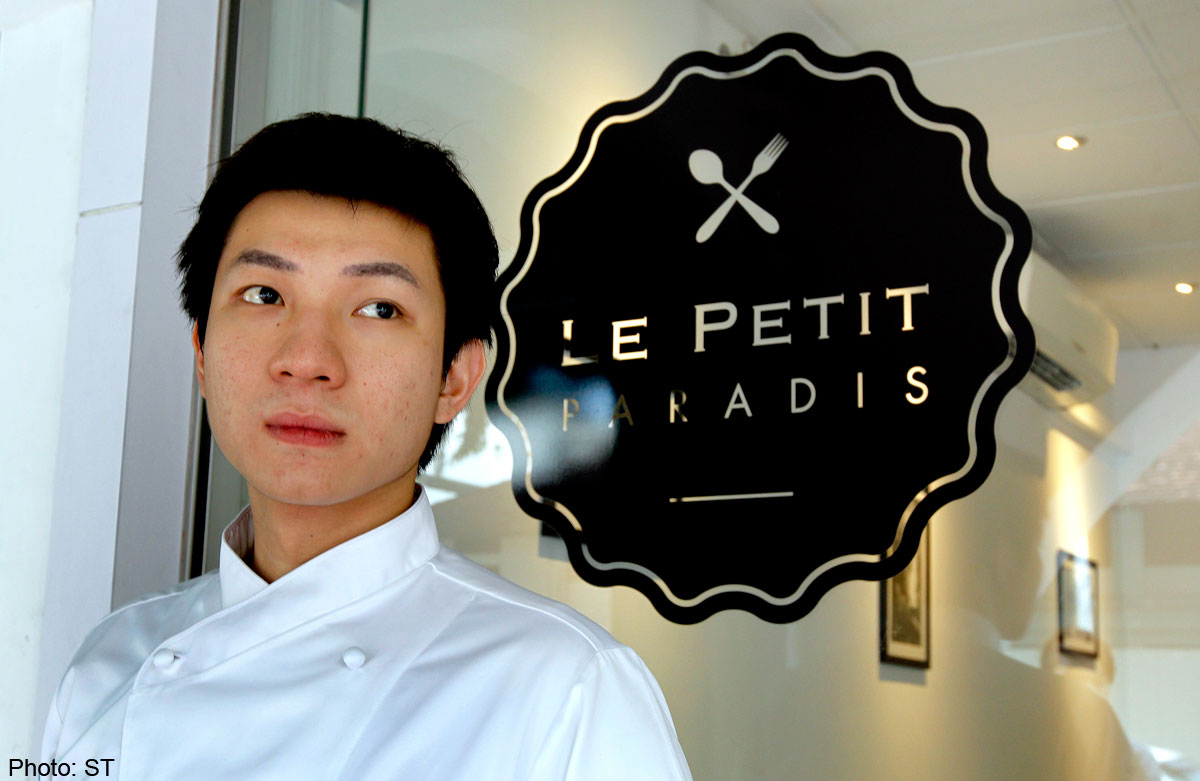 Chef-owner Enoch Teo of Le Petit Paradis says cooking saved him and gave him direction in life.
He says: "When I was young, I was a person without an aim or drive. When I was 14, I discovered cooking and consider it as my salvation. It helped me get on track with my life. It is very important to know what your passion is."
Today, he runs Le Petit Paradis, a casual restaurant in East Coast Road which serves French food.
The business started out as a hawker stall in Alibabar Hawker Bar, also located along East Coast Road, in Feburary last year. He had wanted to build it into a hawker chain, but eventually decided against it, because he could not ensure consistency. Instead, he turned it into a proper French restaurant.
Now, the five-month-old, 70-seat restaurant in East Coast Road offers dishes such as as bouillabaisse, a seafood stew; and sous vide lamb shoulder.
The 24-year-old, who holds an At-Sunrice WSQ Diploma in Culinary Arts, dropped out of secondary school when he was 14 because he did not want to study.
He worked at various places, including a Japanese restaurant and a zichar stall in Clementi for four to five months.
The older of two children of an insurance agent father and housewife mother says: "Initially, my parents were not okay with me dropping out of school, but my mum told me that if I didn't want to study, it was fine, but I had to look for a job to support myself and not sit around the house.
"I got a job offer from the zichar stall through a friend. I was hired to prepare the ingredients for the chef to cook. However, one week into the opening, one of the chefs left. The owner asked me if I could use a wok, and I told him I could try. Being exposed to these types of things at a young age was very encouraging. It was a real achievement."
The newly-wed, who is married to a Thai and who has no children, says that work was tough at the zichar place.
"I worked from 8am to 11pm daily and had only two days off a month. The pace in a zichar kitchen is very intense," he says. "Every dinner service, we do about a thousand dishes, and we have only two or three cooks. However, it really toughened me up."
After national service, he got a job offer at French restaurant Absinthe, where he met chef Francois Mermilliod, who urged him to pursue culinary studies.
Chef Teo then attended culinary school At-Sunrice, and did a six-month internship at chef Andre Chiang's eponymous restaurant in Bukit Pasoh Road.
On his stint there, he says: "Chef Chiang really taught me to pay attention to details. I think he is one of the better artists in Singapore, in terms of presentation and detail."
At age 23, he decided to open Le Petit Paradis as a hawker stall, saying he wanted the challenge of starting and running a business.
He says: "I never liked doing the same thing day in day out, and waiting for a raise at the end of a year. I started this business on an insurance claim that I received from a motorcycle accident when I was 19 and just out of the army.
"My foot was smashed and I had to undergo six operations. I was hospitalised for three months and I couldn't walk for four months. After that accident, I gave more thought to my future. I had no qualifications, and my foot did not allow me to stand for long hours.
"Therefore, I decided to start my own business, and worked really hard for the first few years."
What was the first dish you ever made?
When I discovered cooking, I was 14 and working at the Japanese restaurant. The first dish I cooked would have to be Japanese rice. It was all that the chefs allowed me to do there for a whole month. I cooked only rice and peeled carrots and onions. After that, I was allowed to make kimchi from scratch.
What was it about cooking that gave you direction?
As a teenager, I lacked self-confidence. When I started cooking, I realised this was what I was good at. It built my self-confidence and the demanding working hours drew my attention away from doing things that are not beneficial.
What did you cook at the zichar place?
I used to cook the stir-fried dishes such as fried rice, hor fun and ee mian.
How do you make a good fried rice?
The moisture content in the rice is very important. It's best to use overnight rice from the refrigerator, which is drier. The control of the fire is also very important because if you can control the fire well, you can get wok hei and use less oil.
How many tries did it take before you could execute a decent plate of fried rice?
I think it took me about 12 to 15 tries. I burnt a lot of woks, and wasted a lot of rice and ingredients.
What is your favourite zichar dish?
Sheng mian, a crispy noodle dish with seafood. I love its textural contrast. It has a thick, soupy gravy and crispy and al dente noodles. This dish cannot be taken away and must be eaten on the spot.
What is your take on the Singapore hawker scene?
I think it's quite tough to be a hawker now. There will be fewer hawker centres in the future. Operating a hawker stall is a challenge. The younger generation might not be able to stand the pressure compared to the previous generation.
Would you choose to become a hawker again?
I would say that my life now is much more comfortable. A restaurant allows me to hire people easily. As a hawker, you are basically doing the service, cooking and dishwashing. In a restaurant, everyone has a role, and it's a better working environment altogether.
What is your favourite local snack?
Muah chee. The contrast between the chewiness of the dough and the crunch of the peanuts is really good, along with a sweet taste. It gives a very good balance. I don't go to a particular place for it.
What ingredients are essential in your kitchen?
White onions, leeks, carrots, garlic and celery. They are the basis for a basic French mirepoix (a seasoning base).
What do you usually eat after work?
I occasionally visit the Punggol Nasi Lemak, Five Star Hainanese chicken rice, a prata house and a zichar stall just down the road from the restaurant. I also eat a lot of cup noodles. I like the Nissin Seafood one.
WHAT WOULD YOUR LAST MEAL BE?
I would have sheng mian, if I still can bite. It would be the seafood with pork one. I'll have it with a lot of green chilli and a cup of hot teh-o.
justynt@sph.com.sg

This article was first published on Aug 3, 2014.
Get a copy of The Straits Times or go to straitstimes.com for more stories.