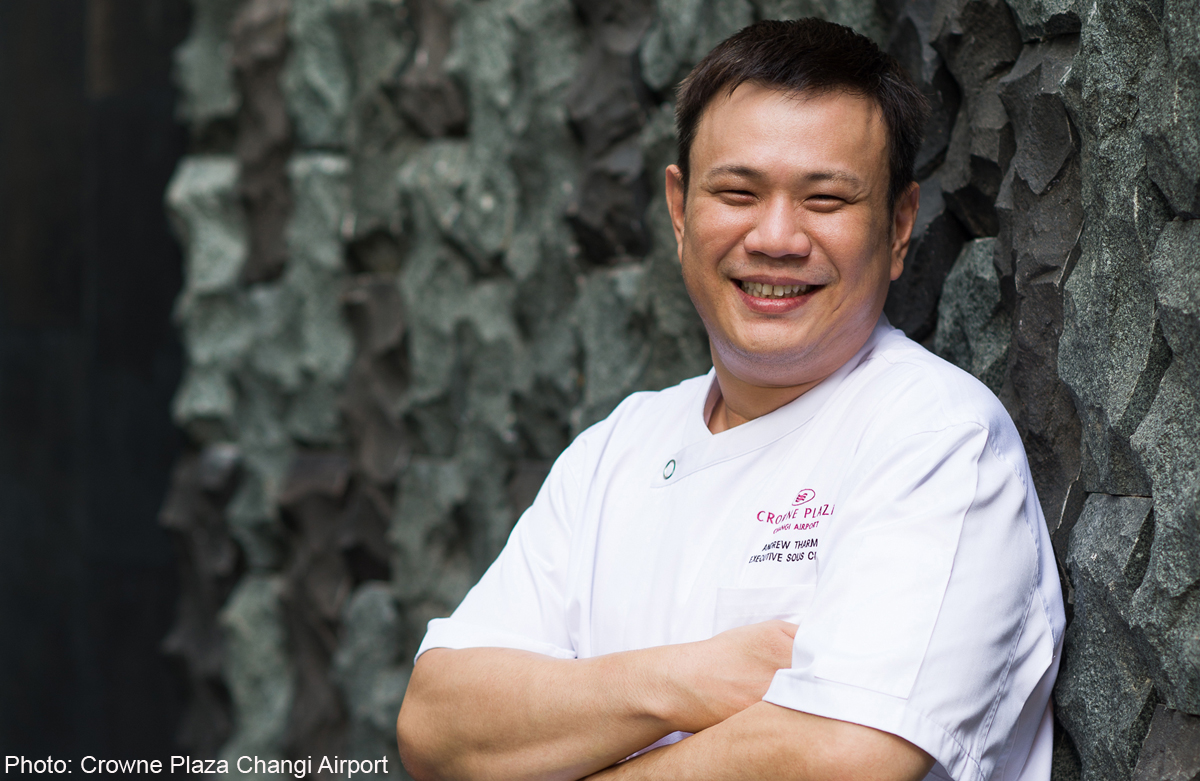 He may be a chef but when it comes to eating insects and other exotic fare, Andrew Tharm gets squeamish.
In fact, the 40-year-old executive chef of Crowne Plaza Changi Airport cannot even bear to watch them on television.
He shudders and says: "If I see insects on TV, I will change the channel. It will affect my appetite."
Trying bat meat in Indonesia is as far as chef Tharm had gone, but that was only because he did not know what he was eating.
"It was cooked rendang-style and tasted like duck," says the graduate from hospitality institution Shatec.
In his culinary career, chef Tharm has worked in various establishments such as Traders Hotel (now known as Hotel Jen), Mandarin Oriental Singapore and The Singapore Resort & Spa Sentosa. He also spent seven years working in hotels and restaurants in Jakarta.
The youngest of six siblings has a 20-month-old daughter, Kaira, with his 30-year-old wife, Darwati, a housewife.
While he encourages budding chefs to work hard and ask questions, chef Tharm has a quirky piece of advice: "Don't wear a watch so that you don't keep looking at it to check when you can go home. When you put in additional hours, you can learn much more."
What are your childhood memories of food?
My late mother and I used to go to the Redhill Market & Food Centre every day. I enjoy watching the stall owners trade their wares and slaughter chicken. We would eat yusheng with porridge. My mum could eat about seven plates of raw fish (wolf herring slices with calamansi, ginger and sesame oil). I'd probably have about half a plate. Now, I eat the dish at Chang Cheng Porridge (also known as Tiong Shian Porridge) in Chinatown.
What is your favourite hawker dish?
Oyster omelette. It is a dish that Singaporeans can be proud of as I have many friends overseas who ask about it. When I was working in Indonesia, I presented the dish in an oyster shell.
What are your favourite festive dishes?
My favourite Christmas dish is roast turkey with walnut stuffing. For Chinese New Year, I love braised sea cucumber. It was one of the first dishes I learnt when I was in my 20s and a trainee cook.
What are your favourite restaurants?
Crystal Jade Palace in Ngee Ann City for its abalone dishes. For Western food, I like Equinox at Swissotel The Stamford for its ambience. When you have a nice ambience, everything tastes nicer.
What is your favourite dessert?
Chocolate royaltine as I'm a chocolate lover. I like the crunch of the hazelnut praline.
Are you a wine lover?
I like dessert wines as I find red wines sour and bitter.
What is your guilty pleasure?
Can I say shark's fin? Now I'm scared to say so, although 10 years ago, no one would care.
What's always in your kitchen?
Fruits, my favourite is watermelon. I like to crunch on the white part of the husk too.
Tell us about your signature dish.
I like to use cinnamon in my cooking, so my signature dish is a cinnamon-infused sea perch. I rub a cracked cinnamon stick on the sea perch fillet and leave it overnight. The next day, I pan-fry it and glaze with apple cider, star anise, cloves, honey and cinnamon.
What's your worst kitchen disaster?
In 1998, for a Chinese banquet. Instead of steaming the fish, we fried it. We had to call the supplier for more fish. Luckily, the diners didn't know what had happened.
Are you a fan of cooking shows?
I'm not a fan of reality cooking shows such as Hell's Kitchen and Chopped because of all the drama. I like those where the chefs travel to a place to pick ingredients to cook. I used to watch Made To Order hosted by Canadian chef Guy Rubino.
If you could pick someone to have a meal with (dead or alive), who would you pick?
My mother, who died when I was 13. It is my biggest disappointment that she never got to try my food. I will also invite my mentor and late chef Toh Thian Ser (formerly executive chef of Traders Hotel), who has taught me a lot.
euniceq@sph.com.sg

This article was first published on Nov 30, 2014.
Get a copy of The Straits Times or go to straitstimes.com for more stories.