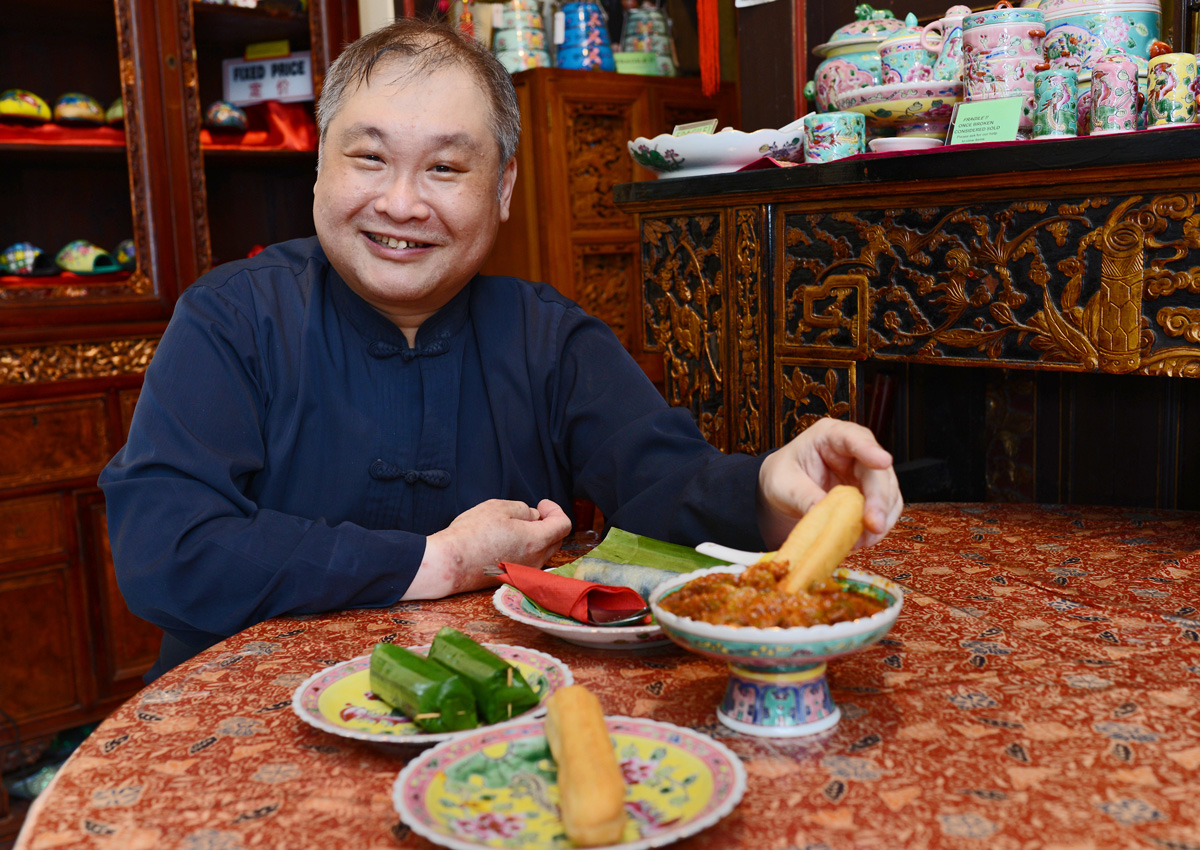 Theatre director Alvin Tan is an experimental foodie who has no problem dipping roti prata into carbonara sauce or mee rebus gravy. He also uses curry powder in pasta dishes and likes whipping up quinoa with fish rubbed with turmeric.
His penchant for pairing food from different cuisines comes from the plays he directs as founder and artistic director of local theatre company The Necessary Stage.
For almost three decades, the 52-year-old has directed plays by resident playwright Haresh Sharma, 50, that look at the interactions among different cultures in Singapore.
He says: "Food reflects Singapore's cultural diversity and also resonates with the intercultural theatre work I do. We can find the richness of humanity from another culture which may be absent in our own."
Over the years, the group's plays have provided much food for thought on social issues here.
For example, mental health issues were tackled in Off Centre (1993) and political awareness in Model Citizen (2010).
Pioneer (Girls) Generation, staged in March this year, is about active ageing. The rambunctious comedy featured a cast drawn mostly from the theatre group's Theatre For Seniors wing, which gives drama training and exposure to seniors aged 50 and older.
Besides rehearsing in the black box theatre at their headquarters in Marine Parade Community Building, the cast and crew bond during breaks by tucking into potluck feasts.
One regular contributor is Ms Padma Sagaram, 65, who makes dishes such as nasi ulam (Malay herb rice), curry and cakes.
Tan says these eating sessions help the actors bond.
He says: "Over pantry talk, people share ideas and chat about their lives, and that increases trust and chemistry among actors. The ingredients of what makes good theatre are embedded in these sessions."
He likens the process of coming up with original plays to making rempah or spice pastes for different dishes because tweaks are often made.
The bachelor is Peranakan and lives with his parents in Joo Chiat.
His mother, 80, a retired hospital cook, was regarded as "recipe central" as she and her eldest sister were assigned to learn cooking from their mother. His father, who is also 80, is a retired clerk. He has a younger brother who is 50 and works in retail.
While the older generation insists on preserving the authenticity of Peranakan food, Tan says he welcomes newfangled takes on classics. These include buns filled with buah keluak and even ice cream made with the dark, pungent nut from Indonesia.
He says: "Some purists may dismiss these foods as mediocre, but I'd rather have them exist so we can have the opportunity to keep encountering the richness of my culture through different presentations."
Where do you like to go for supper after rehearsals?
I like going to Sin Hoi Sai Eating House in East Coast Road for zi char dishes and Mongkok Kitchen, along the same stretch of shops. It serves dim sum till late.
How did your interest in food start?
As a child, I was fascinated by how raw ingredients could be turned into cooked dishes. My mother was always cooking and I grew up surrounded by conversations about food among my aunties during family gatherings. I used to help make Chinese New Year goodies such as pineapple tarts and love letters.
What are some of your favourite dishes that your mother cooked?
She cooked dishes such as buah keluak stuffed with shredded chicken or pork. She mixed the meat with the flesh from the stewed black nuts and put it back into the shell.
I also like green papaya soup with prawns, salted fish and pork ribs.
My mother also cooked pandan kaya over a charcoal stove in our backyard. It was quite a treasure as I had to wait for the kaya to set.
Which are your favourite Peranakan restaurants?
PeraMakan in Keppel Club. I like dishes such as the bakwan kepiting (pork and crab meatball soup), chap chye and buah keluak there.
I also like Chilli Padi Restaurant in Joo Chiat Place. One of its rare specialities is hati babi bungkus (fried pork and chicken liver meatballs). My mum used to make this during Chinese New Year.
Besides Peranakan dishes, what other food do you enjoy?
Thunder tea rice, from a shop called Thunder Tea Rice in Joo Chiat. I like the layered taste of the different vegetables and condiments in it and the proportion of vegetables to brown rice is well balanced.
I also like Northern Indian food such as masala chicken, paneer with spinach, and garlic naan. I also like nasi padang, Indian rojak and popiah with egg skin.
Which traditional dish do you you miss most?
Sambal belimbing, a dish of stir-fried pork belly or prawns with sambal and belimbing fruit. The fruit is seasonal, so you cannot get this dish all the time and it is not commonly served in Peranakan restaurants. It is also rare to have a meat-based dish that tastes tangy and sour.
What is the most memorable meal you had overseas?
It was in a vineyard restaurant in a remote area of Margaret River, when I was in Perth on holiday 12 years ago. The portobello mushroom was so big, juicy and meaty that if I could buy it in Singapore, I would turn vegetarian.
If you could choose anyone to have a meal with, who would that be?
A Peranakan ancestor who lived in the 1800s as I am curious to find out how Peranakan culture came about and how the Malay and Chinese cultures came together. I would like to find out how life was in the midst of this cultural pollination.
kengohsz@sph.com.sg
This article was first published on August 23, 2015. Get a copy of The Straits Times or go to straitstimes.com for more stories.