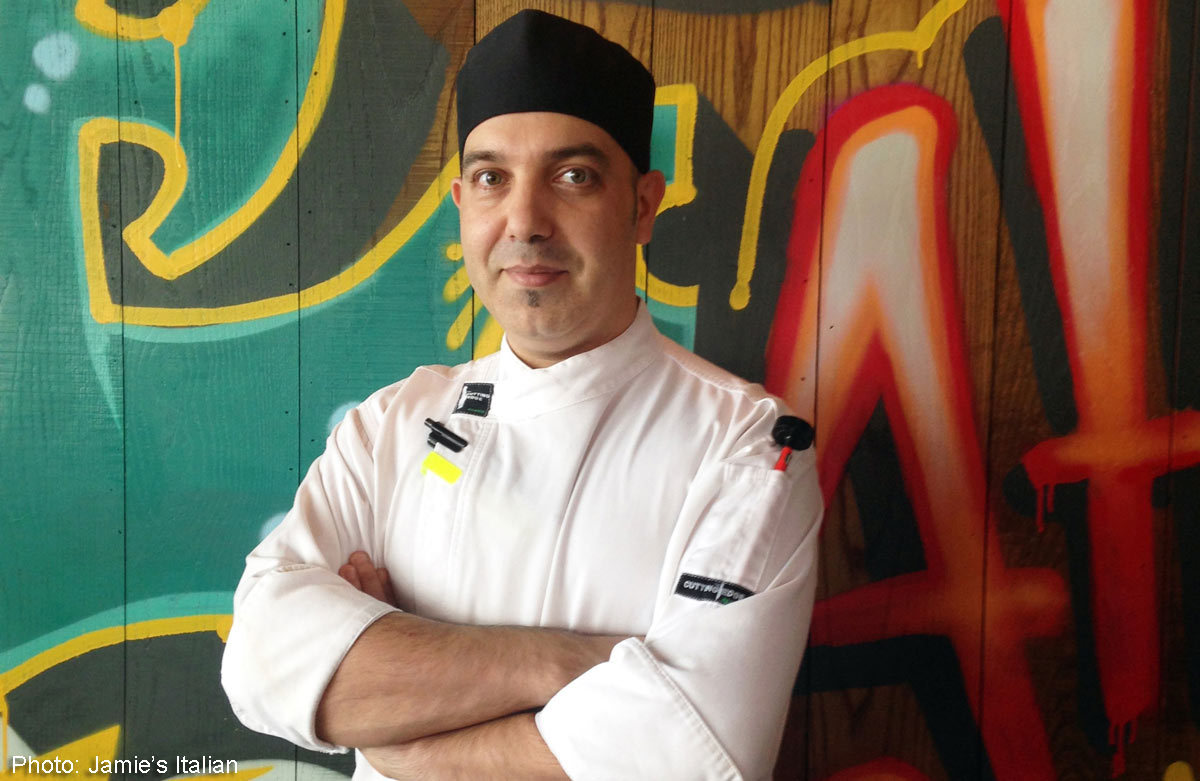 Growing up, chef Alessandro Laconi did not have to make frequent trips to the supermarket.
His family grew much of what they needed on their 5,000 sq ft farm in their family home in Sardinia, Italy.
They have more than 20 types of fruit, vegetables and herbs, including lettuce, cherry tomato, zucchini, eggplant, lemon, apricot and herbs such as rosemary and thyme. There were even vines laden with grapes.
As a child, chef Laconi helped to tend and harvest the crops in summer.
His family also makes tomato sauces, 40-day aged basil liqueur, limoncello (lemon liqueur) and cheeses such as scamorza and pecorino.
He says: "Sardinia is a rustic place, everything comes from the soil. The freshest produce always comes from your farm."
Now 39, he is the new head chef of Jamie's Italian in VivoCity.
The 300-seat restaurant is part of a chain started by British celebrity chef Jamie Oliver.
With Laconi's childhood revolving around food, a cooking career was inevitable.
He attended culinary school after graduating from high school.
After more than three years of working in restaurants in Germany and Italy, he opened his own restaurant in Sardinia at age 21 and ran it for a decade.
However, a desire to explore the culinary world took him overseas. The youngest of three children worked in the United Kingdom before finding work here three years ago.
He was head chef of Italian restaurants such as Pasta Brava in Craig Road and Al Borgo in Bukit Timah Road.
Chef Laconi is married to a 34-year-old Filipino housewife, who is a former hotel guest relations executive. They have no children.
How did you get interested in food?
When I was six years old, I played around in the kitchen where my late grandmother and mother cooked. I played with the flour, tasted the dishes and told my mother if they were good.
What are your favourite Italian dishes?
Culurgiones (ravioli filled with potato and pecorino cheese). It is an amazing traditional dish from my mother's and grandmother's hometown in central Sardinia.
They are so addictive, I can eat more than 20 of them at one go.
I also like potato gnocchi and fresh pasta such as pappardelle.
What was the first dish you cooked?
When I was 10 years old, I learnt how to make culurgiones. There is a technique for sealing the dough parcel. It was something to be proud of when the ravioli did not split when cooked.
What is your favourite ingredient to work with?
San Marzano tomatoes. They are sweet, with a slightly sour aftertaste.
Also mozzarella cheese, as it can easily be a part of many dishes, from baked pasta to cannoli to Caprese salads.
Tell us about one of your family's homemade products.
We make a year's supply of tomato sauce - about 150 bottles - within two days.
We wash and grind 300kg of San Marzano tomatoes, store the juice in bottles, wrap them in newspaper and heat them up in tin barrels for up to two hours.
We use the tomato skin and seeds as fertilisers in our garden.
What are your childhood memories of food?
My family would hold a big gathering for 20 relatives on Sundays, starting from 6am until evening time.
The men barbecued suckling pig and grilled skewered pork intestines doused in pork fat and extra virgin olive oil, while the women made pastas such as ravioli and tagliatelle. It was breakfast, lunch and dinner rolled into one. It was a loud and rowdy affair.
What makes a good suckling pig?
The Sardinian pig needs to be marinated with salt and lard and stuffed with wild berry leaves.
It takes three hours to slow-roast over a charcoal fire to create a melt-in-the-mouth texture.
What do you think is the most difficult dish to cook?
Pasta. It takes experience to cook al dente pasta. It takes precise timing to ensure that pasta has bite.
After cooking for years, I can tell how long it has been cooked from the way the pasta feels when holding it with a pair of tongs.
Which chef do you look up to most?
Jamie Oliver, as I admire his passion and attention to detail in creating an authentic Italian dining experience across his restaurants around the world, from the ingredients to the plates used.
What do you look forward to most when you return to Sardinia?
There will always be a celebration when I am back once a year. My mother would cook all my favourite food.
It will include culurgiones, suckling pig, and an 8kg whole roasted lamb and homemade sausages flavoured with red and white wines.
Where else can you find good food in Sardinia?
The best food in Sardinia is not found in fine-dining restaurants, but in agriturismo (Italian bed-and-breakfast places in farms or by the sea).
They offer traditional Italian food from grilled fish to ravioli to stewed wild boar, which are made with very fresh ingredients.
What is an uncommon Italian dish that you hope more people would know about?
Pane Frattau. It is like lasagne, except that the pasta sheets are replaced with Pane Carasatu or Sardinian crisp bread, in between layers of tomato sauce, pecorino cheese and basil.
The bread slices are softened by lamb stock, which makes the dish more flavourful.
What are your favourite Singapore foods and where would you go for them?
I love chilli crab from a coffee shop in Henderson Road and a stall in Newton Circus Food Centre. The meat is fresh, and the sweet and spicy sauce goes well with focaccia bread.
I also like to order the seafood fried rice in a seafood restaurant in Pagoda Street in Chinatown. My wife and I sit there and watch the crowds go by.
What do you cook at home?
My wife's favourite dish, clams with spaghetti aglio olio, white wine and cherry tomatoes.
I also bake cakes such as banana cake and sponge cake topped with fruit and cream.
What do you always have in your home fridge?
Cheeses such as mozzarella and cheddar, and vegetables such as onions, carrots and celery, and ribeye steaks.
WHAT WOULD YOUR LAST MEAL BE?
A big platter of chargrilled 1.1kg prime ribeye steak cooked medium rare, served on a bed of rocket leaves and balsamic vinegar, and spaghetti aglio olio with peperoncino. You cannot imagine the combination of flavours.
This article was first published on May 17, 2015. Get a copy of The Straits Times or go to straitstimes.com for more stories.